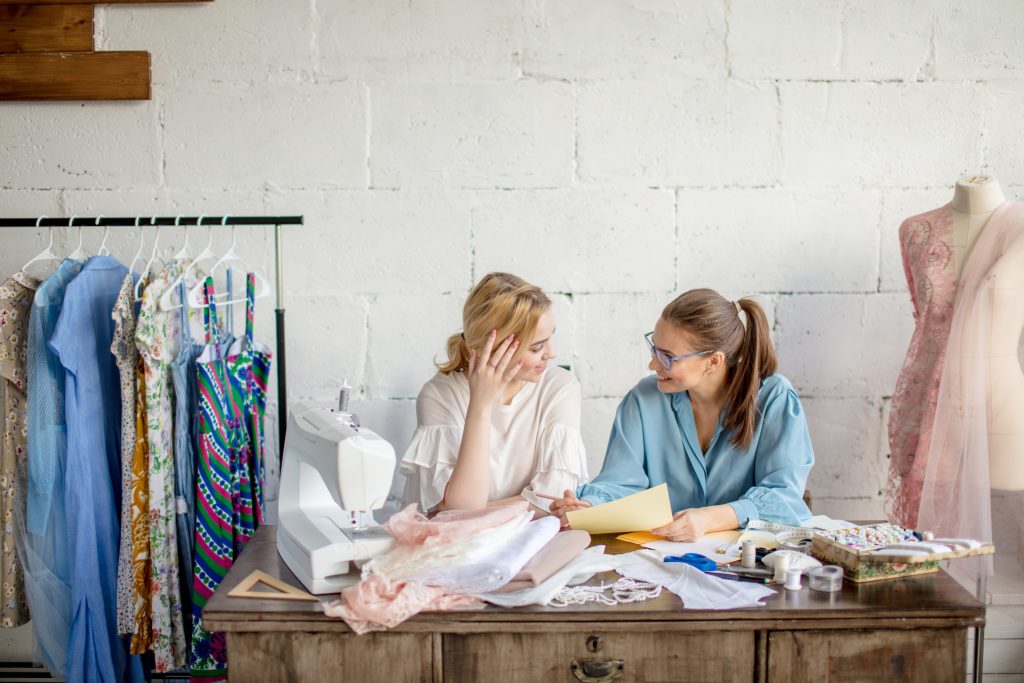 Glitzy garments, glossy magazines and lavish living aside, fashion is an excellent industry to base your career in with incredible occupational prospects. All things considered, however, there is more to the fashion profession than meets the eye. Before you make that leap into what you believe to be your dream job, it's worth it to contemplate some key questions and considerations that will help orient your journey.
Where Do You See Yourself?
There are hundreds, if not thousands, of different roles within the fashion industry. The first step is to determine what it is that you want to do, which takes an equal amount of both research and introspection. For instance, if you are a creative, intuitive people-person who enjoys verbal or visual communications, then perhaps a career in fashion communications is the right play for you! Or maybe your lifelong aspiration is to become a fashion designer for your own brand, or even design for an existing label.
Before you can launch into designing, you would be doing yourself a huge favour by discovering all that will go into the road ahead such as schooling, apprenticeships and so on. Even if you are hoping to get into fashion journalism, the reality is that you could end up working for a publication or being your own boss by freelancing for multiple ones, and each of these paths have their pros and cons.
If you're not quite sure where you see yourself, yet you know you want to work in the industry, then you may want to explore positions that are behind the scenes or out of the box, making use of transferable skills while still getting that fashion-based experience, could be a good starting point!
Slow and Steady Wins the Race
In this wonderful world of fashion, there are rarely any overnight successes. Even with a degree from a fashion or design school, most things come down to experience which is accumulated slowly over time. This means that if you work in fashion, you're in this for the long haul. We're talking long hours and meticulous and repetitive tasks, for at least a few years until you reach your end goal.
Interning is a rite of passage that opens those doors for many. Assisting is another one of those gigs you may find yourself in at the beginning, but it will most definitely pay off. A lot of the time these subordinate positions come with some pressure. In moments like these, you've got to believe in yourself, embrace the process and do it with a smile on your face as opposed to fixating on the final destination.
Learning is Life-Long
Curiosity is your best friend in fashion! The quicker you develop an understanding of how the different gears of the fashion engine operate together (marketing, PR, the fashion week calendar, etc.), the better it will be for you. On top of that, things change fast in this field of work, be it trends, seasons, quality or production standards, or creative directors of our favourite brands. Fashion is in constant evolution, improving in much-needed areas where new technologies and skills are being introduced.
Make the most of your new internship or job by being open to personal and professional growth as well as learning new things. Whether you are on or off the job, there are so many ways you can continuously be learning and keeping up with what happening around you without spending a dime! Be a forever learner and a student of life.
Connections Are Everything
Perhaps the greatest perk of working in this one-of-a-kind industry is getting to meet some of the most unique, talented and passionate people! It's a small world in fashion, therefore reputation and connections are of prime importance.
Networking goes a long, long way and it's made easy with sites like LinkedIn that help you connect with fellow professionals online and maintain those relationships over time. Mentorships are created through authentic networking and building long-lasting connections with people who are like-minded. Connections are what will lead you to landing those diamond in the rough opportunities through referrals and the reputation that you have built for yourself.
Keeping these four concepts in mind will help you narrow your focus and refine your soon-to-be success in the dynamic and exciting fashion industry. The more preparation and planning that you can put into your future career, the better equipped you'll be to watch your career take off.
Think you've got the skills and experience but not sure if it translating through your resume or cover letter?  Style Nine to Five's Resume + Cover Letter Refresh has you covered!
Anita Hosanna is a freelance fashion stylist and creative consultant with a love for community, fashion journalism and fashion tech.
Feature Image: Adobe Stock