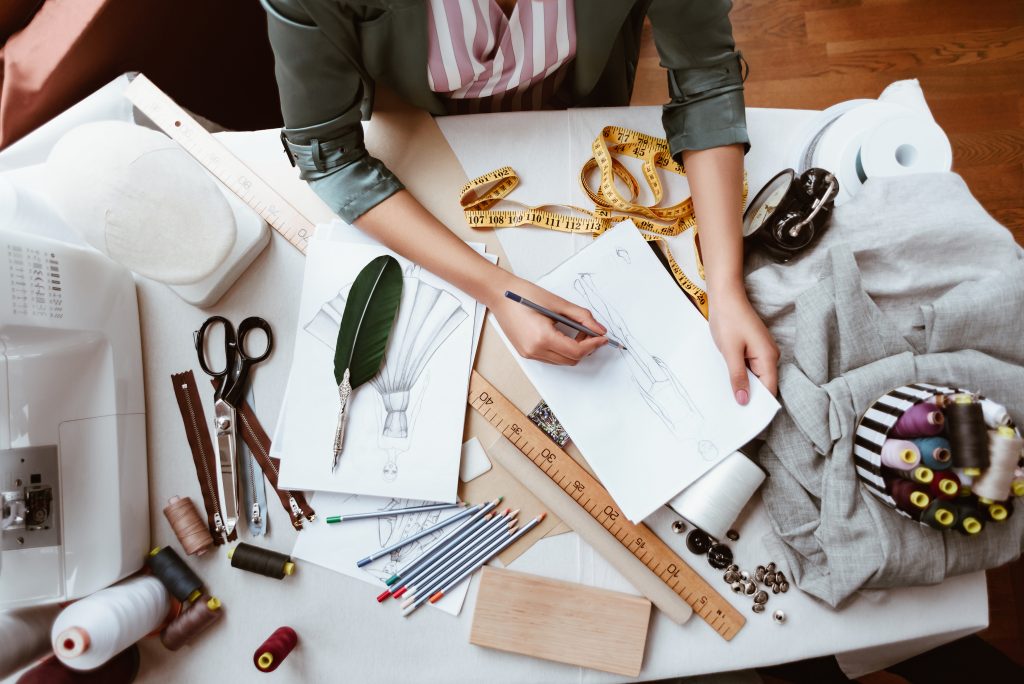 Learning is a lifelong activity, but going to fashion school to be taught everything you want to know, or to update your knowledge gets really expensive really quickly. Thankfully, there are so many ways to assimilate new information that is readily available and won't cost you a dime! Yes, you read that right; here are 5 sources to help you increase your knowledge and skills in fashion for free:
1 – Visit Libraries, Galleries and Museums
Your local library is a gold mine for expanding your knowledge at no cost. Alternatively, you can borrow fashion books from people you know or find them on Amazon, eBay and other sites. Oftentimes, these sites sell preowned books at discounted prices. Books also make for exceptional gifts, so add them to your birthday or Christmas wish list! Some must-reads include Fashion History from the 18th to the 20th Century, The Fashion Business Manual and The Future of Fashion: Understanding Sustainability. Designer biographies are also great reads that help inspire your own fashion identity and learn fashion history.
To that effect, there is so much to be pulled from the past in museums, and even more to be discovered through galleries as well. Make it a habit to visit these venues every so often to delve into a world that can immensely inform you on the history of fashion. These books and spaces will serve you well and aid in your knowledge journey about all things fashion, design and business.
2 – Read Blogs and Newsletters
Style Nine to Five is your number one source for fashion career insights and resources, but there are a plethora of blogs to share valuable information on all things fashion – past, present and future. Blogs are a thriving area to curate in-depth knowledge about specific fashion topics – no matter what you're interested in, there's most likely a blog out there for that! Not sure where to start? We suggest you check out FashNerd, Diet Prada, The Fashion Law and more for industry-related content. Many of these blogs have email newsletters that you can subscribe to so that you're the first to know when new posts have gone live. Research some of the best blogs that suit your educational goals and follow them closely.
3 – Seek Out Mentors and Coaches
At some point we all need someone to look up to, to model our career after, to coach us and give honest critiques that can then be applied to our work. That's what mentorship is all about. Mentors and coaches are experts in their field. They are also busy people, and we all know that time is precious. If you have the opportunity to learn from someone who is willing to mentor and coach you, always be mindful of networking etiquette. Be on time for meetings, prepare questions in advance and be ready to soak up all the knowledge imparted on you.
The best way is to find a mentor is by emailing people you already know and admire, people who are doing what you're interested in learning more about. Reach out to them by sending a personal, detailed yet concise email on how you're seeking coaching in a given area and would like to connect. Be clear with your goals, direct with your needs and follow up after some time if you have to! If they can support in any way, they will surely get back to you.
4 – Study Social Media
Social media, when used intentionally, is a powerful tool to advance your fashion knowledge when you follow brands, individuals and institutions that share relevant news regarding the industry. YouTube has become the go-to free platform to self-teach everything from designing and sewing to launching your own fashion brand through step-by-step tutorial videos. Utilize this platform and others like it such as Clubhouse and Audible for their noteworthy wealth of content to educate yourself on brand knowledge, trend forecasting, fashion technology and more.
For leading fashion podcasts and YouTube channels, check out Haute Le Mode, Fashion: No Filter and Behind the Scenes Beauty with DM.
5 – Pursue Internships, Volunteering and Practice
The final cost-free way to solidify your fashion knowledge and put your skills to the test is by putting everything you've absorbed into practice. This is where volunteer experience and internships come in. Most companies offer internships and apprenticeship programs to students at a specific time during the year, but you can always take the initiative to reach out about possible openings if you don't see any postings. You never know!
Volunteering your time will give you invaluable access to opportunities to learn about business operations, branding initiatives, and marketing processes – things that cannot be taught in books and that money cannot buy. Experience breeds confidence, and you never know where that might lead you next.
Take advantage of the new Cover Letter Refresh + Resume Template package for tailored help from Style Nine to Five's Founder, Christie Lohr.
Anita Hosanna is a freelance fashion stylist and creative consultant with a love for community, fashion journalism and fashion tech.
Featured Image: Adobe Stock