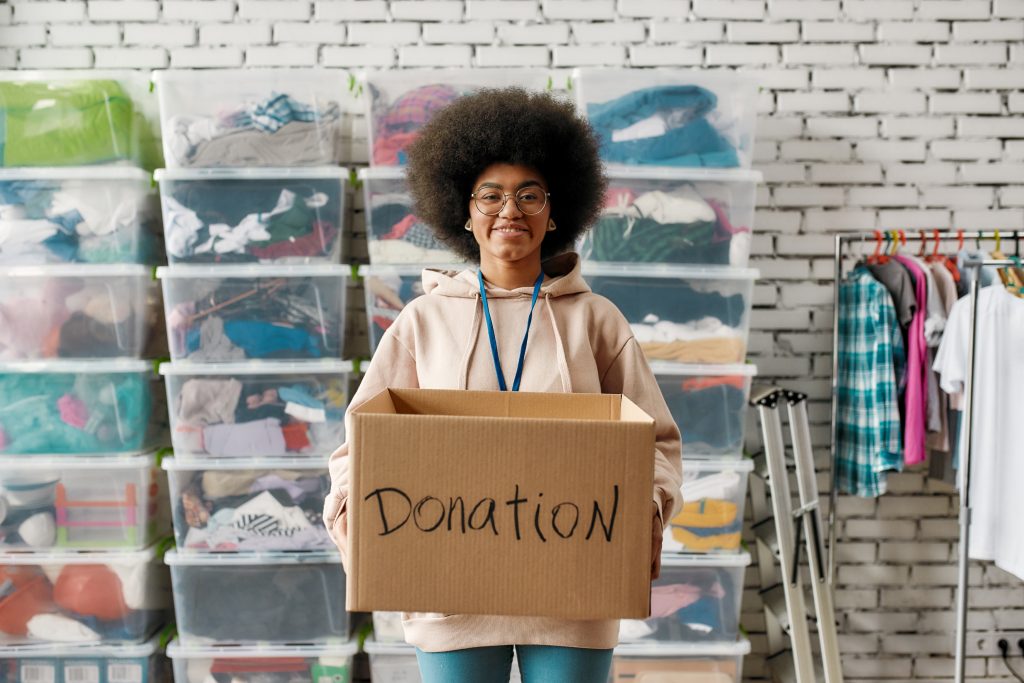 When it comes to career growth, there are many paths you can take to help boost your career. Further education, interning, and taking on additional opportunities at work are tried and true ways to make your resume shine. But what about volunteering? Although it can sound like extra work, giving back to your community definitely has benefits—why not make one of these benefits turn into a change in your career? Whether you're just starting out or are looking to make a change mid-career, these low-commitment opportunities can be the perfect way to help boost your career.
1. Expand your skill set
As Style Nine to Five Founder, Christie Lohr, has said in the past, learning new skills is an important step to get you to the next level. Volunteering can help you get there by offering hands-on experience to hone your skills.
Customer service, coordinating, supervising, and managing teams are all sought-after skills in volunteers. If you're hoping to get promoted to a job with more responsibility, developing these skills in a volunteer opportunity is a great place to start.
I've personally done this as a mentor for a high school student through the YWCA and could not recommend it highly enough. I had read many books and taken some management courses, but there is nothing like a hands-on experience to truly apply those learnings. It challenged me to become a better leader, communicator, and overall manager.
Or perhaps you're looking to develop your hard skills by applying what you recently learned in a course and want to try out your newly developed skills in graphic design or digital marketing. Volunteering can give you that practical experience to apply your knowledge and develop your expertise in real life.
2. Gain experience in a field you'd like to work in
Many organizations offer casual or contract style volunteer opportunities which offer a low-commitment way to learn about a field you're interested in and gain valuable experience for your resume, all this without the time of full time job.
If you work hard enough, volunteer opportunities can turn into jobs. When I was in university, I wanted to see if a career in arts administration was right for me, so I found a festival in my hometown that I was interested in working with. That year, I volunteered there and learned everything I could, so the following year I would have a leg up when applying for a paid position on staff. I got a job the following year and worked two seasons at that festival. Having that arts administration experience on my resume was a huge highlight and led to more jobs later in my career.
This advice applies to a wide variety of industries. By simply searching for volunteer opportunities in your area, you'll find that many charitable organizations are looking for volunteers who can help with marketing, finance, or wherever your career path is taking you.
3. Show you care about a cause
If you're switching fields mid-career and want to show your passion for a specific industry, then this section is definitely for you. As Christie often suggests in her Instagram Stories, step one is to make sure you're highlighting those transferable skills. What better way to show you're truly interested than with a relatable volunteer experience featured on your resume? Let's say you're looking to move from marketing in real estate to marketing in fashion. Find a volunteer opportunity that is in the fashion world to show recruiters how dedicated you are to working in that industry.
Even if you're not switching industries, demonstrating your passion for the industry through your volunteer experiences is always a good idea. When I was starting out in the arts industry in Toronto, I grabbed every volunteer opportunity I could find. This demonstrated to employers that I was not only committed to working in this field, but that I was passionate about it. Looking for a volunteer gig in Vancouver's fashion industry? Check out Dress for Success or participate in the Downtown Eastside Women's Centre's annual fashion show fundraiser.
4. Grow your network
Networking can be difficult in the best of times, but it doesn't have to be. In most major cities there are not-for-profit organizations dedicated to networking and building community for a variety of industries and groups.
Have you attended an event through Lean In, Vancouver Women in Tech, or the Greater Vancouver Board of Trade? Although in-person events have been postponed, organizations like these have moved their events online to keep everyone connected. I've attended a few virtual events through Creative Mornings recently and have loved the webinar style workshops followed by the opportunity to network with people across the country. If you're looking for something a little more informal, Likemind Vancouver has also moved their monthly "coffee and conversation" online.
If you think back to a few networking events you've attended in the past, it's likely a few of them were run by volunteers who offer their time as board members. Common roles often include Partnership Chair, Events Chair, Human Resources Chair, Marketing Chair and more. If you're looking to grow your network and are able to lend your expertise, then a volunteer opportunity as a board member might be for you.
While sitting on a volunteer board, you'll gain exposure to other industries through your fellow board members, and increase your leadership and strategic thinking skills. Although these commitments are usually longer term, you'll get to spend quality time developing long-lasting connections which could open the door to future mentorship or job opportunities.
5. Connect with a company
I've been in interviews where the recruiting team has specifically pointed out how impressed they are with the volunteer section of my resume. This is your chance to go the extra mile. As I mentioned above, adding a volunteer section to your resume can help recruiters make additional connections with you, besides the job you're applying for. It gives them a sense of who you are and what else you might bring to their company.
What's even better is if you research what causes your dream employers support. Do they have a charity that is focused on environmental issues? Perhaps they sponsor an annual event at the local animal shelter. Do you also have a passion for helping animals in need? Reach out to them and see if they need volunteers. Then when you make it to that interview, you have an instant connection that fits in their organizational culture.
Volunteering isn't always glamorous, but it can be deeply rewarding, not only for your community, but for you and your career too. Showing you care about your community by giving your time to a cause speaks volumes. There's never a bad time to start volunteering. Grab hold of your career path and get volunteering!
Need extra advice on how to use volunteering as a way to boost your career? Schedule a Style Nine to Five Virtual Career Meeting with Christie to review your career path including options, next steps, cover letter, and resume advice.    
By: Catherine Gautreau – Catherine is a communications and fundraising professional in Vancouver, BC with a passion for storytelling, the arts, and giving back to the community.
Feature Image: Adobe Stock