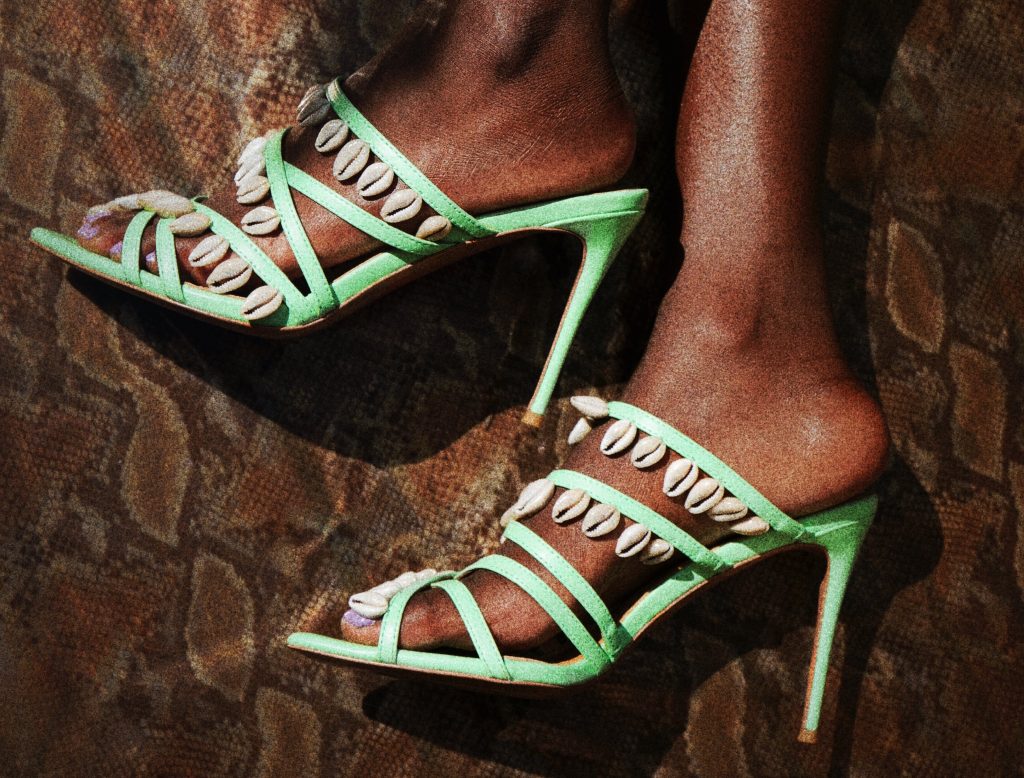 Jamaican-Canadian footwear designer Téjahn Burnett has built a successful fashion label from the ground up. Founded in 2018, Téjahn Burnett is a high-end footwear line that has sparked the attention of Elle Magazine, Chatelaine, Marie Claire and more!
Specializing in women's high heel boots and hand-crafted sandals, Téjahn joins us to discuss launching your fashion line, building brand identity and finding your niche.
Style Nine to Five: Téjahn Burnett, you are a footwear designer in the luxury sphere – when did you realize you wanted to be a fashion designer?
Téjahn Burnett: After obtaining a degree in Fashion Management, I knew that I wanted to challenge myself to create a solution to the problems I faced with trying to find footwear that would fit me. I took on freelance roles within the creative industry in hopes of being able to gain some general knowledge on how things were done within the fashion industry. During and upon the completion of school, I toggled between creative roles in luxury cosmetics, wardrobe styling, runway dressing and eventually transitioned into creative direction.
As a lifelong learner — it was important to me to gain as much industry knowledge as possible. I took on roles in finance and communications to build better business practices and realized that I wanted to become a designer after falling in love with the process of executing ideas from start to end. 
SNTF: What made you decide to specialize in designing specifically shoes for women?
TB: I began designing footwear for women as a means of challenging my childhood obsession with shoes and sneaker culture. I always felt like women's footwear was something that I was never truly felt satisfied with. I wanted to challenge the way in which footwear was available to women in traditional retail spaces. I began designing with intention, in hopes of being able to bridge the gap between size inclusion and trendy footwear. Understanding how responsive and interactive women are within the footwear sphere has allowed me to tap into creating shoes for women who need footwear that keeps up with their busy pace. 
SNTF: How would you describe the Téjahn Burnett brand?
TB: The Téjahn Burnett brand is for women who value quality craftsmanship, exciting new silhouettes and aren't afraid to step out of their comfort zone with our footwear. Our designs are intended to be fun and eye-catching. Our shoes are for women who are fearless and gracefully willing to put their best foot forward. The brand has grown tremendously in market share within the last year and it makes me so happy to know that we are on route to solidifying a lasting impression in the global footwear industry.
SNTF: What were the first steps you took towards becoming a footwear designer and did you encounter any obstacles/challenges/struggles along the way?
TB: As a self-taught designer, many of my early stages in design were used to educate myself on with the anatomy/composition of a shoe. These stages were monumental in the early development of the brand. It was important that I took the necessary steps to truly understand the product development and creation process behind producing footwear before I could truly submerge in designing my own shoes. I spent years researching and analyzing how shoes were produced, sold and distributed in order to get a better understanding of what I was truly trying to get into. Lack of hands-on resources and access to funding made venturing into entrepreneurship a bit discouraging at first. When I first got started, funding/grant opportunities were never made accessible for emerging designers let alone for-profit companies. Financial and academic institutions offered very little knowledge/support in footwear here in Canada and it began to feel like the information accessible was dated. 
SNTF: What does your creative process look like?
TB: I pull inspiration from the simplest of things. The colourway of the brand's top seller, Simijah, was actually inspired by my favourite nail polish colours at that time. I think the best part of being a designer is being able to adopt finding inspiration from a plethora of things. For me, music, film and pop culture has helped fuel some of my brightest ideas. Journalling and documenting my creative thought process has helped me get a better sense of how I choose to create a design.
SNTF: Any words of wisdom for aspiring designers looking to get their passion project up off the ground?
TB: Self-discipline is the highest form of currency that you owe yourself. There are many elements of entrepreneurship that can be taken for granted when trying to get your ideas off the ground (i.e. your mental, emotional and physical health). Nothing about creating and executing new ideas is meant to be easy. Use your challenges to help you pivot— and remember, even when trying to tackle your wildest dreams, prioritize the power of self-discipline and where it can lead you.
Get all the tips and secrets to land your dream job from Style Nine to Five's Founder Christie Lohr – learn more about the Get Hired Workbook, coming soon!
Anita Hosanna is a freelance fashion stylist and creative consultant with a love for fashion journalism and tech.