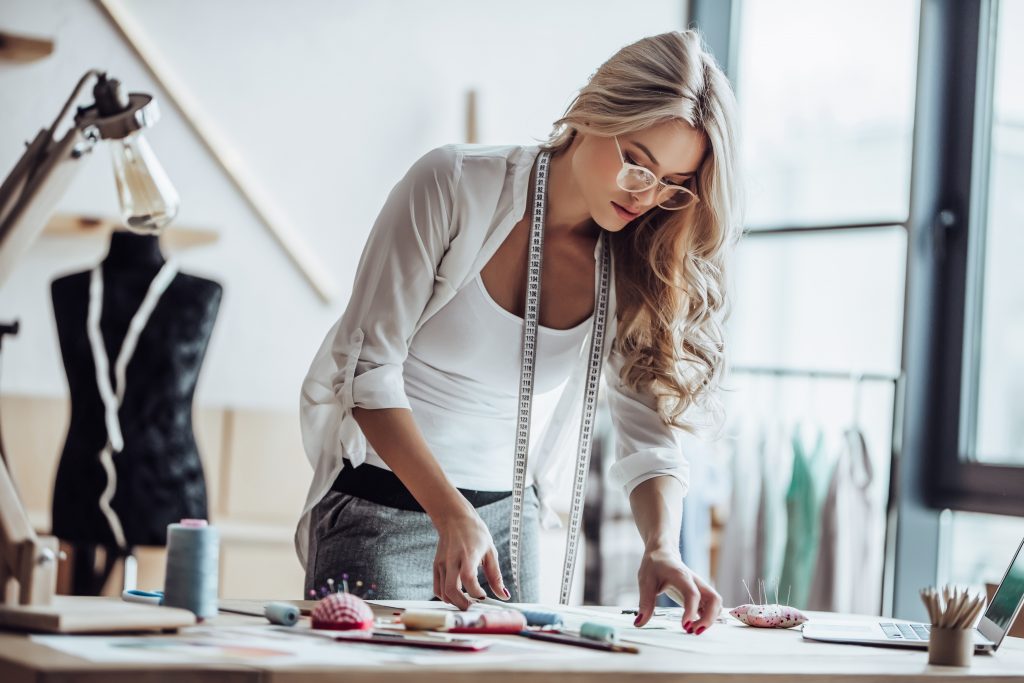 The road to success in fashion is paved with creative risks, and although when we think "fashion design," the first job that naturally comes to mind is "fashion designer", there are so many more routes to the same destination. These alternate routes are equally rewarding and can be quite specialized, making use of multiple skills. The practical experience and knowledge gained from working for a company in a behind-the-scenes design capacity is a game-changer and can lead to a future as a designer for other businesses or even your own label!
Design Assistant
First up, assistant designers! This is often the first point of entry for many designers-to be from a corporate standpoint. They work closely with lead designers to alleviate tasks related to administration, shipping, sample management and data entry as well as some design-focused duties. From there, assistants slowly work their way up the ladder towards overseeing their own collections as junior and senior designers.
For more information on what to expect when going from assistant to designer within a fashion house, check out our article on how to become a designer for a fashion brand!
Pattern Maker
From sketch, to sample, to the finished garment. Pattern makers work in apparel with textiles to turn designs into wearable products by creating individual panels of fabric (patterns) for tailors and seamstress to piece it all together. They play a key part in product development and need to factor in all the necessary adjustments to fit different shapes and sizes for the product to be mass-produced. They may also work with individual clients to create custom patterns based on their specific measurements.
The job is both creative and technical, therefore competencies in drawing, sewing, fabric knowledge and computer applications like Illustrator are indispensable. Inkscape is a free alternative you can use to get familiar with illustration applications before investing in industry-grade software.
This line of work also involves a lot of math, and although a bachelor's degree is optional, previous work experience and technical training will be helpful in securing your position. Pattern makers stand a great chance in making the transition to a designer as their pattern-making skills give them a huge competitive advantage.
Textile Designer
Working with companies to create colour palettes, motifs and prints in multiple colourways, textile designers are a hot commodity in fashion design. The role is quite varied as textile specialists can work as embroidery designers, in fabric development or furniture and interior design. While their focus is on colour, design, detail and manufacturing, they're often called on to bring their expertise in construction and fabric knowledge to product development.
Textile designers need to be able to draw out their designs and are expected to make use of tools like Pantone, Illustrator and Photoshop. Apart from designing, textile designers are also responsible of trend analyses and forecasts. So, while there is no need to enroll in fashion school for this job, candidates will need to prove their technical, research and analytical skills. It all comes down to portfolio, design range and versatility. Include different styles, materials and projects in your portfolio to really show them what you're capable of! Finally, you'll also want to develop a good understanding of the difference between handmade and machine-made products, different weaves, different fibers and so on. Once that's down, you are ready to start applying!
Textile designers are somewhere between design, product development and manufacturing. Seeing all these sides of the production process put them in good standing for becoming a fashion designer in their own right down the line.
Have you recently seen a job posting that checks all your boxes, but not sure if your application package will get the employer's attention? Get all the secrets to land your dream job from Style Nine to Five's founder Christie Lohr – learn more about the Get Hired Workbook, coming soon!
Anita Hosanna is a freelance fashion stylist and creative consultant with a love for fashion journalism and tech.
Featured Image: Adobe