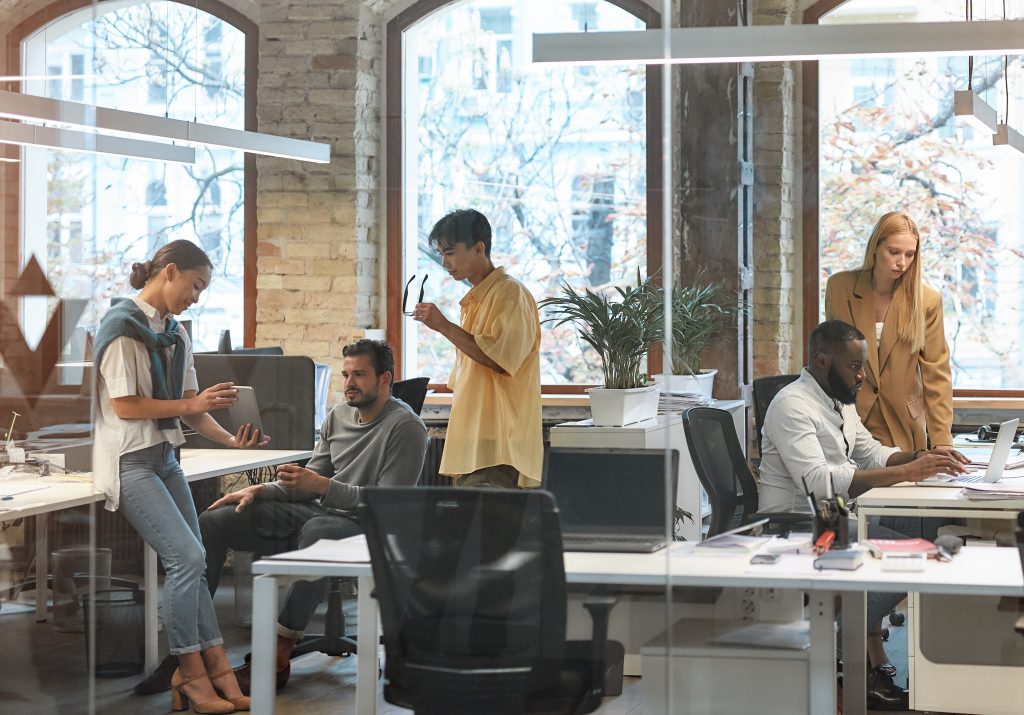 You know you're interested in studying communications and pursuing it as a career, but how can you actually apply it in the real world? The great news is that the communications field offers an extremely wide range of jobs. Whether you'd like to be in an artistic sphere or an analytical one, there are plenty of options available.
1 – Public Relations
Are you the type of person who can talk your way out of any situation? If you have incredible communication and writing skills as well as a great knowledge of how people communicate across different types of media, public relations is the field for you. A public relations specialist handles all of the communication between a company and the public. You'll be crafting media releases and media campaigns that will all tie together to construct the public persona of the company or client you're working for. You need to be a quick, creative thinker in case you ever need to get out of a tight spot, and highly intuitive to what other people want and need to hear.
2 – Digital Marketing
Digital marketing is the ideal job for anyone looking for work that'll make good use of both the creative and analytical sides of the brain. If you're being torn between the two paths, then digital marketing is probably the best field for you. Not only will you be making creative work like videos, copy and graphic design for companies or clients, but you'll be keeping tabs on all kinds of metrics to ensure that this creative work is receiving the response you desire. Digital marketing is also a field for people who like experimentation and don't mind uncertainty, as you never know what's going to work until you post it and check the analytics later.
3 – Event Planning
If you're a detail-oriented person who loves working with people as well as having control, event planning is your best bet in the communications field. Event planners structure professional events, right from the initial idea down to making sure everyone in attendance has a good time. You'll have meetings with stakeholders, scope out venues and determine all logistics from catering to equipment, all while manning the budget – once the stakeholders determine what they want, everything falls into your hands. This can seem like a daunting task, but if you're someone who loves to put the pieces together and make sure things run smoothly, it's one you'll excel at.
4 – Human Resources
Human resources is another great field for skilled communicators, but particularly for those who have an easy time in management positions. As a human resources specialist, you'd be responsible for handling each employee's journey – hiring, firing, promoting – as well as training and supporting these workers and handling employee relations to the company at large. To succeed in human resources, you need to have great interpersonal skills. If you have an extensive retail management history behind you, you're already a step ahead of other communications specialists looking into the same job, too.
5 – Media Planning
So, you were a big fan of all the advertising classes you took, but you don't have the creative genius to construct your own campaigns. Media planning is the job you've been looking for! A media planner researches and recommends advertising strategies to a marketing team or individual clients. You don't actually do any of the creative legwork, but a lot of research and analytics. You'll be studying your target audience and their media consumption habits while attempting to determine how your company's advertisements can fit into all types of different platforms.
This is just the tip of the iceberg for communications jobs, so use them as a starting point for further research if none are the perfect fit. Consider your skills and what you'd like from a job – with a background in such a broad field, there's something out there that's well suited to you.
Need a resume refresh before applying to a communications job? Purchase one of Style Nine to Five's Job Application Templates!
Emily Morrison is a media professional with passions for writing, film and popular culture.
Featured Image: Adobe