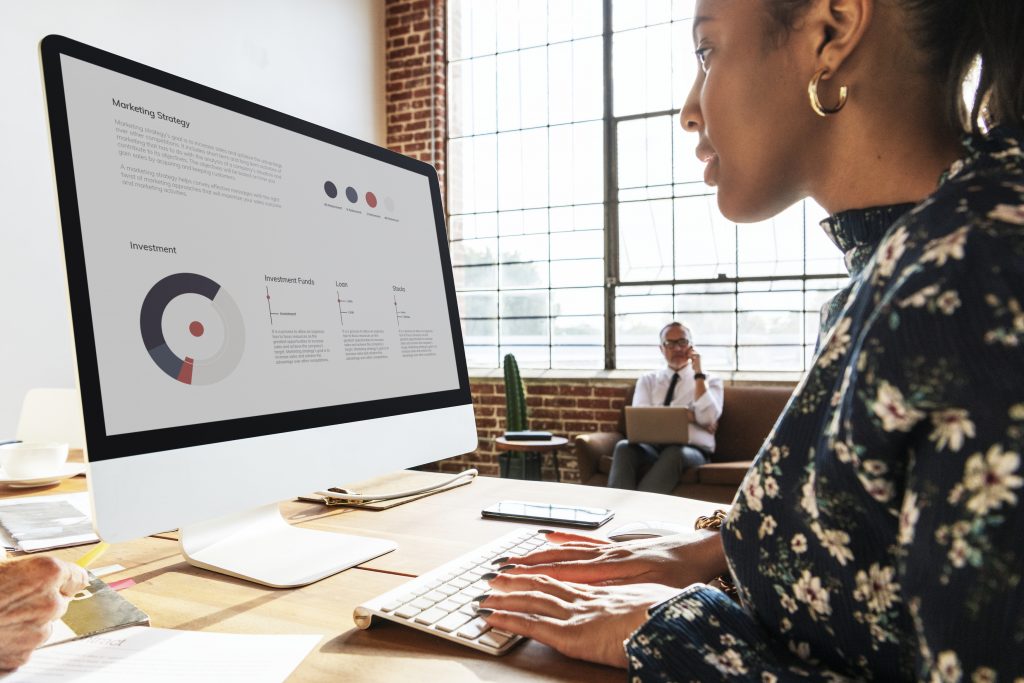 I never set out to be in the creative industry. I, like many, had absolutely no idea what I wanted to do after college. I bounced around some retail stores, coasting through different positions, never really honing my skillset, what I was good at or what I would enjoy doing.
It wasn't until I was recruited to be Creative Design Coordinator, an integral part of Hudson's Bay Company's national creative team, that my light bulb went off. I found my calling and, as they say, the rest is history.
At the time of my hire, the digital and online transformations were only beginning to take fold. Positions like Social Media Coordinators were still unheard of and certainly weren't recognized parts of marketing teams. Fast forward to today and you'd be hard pressed to hear of any company without a dedicated social media department.
Digital and Creative roles were already forecasted to develop in the coming years, with entirely new ones expected to show face, such as, GIF Designers, Instagram Filter Developers, TikTok Managers, Motion Designers and Chatbot Designers. As a result of COVID-19, companies and businesses alike have exponentially fueled the demand for creative positions, all at unimaginable rates ,as they hold the key to these highly sought-after roles such as, Social Media, Marketing or Brand Managers.
Before getting involved, it's incredibly important to understand that these are still marketing roles, and therefore, a basic understanding of marketing itself is paramount. Deliverables for these roles will include the power to adopt and execute the overall marketing courses of action within the organization, understand how roles and responsibilities cross over with various departments and their integral parts in delivering success.
First Step: Know the Basics of Marketing
It's hard to encapsulate all that is marketing, but I believe that's what makes it so desirable. It's also what makes it incredibly daunting, as there are so many moving parts at any given time. This is always a learning curve, and as Creative Design Coordinator, it was no different. Thankfully though, it propelled my creative skillset into one that exuded exorbitant diligence, magical time management and agile adaptability – all skills that take a special kind of energy to learn and sustain.
Most marketing plans aim to produce a result, which are typically profits. Social Media, Marketing and Brand Managers need to be highly adept in varying tactics in order to deliver results, and it requires first-hand knowledge of basic marketing functions. There are several that situate themselves at the core of the traditional marketing framework and will ultimately help diversify your skillset into one that's transferable among potential employers. These include:
The four P's – Product, Price, Promotion and Place
If you took a marketing class or program, then you're likely familiar with these terms. Otherwise, get to know them well. They are the be-all-end-all to any creative and marketing game plan. They are the essential pillars for businesses/social platforms in order to provide the details of their product, program or service to the public. Think of all those ads you see pop up when you browse Pinterest or YouTube, for example. Those are targeted and strategized, and all went through rigorous 'Four P' analytics to be seen on your screen.
Target Market/Customers
The consumer is the holy grail of all marketing initiatives and overall business functions. As a business develops and commercializes, customer relationships are built and retained, enabling long term relationships and success. Understanding customer behaviour, experience and patterns are all paramount to instilling brand recognition and loyalty.
Budgets
Marketing departments typically account for the highest budgeted amounts within an organization. That's because it takes a village to pull off campaigns, ads and all of those collateral materials. Without pre-planned spending, resources and contingencies in place, marketing plans can fail and go severely over budget, resulting in lost income for the company.
Resources, Resources, Resources!
Procurement, sourcing and contract bidding are some of the top resources that help create successful marketing outcomes. This also coincides with budgeting, to ensure your spending stays on track and you're utilizing the resource effectively. Build resource lists so that there is a ready set and dedicated go-to list of tried-and-true partners.
Project Management
It's easy to get off track, especially when groups of creative minds are involved! Something new in the creative marketing world is hiring or becoming a dedicated creative project manager. Think of a product launch, as an example, and how many components it takes to get it to the point of completion. Project managers are all encompassing of those components, the teams involved and the strategies taken, all while ensuring budgets and deliverables are on track.
Tips to Succeed
In each of these roles, everything you do will be seen by others, in some cases, even the world. It's often perceived that the success of the company relies on your work, and that can be a big pill to swallow.
At the end of the day, success in Social Media, Marketing or Brand Management requires dedication and a boat load of teamwork. However, there are also functional approaches that you can take that will make every difference in your marketing career. Some examples are:
• Take a lead role in understanding and backing up the company's history and mission statements. It's funny how many people work for a company and don't know its history. Knowing a company's history not only solidifies your commitment to its success, but also enables authentic ideas and outcomes within their marketing initiatives.
• Keep tabs on competitors and influencers. What social channels are they using? What's their pricing? What strategies are they using that are successful or more successful than yours? Be as knowledgeable on competitors as you are your own company/brand.
• Learn the basics of graphic design. While it's not a pre-requisite for all marketing jobs, it does come in handy as graphics are the top ways to maximize results and engagement. Udemy and YouTube all have beginner-type tutorials that support the basic concepts of graphic design. If you're looking for a way to get a hands on feel for designing, Canva is a great tool for this as there's hundreds of premade templates to play around with.
Preparing for Interviews
I hope it goes without saying, but there's a relevant level of creativity that goes alongside being a Social Media, Marketing or Brand Manager. Authentic storytelling capabilities are hard to come by. Sure, there are hundreds of creators out there, but it's the ones that leave lasting impressions and turn results that get the big bucks.
Standing out in an interview for these roles will take some creative work of its own, so it's recommended to take the quantitative reins of your expertise and showcase how you'll be successful in these roles for the company. Some examples are:
• Mood boards and portfolios are exceptional ways to stand out above the rest. Turning all of your expertise and knowledge into its own little 'me brand' is a great way to add value towards yourself and gives employers and inside look to who you are as a potential employee.
• Utilizing metrics to your advantage, especially if you're new to the creative marketing industry. Highlight what you were responsible for and what the outcomes were. Employers love to see this!
Remember what I said about exorbitant diligence? Social Media, Marketing and Brand Management can offer endless growth and experiences, but it can also emit thankless connotations. Hours spent on pieces of work or projects can be kiboshed at a moment's notice. (This happened often during my time with Hudson's Bay, and it took some time getting used to its normalcy). That means confidence is key. Believing in yourself, your role, the company, everything… is what will propel you forward in these fields.
You've got your dignity. You're here. Use any mistakes, setbacks, wins and losses as ways to further your understanding and build your resilience so that you become the best marketing professional you can be in these emerging and exciting creative jobs!
Looking for help with your personal branding tools? Style Nine to Five founder, Christie Lohr, has the best job seeker services for fashion and creative professionals. Get in touch today for more details on how she can help!
Meghan Kelemen – Hailing from Toronto, Meghan is a Creative Design professional with advanced experience developing marketing strategies, creative improvements and regulatory management.
Feature Image: Adobe Stock