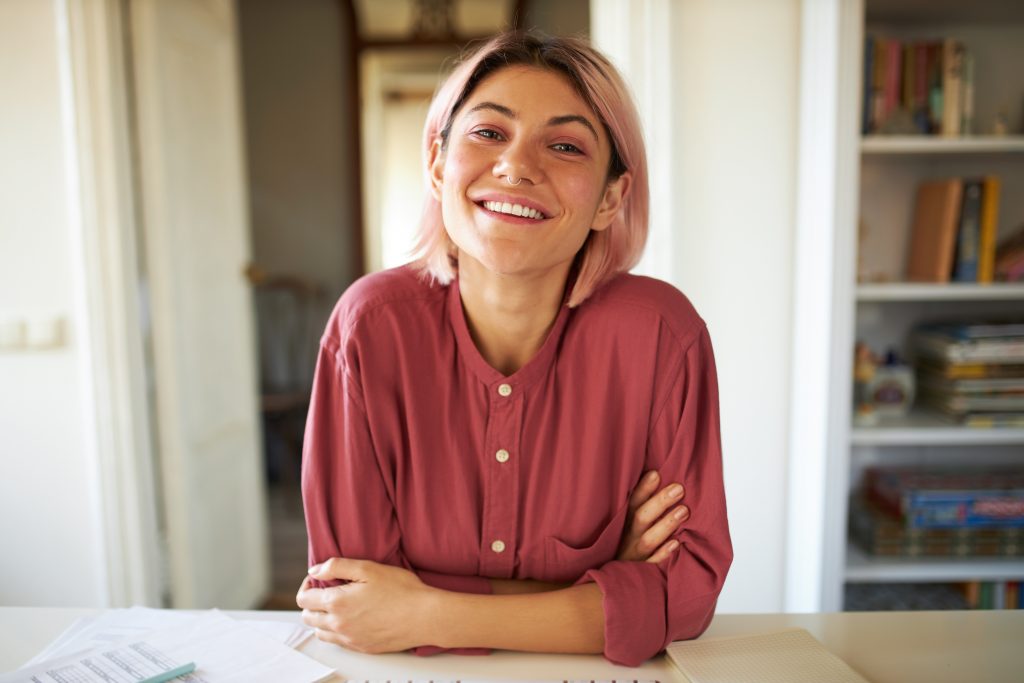 Woo hoo! You got the call back and have an interview set up! No matter if this is your dream job, or the first step on the ladder to the top, you want to ace it, especially in today's ultra-competitive job-seeking scene. While some people choose to wing it, most of us need more help, especially when it comes to a high-pressure situation like a job interview.
If you make it past the first round, you can be confident that they like you and are giving you serious consideration—but we all have to start with that initial interview. Before you let the interview jitters get the best of you, let's take a look at some easy ways to do your homework ahead of time so you can show up and be as confident as possible.
Get Googling
Ah, the internet—it's your best friend when you're in interview prep mode. Of course you'll want to research the company's mission statement and their About Us page, but if you really want to impress, take your sleuthing to the next level. By looking on the company website or through LinkedIn, you'll usually be able to find at least a couple of names of current employees. Whether they're the CEO or the receptionist—take notes!
What is their background? Think: past jobs, education, skills, tech know-how, and experience. What are the common threads? Let's say the founder and most of the employees have journalism degrees or have worked for local news sources doing reporting. Have you done the same? You're in luck—use that!
If you don't have the same type of experience, you can still put this information to good use in your interview. For example, bring it up and mention that you really admire the staff's work and would be excited to be part of the team. Or say that you're an avid reader of website XYZ and that you've recognized their CEO's name come up a few times. The hiring manager can already see from your resume that you don't have the same experience as some of their other team members, but you can impress by showing that you've gone the extra mile to form a connection.
Find the FAQs
Look online for a list of commonly-asked interview questions and practice them. Doing this out loud, with a friend on Zoom, or with yourself in the mirror at home (yes, actually) can make a huge difference over just thinking out your answers in your head. You'll notice whether you ramble, let your sentences trail, or say, "um" or "like," repeatedly. You'll see which questions trip you up and which you can answer more naturally.
There's no guarantee that the interviewer will ask you any of those questions, but at least you'll have put in some practice time thinking of intelligent answers, and that leads to confidence that helps you smoothly answer the other questions that get thrown your way.
Answer Outside the Box
Just because, "what is your biggest weakness?" is one of the most universal interview questions, it doesn't mean that you need to give a generic answer. Don't say that you're a perfectionist or that you pay too much attention to detail. Those are over-played and expected.
As part of your prep, think of some unique answers you can give to those common questions. Don't be shy about naming an actual weakness. For example, that you're shy in new settings or that you can be disorganized. The trick is to back it up with specifics on how you're working on improving. Maybe you're overcoming shyness by putting yourself in new situations on a regular basis or making a point to introduce yourself to new people, or even that you're thinking of taking a public speaking course. This shows the hiring manager that you're willing to be authentic with them and that you're making a genuine effort to improve yourself.
Another common starting point is the dreaded, "Tell me about yourself." The hiring manager has already read your resume, so don't waste precious interview time listing your education and work history. Again, think of something unique and memorable to say that ties into the job.
For example, if you're interviewing for a sales role, talk about your first sales job dominating the neighborhood lemonade stand scene as a kid. Or how you were always making paper casts for your dolls to wear, if you're interviewing for a health care job. Those anecdotes and personal touches might strike a common bond between you and the hiring manager, they show your personality and enthusiasm, and they'll make you stand out from the pack of people who gave ho-hum, cliché, or run-of-the-mill answers.
Be Ready with Specifics
While you can't predict the questions you'll be asked, it's safe to say that there will be at least one question where the interviewer will want to hear of a specific time that you faced a workplace conflict, dealt with a tough situation, overcame an obstacle, accomplished a major achievement, and so on.
To prep, review your own resume! It's not just a document that you submit to apply, it's your own valuable tool too. Look through your past jobs and the specific duties you've done. For each job, jot down one challenge you faced and one big win that you had. This way, whether  you're asked to talk about an obstacle or a triumph, you'll have at least one specific example you can use as a starting point.
Feel free to have these notes handy at your interview too—there's nothing worse than drawing a blank. Having some notes prepared shows that you've really taken the time to organize and get ready for the meeting.
Show Up with Your Own Questions
We've said it before and we'll say it again! Never leave a job interview without asking a few questions of your own. If you leave it to the spur of the moment, there's a good chance you won't be able to think of anything off the top of your head. Instead, come up with five questions that you want to know about the job, the company, the team you'll be working with, or the culture.
Even if the hiring manager covers all of your questions in the interview, you can always circle back and ask for a little more detail on one or two points. For example, say, "Wow, I had a list of questions prepared but I think you've covered them all! Maybe you can tell me a little more about a day-in-the-life of working here." Showing that you're just as invested in the interview experience as they makes a huge difference in turning the interview into a two-way conversation vs. an interrogation.
Set yourself up for interview success by putting in the time in advance of the big day. Not only will it impress the hiring manager, but you'll be able to show up, relax, smile, and show them what a fantastic addition you'll be.
Before you get your foot in the door for an interview, you'll need to win the hiring manager over with a top-notch application, including a stellar cover letter. With the Cover Letter Refresh service, Style Nine to Five's Founder, Christie Lohr, will get to know you and craft a killer cover letter for the job you want. Christie also offers an Interview Prep service!
By: Jeanine Gordon – Jeanine is a freelance writer and editor with a passion for creating stellar content for global brands and small businesses alike – specializing in fashion, beauty, and lifestyle.