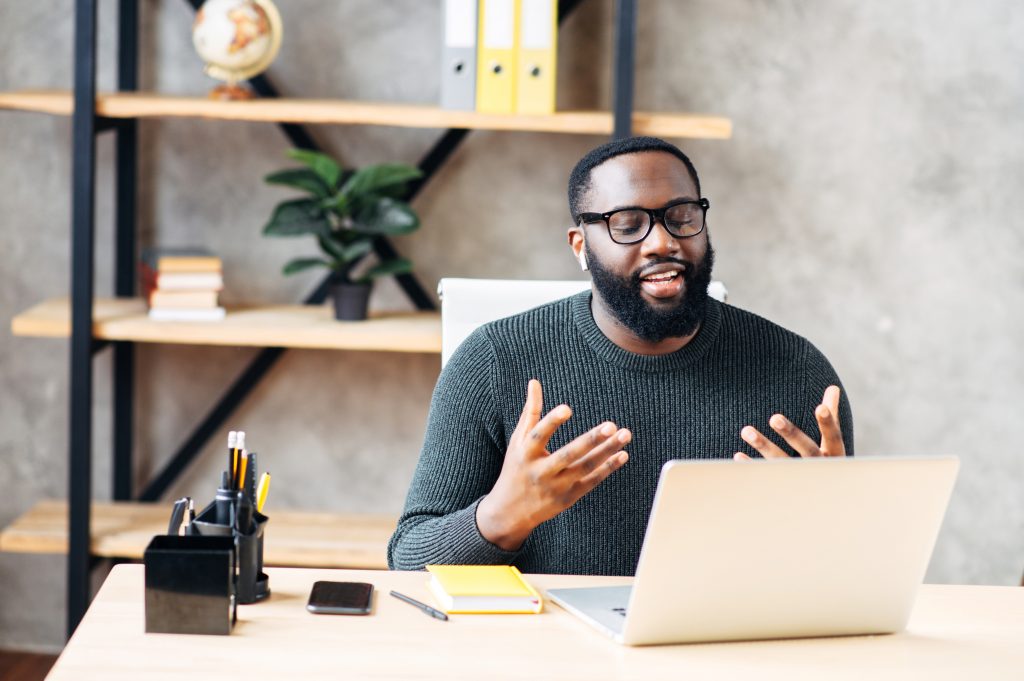 No matter how excited you are about getting an interview, your nerves are sure to kick in before the big day. For many of us, job interviews can set off sweaty palms, shortness of breath, a shaky voice, and even forgetting what you were about to say. While you might never be totally relaxed in an interview setting, these are six things you can do to kick your anxiety to the curb.
1 – Over Prepare
There's no such thing as preparing too much for an upcoming job interview. Style Nine to Five's Founder, Christie Lohr, stresses this point to her clients often. "You can never be too prepared going into an interview," she says. "Research the company and show them that you've really gone the extra mile. Prove how invested you are!"
Following Christie's advice is easy by spending a little time on their website to study the company inside and out. Find out when it was founded, their mission statement, who the key team members are, and what services they offer. Consider the market they're in – who are their competitors? What is their reputation like? Do they have any recent press mentions or accolades?
Once you find out everything you can about the company, put your knowledge to use and talk about these things in your interview:
• Mention how impressed you were about the article they were featured in
• Talk about how much you like their new product or service
• Bring up their company values and how they align with yours
• Mention key employees that you'd be excited to work with and learn from
The list goes on, and you might not get to touch on every point, but won't be able to speak to any of these things without doing your homework first.
Hiring Manager's Takeaway: You've made a genuine effort to get to know the company and have positioned yourself to fit in with their goals.
2 – Come Equipped
It's normal to lose your train of thought when you're nervous, and the last thing you want to do is draw a blank when you're trying to prove yourself to a hiring manager. Rather than showing up empty-handed, bring along a few items that will help you stay on track.
• Your Resume
It never hurts to bring a copy of your resume along to help you highlight a few key experiences or duties that match up with the skills they're looking for. It can be easy to forget certain career achievements or important roles that you've played when you're in a high-pressure situation. While you don't want to spend the interview reading your resume aloud, bringing it along can just jog your memory when it comes to answering tough questions about your past experiences. You might not even refer to it, but just knowing that it's there can help your confidence.
• The Job Description
Any great application package takes key skills and requirements from the job posting and sprinkles them throughout the cover letter and resume – that's likely a big part of why they want to interview you! Keep that momentum going during your interview. Circle keywords from the description that apply to your experience so you don't forget to bring them up in the interview. If you lose your train of thought, it's easy to refer to those skills and requirements and get back on track.

• Your Questions
At the end of the interview, when the hiring manager asks if you have any questions, never say 'no.' There's always at least one thing you want to know, and asking questions keeps the conversation going longer. Asking questions shows that you've really thought about the job and that you are eager to learn more.
This is a great time to ask about what the company culture is like, ask about the team members you would be working with, or talk about other logistics (e.g. Is it a remote position? Are the hours flexible? What is the anticipated start date?). This is also the perfect time to ask what the next steps are, which will tell you when you can expect to hear from them or find out if there are more rounds of interviews coming.
• Talking Points
Going back to all that research you did to prep for the interview, if you did your homework, you'll want to show it. Or maybe you have some key things about your experience that you want to touch on that they may not ask about. Or, you have a few ideas written down for those tough questions like 'What is your biggest flaw?' or 'Tell me about a time you overcame an obstacle.'
Some people can speak naturally off the top of their head, but it doesn't hurt to have a few notes ready to make sure you provide stellar responses to their questions.
Hiring Manger's Takeaway: You're not just passively sitting there – you're taking the interview seriously and have come ready for a proper meeting.
3 – Test Your Tools
Thanks to the pandemic, we're now faced with more interviews taking place via video or phone. Don't be that person who has trouble connecting or can't get their mic to work. Not only does this make you look unprepared, but scrambling to connect or get your webcam working will leave you flustered and make your nervousness even worse.
Try doing a trial run with a friend if you're uncertain about the tech aspects of your interview. This is also a great opportunity to make sure your background looks tidy and you're positioned in good lighting.
If you're doing an in-person interview, you don't want to show up late because there was construction along the way or you couldn't find parking. Instead, take time to look at your route, plan how long it will take you to get there, and leave a buffer to account for unexpected obstacles. Your best bet is to arrive a few minutes early. Not only does this avoid keeping the hiring manager waiting but it also gives you a few minutes to collect yourself before heading into the interview.
Hiring Manager's Takeaway: You can easily show up prepared and on time without keeping anyone waiting or making excuses for being late.
4 – Practice
It might sound cheesy, but there's nothing wrong with a little role playing in the mirror or on your webcam to go through a pretend interview. Google the most commonly asked interview questions and think about how you'd answer them. Many interviewers want candidates to give specific examples of tough situations or obstacles they've overcome, and it can be tricky to think of these things on the fly.
Seeing yourself speaking might also open your eyes to things like slouchy posture or nervous fidgeting. A little practice goes a long way in making sure you're ready to look and sound your best when you're in the hot seat.
Hiring Manager's Takeaway: You're prepped and ready with the examples they're looking for when asked to provide real-life experiences.
5 – Make a Little Small Talk
You might be so anxious to get the interview over with that you want to dive right in, but taking a few moments before you get started helps show a little personality and can also give you a minute to calm your nerves.
A few simple bits of small talk are always welcome! Try things like:
• "How's your day going so far?"
• "I'm loving the weather this week – I hope you've had a chance to enjoy it!"
• "I see that your company just moved to this location – moving offices must have been a hectic time for you!"
• "Wow, the views from this meeting room are stunning – you must love looking at this every day."
• "It's too bad we can't meet in person – thank goodness for technology!"
Without talking their ear off, a little chit chat before you get started lightens the mood and shows that you're eager to connect beyond just getting the interview over with. It also gives you a moment to relax, smile, and ease into the conversation.
Hiring Manager's Takeaway: You're easy to talk to and pleasant to be around. They're looking forward to keeping the conversation going with someone who takes the time to connect, even on something as small as the weather.
6 – Plan Your Outfit Ahead
Getting dressed might seem like a no-brainer, but deciding what to wear for an interview can cause major stress, even for the most style-confident people. Scrambling at the last minute can add to your anxiety and leave you a sweaty, wrinkled mess as you rush out the door. Take the time the night before to pick your outfit, try it on to make sure you feel good in it, and whip it into top shape by ironing your shirt, polishing your shoes, or making sure your sweater isn't pilling.
It's the little details that can make a difference in how you present yourself, so why not put your best self forward and eliminate closet panic before your interview? Knowing that you look your best can boost your confidence – something we all need more of before an interview.
There you have it – a few hours of forward thinking, planning, and prep time can give you a significant interview advantage. Calm your nerves and show up with confidence by taking the time to get ready for the big day and so you can ace your interview.
Make sure your resume stands out when it gets into the hiring manager's hands with Style Nine to Five's Resume Refresh service. Christie puts her skills to work to make sure your resume is as impressive as you are.
By: Jeanine Gordon – Jeanine is a freelance writer and editor with a passion for creating stellar content for global brands and small businesses alike – specializing in fashion, beauty, and lifestyle.
Feature Image: Adobe Stock