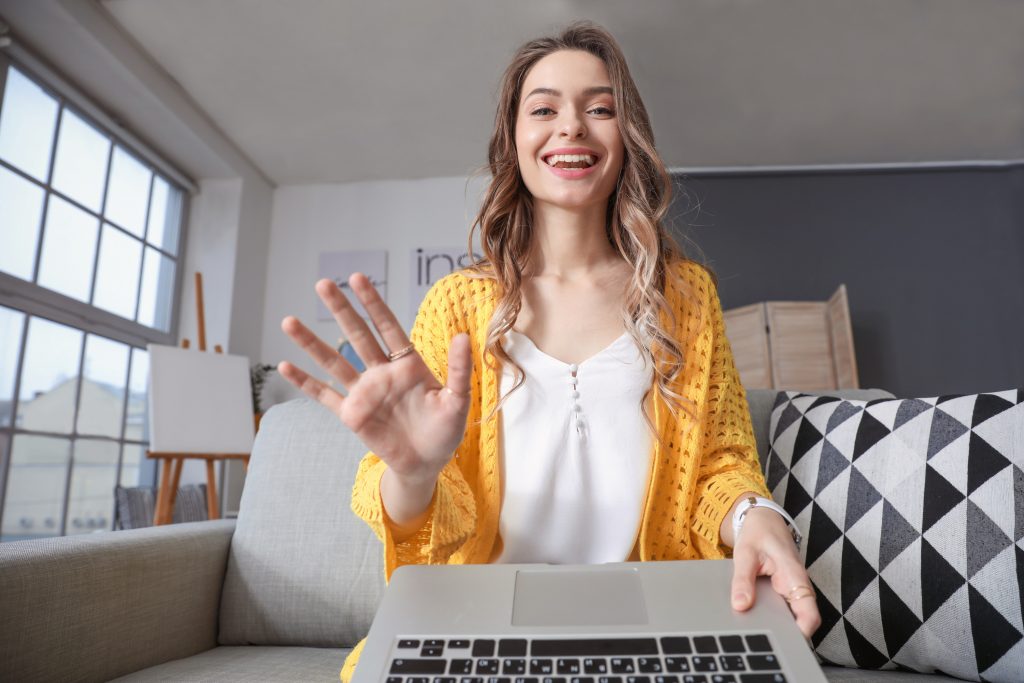 Given the current pandemic situation, many businesses have opted to shift to work from home models, including the hiring process. While most job searchers are accustomed to emailing applications and liaising with recruiters online, for many, interviewing virtually is a new step to overcome. Phone interviews were often a common pre-screening for the formal interview, but recently, video calls have replaced in-person meetings altogether. While phone and virtual interviews share some similarities, there are some extra considerations when it comes to going on video.
In many ways, online interviews offer more accessibility for those who would otherwise have to commute long distances to make an interview. A video call link and a calendar invite is all you need to set up a meeting between employer and prospective employee. On the other hand, online interviews come with its own host of considerations that interviewees need to prepare themselves for, from potential Wi-Fi issues to other distractions.
In an already competitive job market, it's crucial to set yourself apart during the interview process. Here's how.
Preparation
Setting up your workspace
Appearing professional at interviews now goes far beyond just your attire. Everything that your laptop camera can capture of you and your space is now visible to the interviewer. While there's no need to decorate your room for a video call, it is important to make sure your background is as distraction-free as possible.
Make sure you situate yourself in a quiet, clean room with minimal distractions behind you. Avoid setting up in front of doors or hallways where people can potentially enter and whenever possible, try to be in a private room of your house. If you live with multiple people, let them know when you have your interview and to try not to make too much noise during your call.
Noise is another big distraction. Close windows to minimize outside noise, wear earphones with a microphone attachment if needed, and turn off any sound notifications on your computer and phone that may go off during the call. No one wants to hear that Slack notification pinging off during an interview!
Lighting is key
By now, most of us know that dark, grainy videos look unprofessional and unpleasant. Sitting in front of a window (not behind), will give you ample natural light during your call and ensure your image quality is as high as possible. In spaces without natural light, be prepared to set up desk lamps or other lighting fixtures in addition to the room light. This will enhance the quality of your video significantly.
Optimize your Wi-Fi connection
There's nothing that takes away from a video call more than Wi-Fi issues. Choppy audio, pixelated video and connectivity issues are all extremely distracting.
While interviewers are most likely understanding of technical issues, it's a good idea to prepare yourself beforehand. Try some test calls with friends and family to see if you run into any connection issues, and if possible, avoid scheduling an interview during a time where lots of your household members are also using Wi-Fi. 
Having amazing, high-speed Wi-Fi isn't an option for some people, but there are ways to make sure your internet connection is as stable as possible during your call. Close any unnecessary windows, tabs and programs to increase your bandwidth.
A good precautionary measure is to ask the interviewer for a phone number to call just in case your connection goes down during the call.
Test your equipment
Make sure to test your device's audio and camera before you jump on the call. If you have an external microphone or webcam, this is especially important. Try out different angles and positions with your device's camera to make sure you're centered and looking straight or slightly up.
If you're using Zoom for the interview, make sure you don't have a virtual background loaded from a previous call!
The interview
Standing out at an online interview is pretty similar to an in-person interview in many ways. Make sure to prepare strong responses and examples for a variety of questions, be early to the meeting and always have questions for the interviewer at the end.
While some interviewees prepare notes or talking points that they keep on screen, it's not advisable to rely on them during the interview. Keeping a copy of your resume on hand is useful for some people, but in general it's a better idea to give your full attention to the interviewer. Make sure you keep eye contact with your interviewer during the call and try not to let your eyes wander to your phone or other monitor while you're speaking. Appear engaged and enthusiastic by sitting with good posture, nodding and not fidgeting with anything during the conversation.
If anything does come up during the call, like a family member barging in or an unexpected phone call, a quick apology will suffice. You might want to temporarily mute yourself if there are noisy distractions like sirens or pets barking that happen suddenly. Interviewers will most likely understand the different home situations of each interviewee and won't give you a hard time.
After the interview
Following up after an interview with a polite email is not a new practice to online hiring, but is still well worth mentioning. Thanking them for their time and reiterating a few quick points is a great way of building a connection with them.
Virtual interviews aren't too different from in-person interviews in that the employer is essentially still looking for the same thing: a qualified and enthusiastic applicant. Book an Interview Prep virtual call with our Founder Christie Lohr and be prepared and well equipped to answer those tough questions! On the preparation side, there might be a few more technical considerations to keep in mind before the call but all in all, your success is up to what you can bring to the table. Being professional, prepared and proactive are just some ways to go the extra mile.
Image: Adobe Stock
By: Kayla Zhu