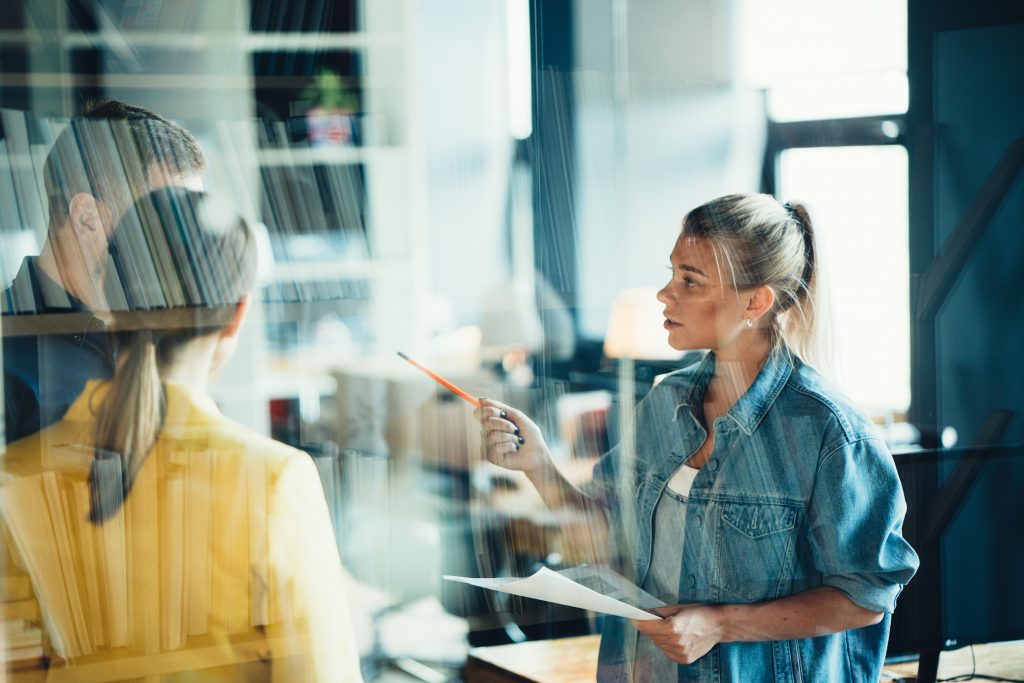 When you're advancing in your career and you are beginning to look towards future jobs that are available to you, it's likely that the word "manager" will be in the title. This can vary from industry to industry, but oftentimes a management position is the next step up from a coordinator or associate position and is the step before a director position.
If you're looking to step into a management position, Style Nine to Five is here with tips to make your application process as strong as possible.
Expressing Your Interest
If you enjoy the company you currently work for, then a great place to start your journey is to speak with your boss. What better way to gain experience than while at your current job. Did someone say learning while also getting paid? We did!
If the timing works out, you can even bring your interest in moving up to your boss' attention during your performance review. You'll be discussing your career growth anyways, so what better time to bring up what you want to do next. If the timing doesn't align with your performance review, all you need to do is ask if you can meet with your boss to discuss your career trajectory and your desire to take on more responsibility.
In your meeting, communicate your intentions as clearly as possible. Tell them where you want to see your career going, within what time period (but be realistic!), and what skills you'd like to develop to help you get there. The goal here is to give your boss enough details so they can set up a work plan that will prepare you for a job in management.
Some common skills that managers have include: strong interpersonal skills, organizational skills, the ability to prioritize competing tasks and responsibilities, and the ability to problem-solve. Managers also need to be good at relationship building, giving advice, and helping others in a professional setting.

Getting Experience
A prospective company (or the one you currently work for) isn't just going to hire you because you've been in a lower level position for a certain amount of time and this is just the next best step. You need to prove you deserve it! With the skills you need to develop in mind, it's time to seek out opportunities that can help you develop those skills while also gaining experience.
There are countless ways to get management experience, but they all come back to 4 core approaches:
Project Based-Experience: Look around your current job. Are there any projects coming down the pipeline that need a project manager, supervisor, or team lead? If you can't think of any, reach out to your boss and offer your services.
Mentorship Experience: In most major cities you can find formal mentorship programs where professionals mentor high school students, college/university students, new Canadians, etc. You can also take the more informal mentorship route at your current workplace. Is there a new hire or intern that you can provide guidance?
Volunteer Experience: What might just look like giving back to the community on the surface can actually give you the experience you need to get ahead in your career. Charities often need organized professionals who can help lead special projects and initiatives, teams of other volunteers, and events.
Educational Experience: Management is one of those skills that's definitely more suited for real-life learning, but if you're looking to take your skills to the next level, a course or two might be a good fit. Just remember, it's important to back up your educational experience with real work experience if possible. This will tell your potential employers that you've taken what you've learned in school out in the real world.
Your Application
Now that you have the skills, it's time to get your ducks in a row. Show off all that hard work you've been putting in with an application package that stands out from the crowd. On your resume, add your skills related to management into your skills section. Under each job experience, highlight a project you were responsible for or a successful metric that you helped achieve.
Your cover letter is a great spot to tell the hiring committee your story about why you want to move into management, why you're ready, and why they should take a chance on you. Show them the person behind the resume—the passion, ambition, initiative. 
The Interview
Let's get real: if you're interviewing for your first management position, it's likely you won't have the most experience out of all the applicants. That's why we just went through all these tactics—but it doesn't stop with your application. When answering questions during your interview, bring in examples from all the management experiences you've had to show them that you have good judgement and a strong foundation to launch your management career.
If they ask you a situational question that you don't have experience in, don't panic! Be honest, but still show up: "Unfortunately I can't think of a direct experience I have in this type of situation, but that said, here's how I would handle it…" then you would go on to explain what you would do.
Making the move into management is more attainable than you'd think. It might seem like a lot of work, but that's what makes managers special—they understand what it takes to succeed. With a dedication to growing in your career, along with an awesome application, you can make your management dreams a reality.
If you need further tips on how to highlight your many skills on your resume, book a Resume Refresh with Style Nine to Five's founder, Christie Lohr.
By: Catherine Gautreau – Catherine is a communications and fundraising professional in Vancouver, BC with a passion for storytelling, the arts, and giving back to the community.
Feature Image: Adobe Stock