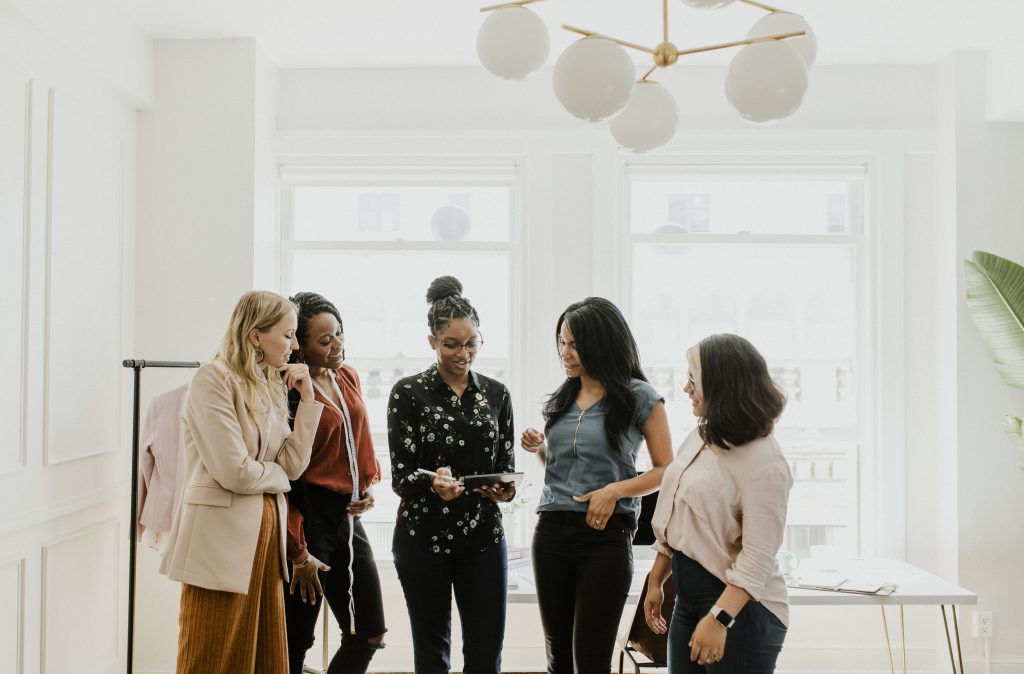 Whether you're being promoted to a management position, applying for a manager role, or are a current manager wanting to refine your style, we're going to do a deep-dive into what it takes to nail this role. Not only do you have to love what you do, but you need to have the same positive impact on the people you lead. 
Style Nine to Five's Founder, Christie Lohr, had a management during her time working for Le Chateau, and she's shared some of her valuable advice on how to shine in a leadership position. For all you managers or prospective managers out there, let's dig in and learn more about gaining confidence and being a great team leader.
Management Styles
As a manager, you have your choice of how you'll lead your team. Maybe you've worked with a truly inspirational supervisor in the past and you can use that to form your own managerial style. On the flip side, you might have reported to a truly awful manager, and that can also inform how you choose to lead your team in the opposite way.
Typically, just like personalities, your managerial style will form naturally, based on who you are as an individual. There are plenty of different of management styles out there, but let's focus on 3 main approaches and learn a bit about each type.
• Authoritarian
This is the most controlling style (also called Autocratic) and isn't always the most enjoyable for employees who feel pressured to constantly perform and fear punishment for making mistakes or being penalized for asking for help. Managers who lead with an authoritarian style excel in crisis management or tough situations. These types of manager draw a firm line between themselves and their subordinates, acting only as a leader instead of part of the team.
• Democratic
Democratic managers are more open to team decision-making and listening to their team members' input and opinions. Democratic managers are approachable and friendly, but this can lead to difficulty when is come to providing criticism or being faced with tough decisions that they need to make on their own.
• Laissez-faire
This is the most hands-off type, where managers give employees the freedom to do their own thing. This is effective if you have a team of self-starters who are motivated on their own and require little direction, but it can lead to problems if your team needs more direction and guidance and looks to leadership to make decisions for them.
Each type has its drawbacks as well as benefits, and your own style will depend on your personality. You may fall naturally into one of these categories (or a combination), but there's always work to be done to improve your style.
For Christie, her management style wasn't set in stone from day one—it took time. "It came from a lot of trial and error," she says. "I did receive some training on how to handle different situations and people, but most of it was learning as I went, especially when it came to how to recognize people's strengths and how to nurture them."
The Benefits of Being a Manager
A management position is a great step up from junior roles you've had in the past, and it shows that your employer has confidence in your ability to lead. It's a compliment to your personality and professional experience and gives you more of an opportunity to take ownership and offer support to others.
Christie found her management role to be a rewarding one. "I felt like a big sister or mama bear to my team of sometimes up to 30 people depending on the time of year. The success of the store was a team effort. We had fun! I celebrated their successes with them and they taught me how to be a better manager and I helped them be their best," she says.
The Challenges of Being a Manager
Being a successful manager means motivating your team, but it also has some tough aspects of it as well. While there are plenty of pros, there are cons too. You're the one in charge of being firm with your team, laying down the law when things aren't working, taking disciplinary action, or resolving conflicts.
Managers must walk the fine line of being a friendly part of the team vs. getting too close and forgetting their leadership role. Christie recognized that it was important to form relationships, but that it wasn't the time to be BFFs with her team, and this was difficult at times.
"One of the most challenging parts of being a manager was that I felt like I could never cross the professional/friendship line," she says. "Often after work on a Friday night, the staff would go out for drinks and I wouldn't go. That was a bit hard, but you can't very well have a wild night out and then be their boss the next day."
Just like any of us, she also learned some managerial lessons the hard way, with mistakes made along the way. "At the beginning I struggled with being impatient. I had to learn that everyone has their own pace and it doesn't always have to be go, go, go like me! My catch phrases were, "If you have time to lean, you have time to clean!" Or "Are you working hard or hardly working?" Those didn't always resonate with people who had a different working style. I also had to learn that how I perceived myself as a leader wasn't necessarily how others perceived me. I learned to always stop and reevaluate how you're coming across, because even if you have the best intentions, a staff member might not take it that way."
New Managers, Start Here
If you're starting a new supervisor position, Christie has some advice for first-time managers. "Don't go in and change everything. Sit back and observe for the first few weeks or months. Use your team member's opinions to help you. Get their feedback on what's been working and what hasn't and make a plan together. Involve them in the decision-making process and offer positive reinforcement whenever a good job is done rather than only critiquing. Make it fun and open and think of ideas that will help build your team and keep things on track, like monthly coffee check in meetings, or whatever makes sense for your group."
Without trying to force it, you'll find your stride as a manager, but don't rest on your laurels. As Christie said, constant self-evaluation is important to being a great manager, as is continually learning and being open to new suggestions or ways of doing things. Just like with any job, a great attitude and recognizing your team's common goal is what will set you up for success as a leader.
If you're ready to upgrade your career and step into a management role, you can Increase your chances of successfully getting there with Style Nine to Five's Resume & Cover Letter Refresh. Founder, Christie Lohr, will design a customized application package that shows off your leadership skills and stands out to prospective employers.
By: Jeanine Gordon – Jeanine is a freelance writer and editor with a passion for creating stellar content for global brands and small businesses alike – specializing in fashion and lifestyle.
Feature Image: Adobe Stock