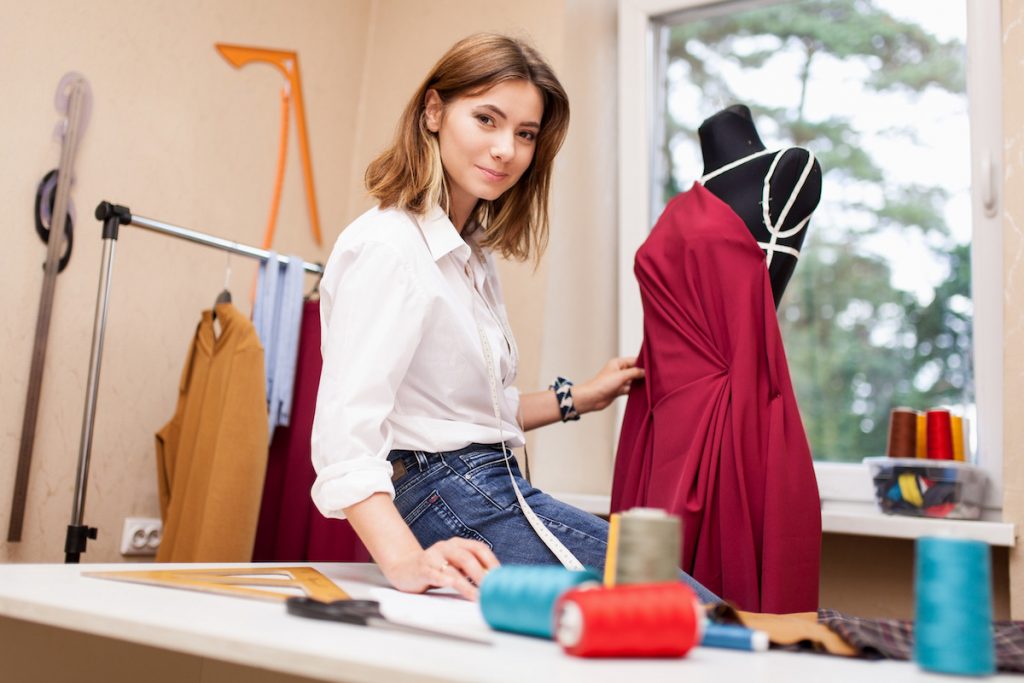 If fashion jobs feel hard to come by and studying fashion in school isn't an option, why not get started on your dreams at home? There are plenty of projects you can take on to better your fashion skills, grow your portfolio and maybe even land you that job you've been hoping for!
1. Create a Capsule Collection
If you don't know, a capsule collection is a smaller, curated version of a fashion line – meaning it's much easier to achieve on your own at home than creating an entire fashion line. Just focus on designing a smaller selection of pieces that could provide a good number of outfits through mixing and matching, but also showcase your personal vision as an artist.
Since you're doing it from home, you can work at your own pace and make sure this capsule collection is as close to what you wanted as you can get it. Doing this will teach you how to source materials and budget for a collection, for instance, on top of sharpening your designing, sewing and styling skills. Obviously, a capsule collection can go right into your portfolio, all over your social media, and even be sold if you wish!
2. Write for Fashion Publications
You may not be writing for Vogue from the jump, but finding fashion publications to write for isn't as hard as it may seem. There are plenty of up-and-coming fashion zines and blogs that would love more writers to offer their personal perspectives, so don't be shy about reaching out and pitching ideas to them. You can find these publications through Twitter, niche fashion-based Facebook and LinkedIn groups, as well as simple Google searches.
Writing for any sort of fashion publication automatically gives you work to put on your resume (even if they're unpaid or it was just a few articles) and in your portfolio and share across your social media to get your name out there. Starting your own fashion blog and getting your thoughts out there on your own is also a great idea – there are plenty of people who have launched entire fashion careers that way, after all! Even if you don't get lucky, you still have something to put on your resume that shows you know what you're talking about and can take initiative.
3. Style and Photograph Friends
If you want to be a stylist or fashion photographer, just grab a few friends or family members, piece together outfits for them you'd offer up if you were shooting them for a magazine or e-commerce site, and pull together a set to take pictures of them on. You can even do this with just yourself, but it's best to do it with other people so that you can practice styling to compliment multiple body types, skin tones, other physical traits and personal styles.
If you don't have styling or photography experience behind you, these images can wind up making up your portfolio – sure, they aren't professional jobs, but they can show that you know what you're doing. You could find yourself an internship by getting your content out there on social media and sending it off to stylists or photographers you'd like to assist.
4. Learn Fashion Illustration Software
You'd learn how to do fashion illustration if you studied fashion in school, but it's quite easy to pick up at home, too! Adobe Illustrator is generally seen as the standard, but if that's out of your price range, you can find a number of similar free products that will allow you to design as well, such as Sketchbook. Download whatever software you intend to use and take a couple hours out of your day to sit down and sketch – soon, it'll come naturally to you!
Sketches you're proud of can easily go on your personal website, social media accounts and, of course, be added to your portfolio. Even if you're not in a place where you can make your designs come to life, sketches can still make a great portfolio for plenty of fashion jobs.
5. Create a Fashion-Based Social Media Account
Do you ever find yourself watching video essays or DIYs on YouTube? Are you more into bite-sized fashion TikTok trends when looking for video content? Or do you just like to thumb through people's outfits and styling work on Instagram? Whatever social media content you're into, know that you can do it too from the comfort of your own home! Make videos in which you challenge yourself to style looks from your own wardrobe or document the process it takes to take your designs from paper to mannequin.
This is a great way to get noticed in the fashion world because if you gain a following, brands you love and talk about may take interest in you. Plus, all of your content is easily shareable across platforms like LinkedIn, or able to be linked as part of your job application. Your accounts will even work as an extension of your portfolio that other applicants may not have!
Getting good at all of these things will take a lot of time and hard work, but it's worth it – you won't live your fashion dreams unless you start somewhere, so get to work on that capsule collection or blog post and don't be shy to share it everywhere!
Want to make your new portfolio look even better? Purchase a Style Nine to Five Job Application Template!
Emily Morrison is a media professional with passions for writing, film and popular culture.
Feature Image: Adobe Stock