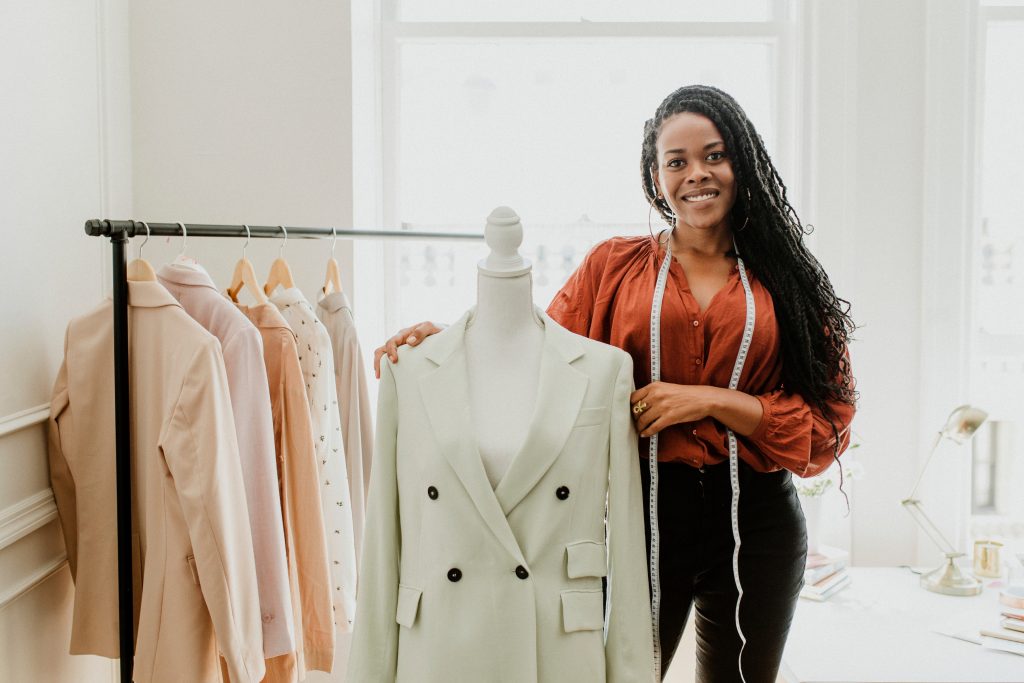 Not everyone can be a fashion designer, (there are many listed on Style Nine to Five right now) but that's not your only option when there are so many intriguing jobs in the fashion industry. If you know you want to pursue fashion but aren't sure what job title would suit you best, here are five of the hottest fashion industry jobs for you to consider.
1. Creative Director
If you have a creative eye and interest in fashion but aren't keen on designing actual clothing, you may want to consider becoming a creative director. A creative director is the person who oversees creative design – you'd be in charge of advertising the clothing, for instance, and planning all of the branding that your company or client requires. While you'll be taking their input and ensuring your creative ideas match their vision for the brand, you'll have the final say of creative work.
It's an ideal job for artistic people who like to be in charge but also want to collaborate with people. You'll be in control of initiating creative ideas of your own as well as leading designing sessions and constructing an overall creative direction for the company or campaign. Most creative directors have a bachelor's degree in something artistic or design-related, or some form of marketing or communications education with a great portfolio will do.
2. Stylist
A much sought-after job in fashion, a stylist is the person who coordinates the aspects of a person's outfit for advertising campaigns, music videos, public appearances, or sometimes, just their daily life. If you have plenty of knowledge in the fashion industry as well as different styles and trends, a good eye for coordination and are great with people, this might be the job for you. One of the great things about the path to becoming a stylist is that you don't need a formal education. It's a huge plus to have a background in fashion, but what matters most to becoming a stylist is getting a great internship, building a network and having a strong portfolio. When starting out, you can even work on building your portfolio at home with the help of some friends, a camera and your own personal wardrobe.
2. Textile Designer
You're a talented artist who pays close attention to even the tiniest of details, but designing clothes isn't your passion. Consider taking a step back from fashion designing and sticking with the step before: designing prints. A textile designer will create new prints and patterns, unique colorways for each of them and arrange layouts for how fabric will look. Then, your design will wind up not only on clothing, but potentially on household goods and furniture. A textile designer will need to be adept at things like color theory and digital design, so while a degree in design or fine arts will do you good, it's pretty easy for an artistic person to learn the textile design basics through free courses and plenty of practice.
4. Retail Buyer
What do you do if you love fashion, but lack creative ability? Becoming a retail buyer might be the ideal path for you! A retail buyer is a person who works for stores, choosing and buying merchandise for these stores to resell. It's a great job for business-minded people with an interest in fashion. As a retail buyer, you'll be monitoring sales, budgets and customer satisfaction, while comparing current trends to your store's current inventory. With all this information in mind, you'll be scouring showrooms and speaking to vendors about products you can purchase and take to your company. This is another job in the fashion industry that doesn't require a specific educational background, but studying fashion merchandising will be a huge benefit to you. If that's not an easy path for you, consider getting a certification in retail buying. And, hey, plenty of retail buyers land their jobs by starting out as a salesperson in their store – maybe that's a good place to start!
5. Fashion Analyst
This is another job for the fashion lover who has less interest in the creative side of things. If you're knowledgeable about fashion history and keep up with trends, however, you will definitely want to look into becoming a fashion analyst. This job entails fashion forecasting, where you study and predict the behavior of customers to ensure that the brands you work for are delivering products that will be bought. You need to keep up with consumers, trends, the seasons, pop culture, and so much more, so sharp research skills and a genuine love of all of these topics are a must. If you have a background in business or statistics and are hoping to transition into the fashion industry, this is a great path for you to take.
This list is just the tip of the iceberg. There are plenty of jobs in the fashion industry worth exploring, and it's an accommodating industry to all types of skills. Use these career options as a starting point and get researching. Wherever your experience and interest lies, there's a great chance you'll be able to find the job of your dreams.
Need further assistance in your career journey? Book a Career Meeting with Style Nine to Five Founder, Christie Lohr!
Emily Morrison is a media professional with passions for writing, film and popular culture.
Feature Image: Adobe Stock