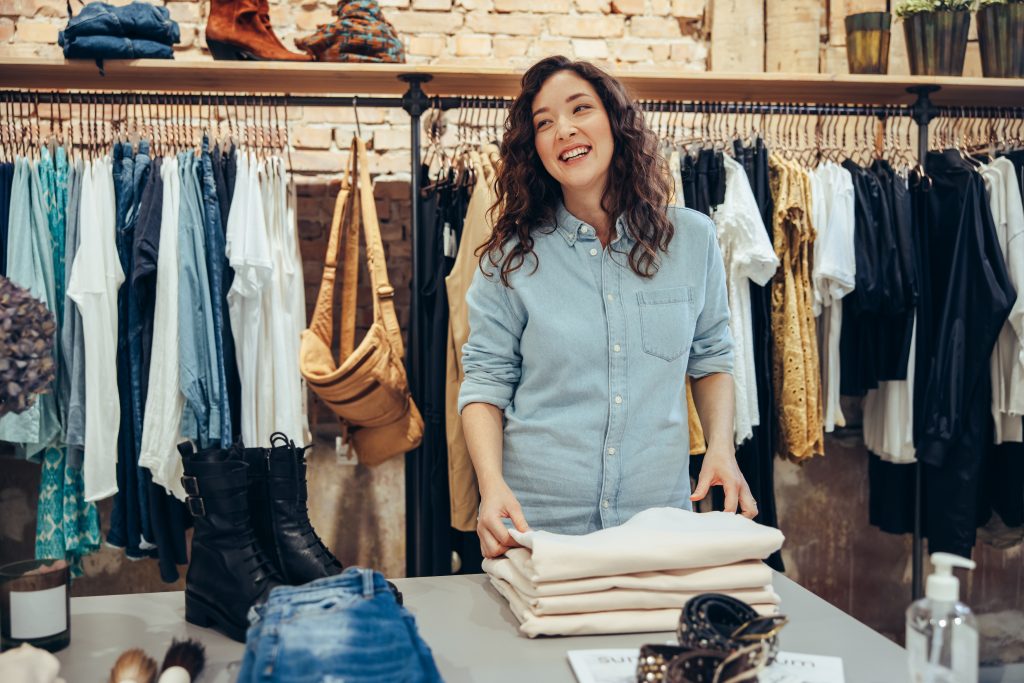 For some, working in retail is the first job they ever have as a way to earn cash as a teen, but for others, it's a calling to a long and fulfilling career in fashion. The feeling of high-quality fabrics, the satisfaction of a perfectly designed window display, and that rush you get when a customer tries on a piece that's pretty much made for them—retail is where fashion comes to life!
There are so many benefits to working in retail, no matter what your career goals are. It's for that exact reason that many people who want to work in fashion work in retail at least at one point in their career. Need proof? Think of Style Nine to Five's Founder, Christie Lohr who worked her way up in retail to a corporate office of a major Canadian fashion brand—Le Chateau, to where she is today, running the only fashion job board in Canada.
The opportunities that can stem from a career in retail are endless. Read on below for 4 ways working in retail can prepare you for any fashion career!
1 – Develop Insider's Knowledge of the Industry
Get the insider's scoop on how the fashion industry works at the ground level. Whether you know exactly what fashion job you'd like, or if you want to see what opportunities are out there, a job in retail will allow you to explore the fashion world and give you a chance to find what specific area your passion lies in.
To make the most of your retail job, take all the learning opportunities you can get your hands on. Asking questions during your training, creating a strong relationship with your boss and picking their brain, and raising your hand when your supervisor needs extra help on a task you've never done are all ways you can expand your knowledge of the fashion industry.
Make your job in retail a hands-on crash course of the fashion industry. From there, you can use your new knowledge to decide what your next move looks like.
2 – Get Experience with Brands You Want to Work For
If you're dreaming of a career in fashion, it's likely you have a few companies that you'd like to work for. Whether you dream of Hermes or Yeezys, working in retail is a perfect way to get you working for your dream company. Not only will you get to know their products on an in-depth level, but you'll learn more about their brand values, sales, and goals. You'll gain a bigger picture understanding of the brand's strengths and weaknesses.
With this knowledge in your back pocket, you'll have a leg up on the competition when applying for whatever fashion job you want. Passion, strong brand knowledge, and a personal connection to the brand you're applying for are all ways to help you stand out from the crowd.
3 – Gain Hands-on Experience with Customers
No matter what industry you work in, having a strong understanding of the company's customer base is key. Fashion is no exception to this. Working in retail allows you to interact one-on-one with the people who are buying, wearing, and investing in the fashion you're selling. To make the most of this experience, when you're catering to your customers, really listen in and make mental notes about any trends. Ask good questions about their opinions and experiences shopping in your store. Think of it as field research!
Whether you go into fashion design, sales, or really any other sector of fashion, you can use this experience to inform your work and demonstrate to employers that you know their customers. 
Plus, developing your customer service skills is never a bad idea. This is such a transferable skill that you can add to your resume and apply to any type of fashion job. Even if you're not working one-on-one with customers, customer service skills can be applied when working with internal teams, key stakeholders, and any external partners.
4 – Climb the Corporate Ladder
Working in retail and have your eyes set on a different position within the company? You've set yourself up for success because you've already made it through the first big hurdle: getting hired! With one foot in the door, you'll have access to promotion opportunities, mentorship, and leadership training. Have a meeting with your boss to discuss your goals. With a strong plan in place and the support of your colleagues, you can work your way up into any position in the fashion industry.
There are so many benefits to working in retail, no matter which fashion career you have your sights set on, and what better place to get your feet wet? With an open mind and strong work ethic, you can turn a retail career into any opportunity that your heart desires!
If you're looking for a retail job opportunity, look no further than Style Nine to Five's Job Board! Take your career to new heights with job openings at top-tier fashion companies across Canada.
By: Catherine Gautreau – Catherine is a communications and fundraising professional in Vancouver, BC with a passion for storytelling, the arts, and giving back to the community.
Feature Image: Adobe Stock