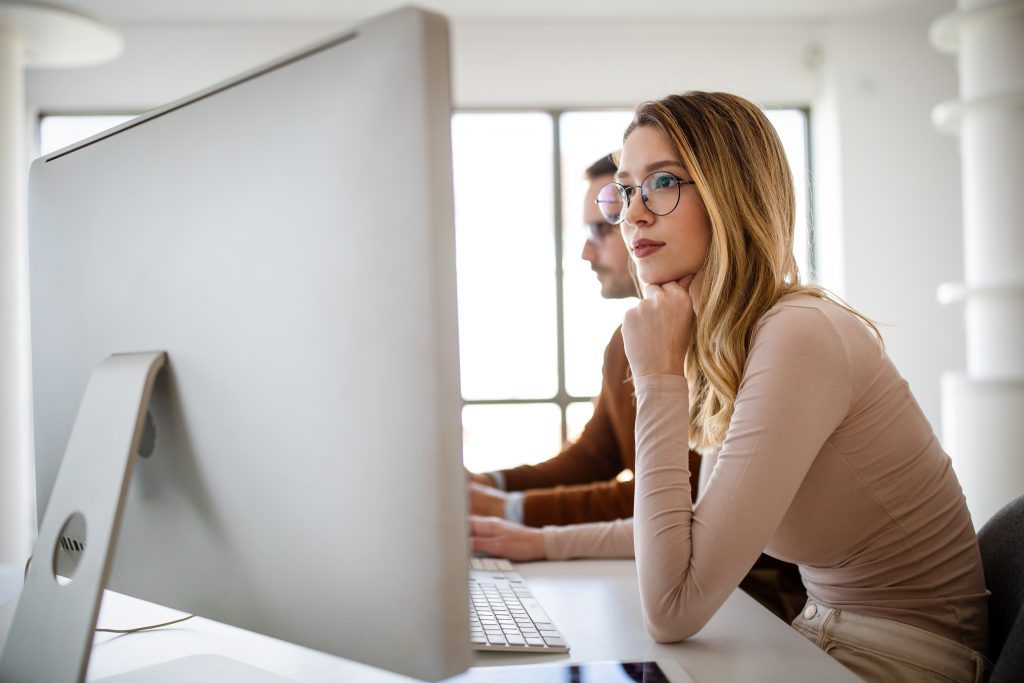 As creative digital industries grow, so does the required design skills in listed in job descriptions. If you're someone who wants to work in a creative industry but feel overwhelmed by all of the software you have yet to master, we've compiled the top five creative programs that employers will be impressed by.
1 – Canva
Canva is the ideal tool for any aspiring social media marketers, especially at the beginning of your career journey. It is a free-to-use graphic design tool with options for each social media service you may want to work on. You can build your own design from the ground up with Canva-provided images, fonts and details, or edit a premade template if you aren't creatively minded. This means that Canva is incredibly easy to learn and use, making it ideal for those who are brand new to graphic design.
Anyone looking for creative digital marketing jobs – especially within the social media spectrum – needs Canva on their resume. Employers within this industry are drawn towards it for its simplicity and the ability to share designs with a team. It won't take too long to learn – just work off of templates and experiment.
2 – Adobe Photoshop
Photoshop is the staple program for anyone who wants to work in advertising, social media, photography, or graphic design. The editing possibilities in this program are endless, making it a must-have job requirement on nearly every posting within these industries. The amount of tools included within Photoshop can be overwhelming, but there are plenty of free tutorials online that can guide you through them and even specific types of edits or imagery common in creative industries.
If you cannot afford Photoshop but still want to learn it, Pixlr is a web-based alternative that offers a wealth of the same tools laid out in the same format. Photoshop is industry standard, but if you familiarize yourself with Pixlr, the transition to Photoshop will be an easy one. Until then, you can use Pixlr to create your advanced graphics.
3 – Adobe Illustrator
Photoshop is great for graphic design alone, but Illustrator puts you a step up. Unlike Photoshop, Illustrator focuses on vector-based designs, making it ideal for creating things like logos and branded icons, among a variety of other designs. Sure, you could make a logo on Photoshop, but Illustrator is the premiere tool for them. Having both skills on your resume are ideal for an aspiring graphic designer.
While Illustrator may have a steep learning curve for someone brand new to graphic design, much like Photoshop, there are plenty of tutorials out there to help you learn it.
4 – Adobe InDesign
Although InDesign is also a design tool, it's quite unique from Photoshop and Illustrator. InDesign is the only tool among the four Adobe products mentioned that works with text-based projects, meaning you'll be using it in careers where you print reports, books, newsletters, brochures, or anything else of the sort. It also has the capability of creating interactive online designs, if you wish to create online zines or eBooks. InDesign allows you to craft extensive layouts and see how the text will look formatted, and you can also make everything from posters to business cards in it, too.
5 – Adobe Premiere
If you want to try video creation but aren't sure which editing program to spend your money on, Premiere is your best bet. Although there are a few popular ones, Premiere is the program that's most commonly requested for video editing jobs. The skill of video editing will greatly benefit you in a number of other creative pursuits, too – digital marketing, social media management and videography, for instance. Knowing even basic functions in this software will put you a step ahead of other people applying for creative jobs who don't have the same skills.
Premiere is your best bet for maximizing your potential in the video editing industry, but Mac users who are familiar with iMovie might have an easier time with the more advanced version, Final Cut Pro, and find the one-time price a better deal. If you want to learn editing but don't have the money for it, DaVinci Resolve is a fantastic free option to get you started. DaVinci Resolve is steadily gaining more traction in the industry, too, so learning it may come in handy for jobs as well.
Now, keep in mind that you don't need to be an expert in all of these programs. Consider which part of the industry you want to focus on pursuing and determine which ones are necessities from there. If you only want to pursue video editing, you'll need Premiere and not the other four, but if you want to work in social media marketing, Premiere is just the tip of the iceberg. Looking around at job listings for your desired industry and seeing what software skills they require will give you a better idea. And, who knows – maybe experimenting with new programs will lead you to a more niche job you didn't previously consider.
Need a resume update as you prepare to shift into a creative industry? Book Style Nine to Five's Resume Refresh!
Emily Morrison is a media professional with passions for writing, film and popular culture.
Feature Image: Adobe Stock