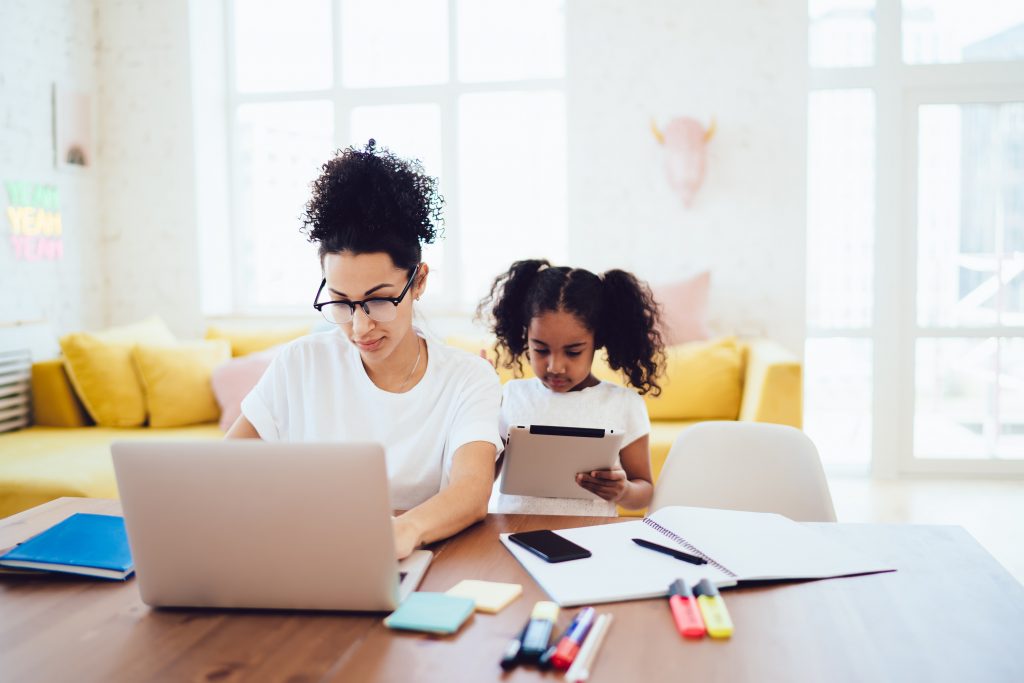 Being a stay-at-home parent gives you a special chance to bond with your children and devote your focus to your family – but it also takes you out of the work force. Maybe you're on maternity or paternity leave, or a longer stretch until your kids are in school. If you're planning on going back to work at some point, there are a couple of key things you can do to make sure you're ready when that time comes.
Let's see what strategies you can use to stay relevant and on top of your game while you're at home enjoying parenthood.
Update Your Resume Sooner Rather Than Later
Sitting down to revamp your resume years after you left your job can be an exercise in frustration! The longer you wait, the harder it is to remember your achievements, the big projects you worked on, what your main duties were.
Even if you're not planning on going back to work for another few years, update your resume early, so that your last job is as fresh in your mind as possible and you don't have to wrack your brain after years of being at home.
Stay Active on LinkedIn
You might not be working right now, but that doesn't mean you can't keep networking. Getting in touch with your connections from time to time keeps you in the loop, and making new connections helps to meet a fresh set of people and potentially open up future opportunities.
You might also want to consider joining LinkedIn groups that apply to your industry or getting your name on some newsletter lists so you can stay informed on what's happening in your business world. When it comes time to get back to work, you'll be well-versed in industry trends or the latest developments.
Read Industry Publications
Similar to an ongoing LinkedIn strategy, keeping up with the latest happenings in your industry helps you stay current. For example, if you work in fashion, or if you want to get into the industry (more on that later), consider getting a subscription to Women's Wear Daily. If you're in business, the Harvard Business Review is a great publication to subscribe to. Find the essential publications in your industry and get into the habit of reading them regularly.
You'll be on top of new developments in your industry and demonstrating that you're passionate about staying current will go a long way when it comes time to start applying for jobs.
Think About Your Options
Taking time away to focus on your family can be a welcome break because it gives you time to take stock of your career aspirations. For many people, this is a time to consider a career change. Like others, you might realize that you aren't passionate about going back to the same job, as your interests change over the years.
If you do want to change industries, all of the actions above still apply – but now even more so:
• Update your resume to ditch the details that don't apply to the field you're interested in and focus on highlighting strengths that are more relevant. What are the transferrable, hard skills that you can bring? Focus there.
• Use LinkedIn to meet people and network within your desired industry. Connections are key.
• Get familiar with that industry by reading about the latest happenings in important publications and insider websites.
This way, when you're ready to take action and start applying, you can play up your active career interest on your resume and cover letter, even if you're a newbie. Every little bit of effort counts!
Browse Job Postings
You might not be ready to get back to work right now, but it doesn't hurt to peruse job postings from time to time. See what's out there. If you're think about potentially moving up to a higher position, take a look at the qualifications employers are looking for. Maybe you can take an online course or learn a new type of software so you're ready with the skills that companies are looking for.
Hiring managers will see that you've had a gap in work, but also that you've stayed active and have made an effort to learn or stay tuned into the industry during that time.
Stay Positive
It's easy to get down or be hard on yourself after an extended leave. After all, aren't there eager, younger, and more tech-savvy people entering the work force who are after the best jobs? Aren't there people with a long tenure who are easy candidates for new positions rather than someone who's been out of the game? While these things may be true in some ways, it's important to remember that you have more power than you think. Focus on the skills and strengths you've got, the experience you've accumulated throughout your career, and the connections you have.
There may be a gap in your work history, but you're not obsolete – far from it! It might seem far off, but you will get back to work one day and there's plenty that you'll bring to the table. Keeping a positive attitude is ultra-important for your self-esteem and for when the time comes to put your best self forward.
If you're a stay-at-home parent, you have your hands full with raising kids, but you can make use of these easy ideas to make the transition easier when the time comes. With a little effort and long-term planning, you can arm yourself with the tools you need to get back to work with confidence.
If you need help brushing up on some career basics, Christie offers a variety of services that can help you when you're ready to come back. Style Nine To Five's Resume Refresh or Virtual Career Meeting services are great places to start when the time comes to dust off those career tools. They'll make your new job applications can stand out and get you to the top of the hiring manager's list.
By: Jeanine Gordon – Jeanine is a freelance writer and editor with a passion for creating stellar content for global brands and small businesses alike – specializing in fashion, beauty, and lifestyle.