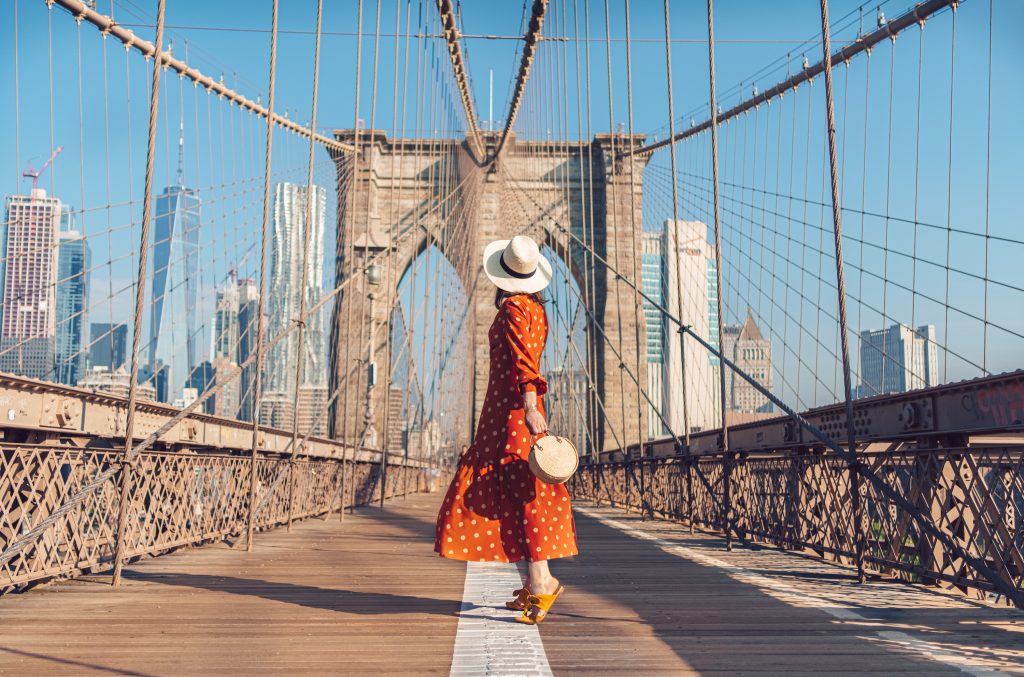 Kids are natural dreamers, envisioning what life will look like one day, and for many of us this included what our fantasy job would be. As an adult, those dreams often fall by the wayside due to responsibilities and the reality that your perfect-scenario job is out of reach.
While you might not become CEO of a major brand or be a wildly successful entrepreneur right now, that doesn't mean that you should cast those goals aside.
Whether you're just entering the workforce, are changing industries, or want to move up, there's nothing wrong with setting your sights high, even if you're not at dream-job-level just yet. Rather than just wishing and hoping that your ideal career will magically unfold, let's take a look at some tangible ways to set your intentions and map out your future.
1 – Dream Big
Go back to your younger self where bills, groceries, and rent weren't a concern. This is your chance to ditch the "shoulds," like, "I should get a dependable job," or "I should take this offer even though I'm not really passionate about it." Instead, this stage of goal-setting is all about the "wants," and don't be afraid to really go for it. "I want to be the head of design at a major fashion brand," or "I want to be a top architect and see one of my buildings in the Vancouver skyline." Those goals may feel impossible right now, but they're a starting point for working your way up.
The secret sauce here is strategic planning, not just crossing your fingers and hoping for the best, or dismissing your career fantasies because they're out of reach.
2 – Identify the Who's Who
If you want to work in fashion, you might assume the only people worth knowing are the heavy hitters like Vogue's Editor-In-Chief, Anna Wintour, but there are plenty of other people you should connect with along the way.
Keeping with the Vogue example, this is your time to do some research and pick out some other people that you admire or who have the job you want one day, like Accessories Editor. Find out who they are, do a little digging into their background and how they got to where they are. LinkedIn is your best friend here because it lets you view the career and education history of people in the business you want to get into.
Set your sights on getting to where these admirable people are, not forgetting to identify who else they work with – assistants, editors in other departments, stylists, etc. Networking with people in that sector or at your dream company is a key component to landing your dream job, but we'll dig more into that later.
The same strategy applies to brands you aspire to working with. Look into the company's history and its executive team, and don't forget to assess at their competitors. Being the creative director of Aritzia might be your dream job, but don't dismiss the idea of working your way up at another brand before you eventually land a role there.
3 – Visualize Your Day
This step gives you permission to day dream and think about what you want your day-to-day to look like. Style Nine to Five's Founder, Christie Lohr, has done exactly that to get where she is today. In a recent Instagram post, Christie reveals how she's used visualization as a goal-setting tool.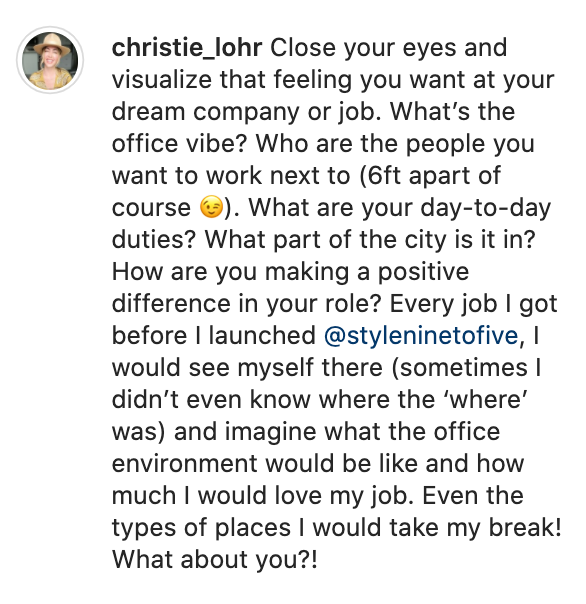 Imagining what your idea workday would look like in your dream job gives you clarity in what you want. Maybe it's a dynamic and fast-paced environment with a big team or maybe you see a quieter environment where you're sitting in a corner office and working through a creative process. Are you in a sleek high-rise in the bustle of downtown or working from a cozy coffee shop while you write and Oscar-worthy screenplay? Once you can conjure up those dreamy images, hold on to them and use them as a guide for creating that experience.
4 – What Do You Value?
A job doesn't only need to be about punching the clock and getting paid. You can also make a contribution to the world or be part of a positive change. Defining your values can help point you in the right direction, whether you're passionate about sustainability, supporting local businesses, or empowering others.
Maybe an entrepreneurial path is ideal for you if you want to be your own boss and open your own store dedicated to selling locally-made clothing. Or maybe you'd make a great CEO of an environmentally-focused brand. Tap into your core values and think about how they can shape what your ideal career will be one day.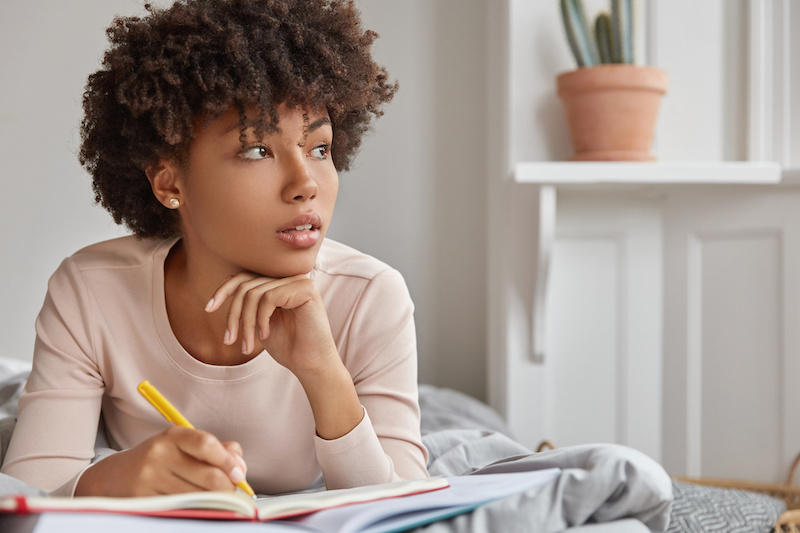 5 – What Do You Need to Get There?
Here's where we get back to reality and start mapping out the path you need to take to nail that dream job one day. This might mean starting as an intern at the law firm you want to make partner at one day. Or asking for a promotion at your current company to get you one step closer to your goals. In other cases, you might need to change industries or go back to school.
While this might mean some significant changes in your life, remember that change is a catalyst to conquering your passion. It's rare to find a top-level executive or successful entrepreneur who hasn't had to take some risks or stepped outside their comfort level to get to where they are now. Instead of panicking and deciding that you'll never make it (hello, inner critic), making a game plan is the proactive approach you need to take to achieve your career goals.
6 – Start!
Ok, dreamer, it's time to take action in your career! Check out job postings in the field you want to work in, keeping in mind that you might need to get started in a junior position. It's also worth looking at postings for those jobs that you're completely under-qualified for. For example, what exactly is Lululemon looking for in a Senior Designer? You might not have any of the skills or experience they're after, but it gives you a great idea of what you should work towards.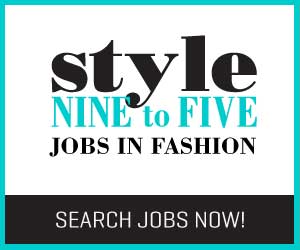 As we mentioned earlier, an important way to get started includes networking. Reach out to those people you admire as well as others in the industry – even people in junior roles. You never know when a connection will lead to an opportunity, so attending industry events and spending some strategic time personalizing your connection requests on LinkedIn are some great ways to build your personal network.
Lastly, it's time to sharpen your career tools. When a job post catches your eye, you'll want to be ready to pounce and get a stellar application package in the hiring manager's hands. Is your resume up to date? Have you thought about your personal brand? How about your LinkedIn profile – have you filled in the "About" section and do you have a captivating headline, or are those just blank spaces? Make sure that your career tools are rock-solid and ready to use when needed. This will give you the confidence needed to reach for those stepping stones along the way to building dream career.
If your existing career tools could use a little TLC, Christie offers plenty of expertise and assistance. Consider the Get It All Package that gives you everything you need to tackle your career, from a resume and LinkedIn makeover to two one-on-one career calls where she'll tap into your specific needs and you'll walk away ready to conquer the next steps towards your dream job.
If you want to whip your resume and cover letter into top shape and really capture hiring managers' attention, turn to Christie for a Resume Refresh or Cover Letter Refresh. You'll get the personalized service and expertise you need to send out your application package with confidence.
By: Jeanine Gordon – Jeanine is a freelance writer and editor with a passion for creating stellar content for global brands and small businesses alike – specializing in fashion, beauty, and lifestyle.
Images: Adobe Stock