Embroidery is coming in hot for spring, as the trend continues to be seen on everything from outwear to handbags and even shoes. Jackets are a huge must-have for spring and a favourite item of most style enthusiasts as unlike winter coats or summer shorts, jackets get a wide range of use in later winter through to spring, and then again in the late summer until the last days of autumn. What is fun about embroidery is there are so many different materials to play with like beading, sequins and stitching. If you're looking to bring the embroidered trend onto your spring outwear, our embroidered jacket picks are sure to get you swooning!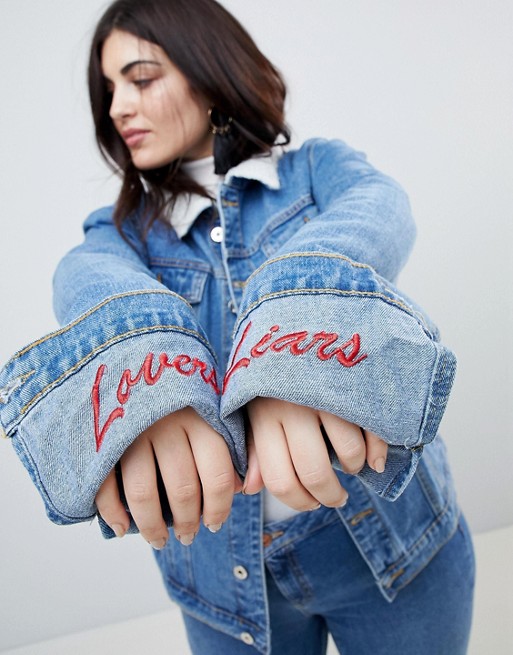 Subtle Denim
For those of you who like to rock trends, but still keep it classic this subtly embroidered denim jacket is great choice! The oversized but still flattering fit is available in both their regular and plus sized ranges in the perfect shade of denim! The collar is trimmed with faux-sheepskin and the cute Lovers/Liars embroidering on the inner cuff can be flipped up or down depending on your mood!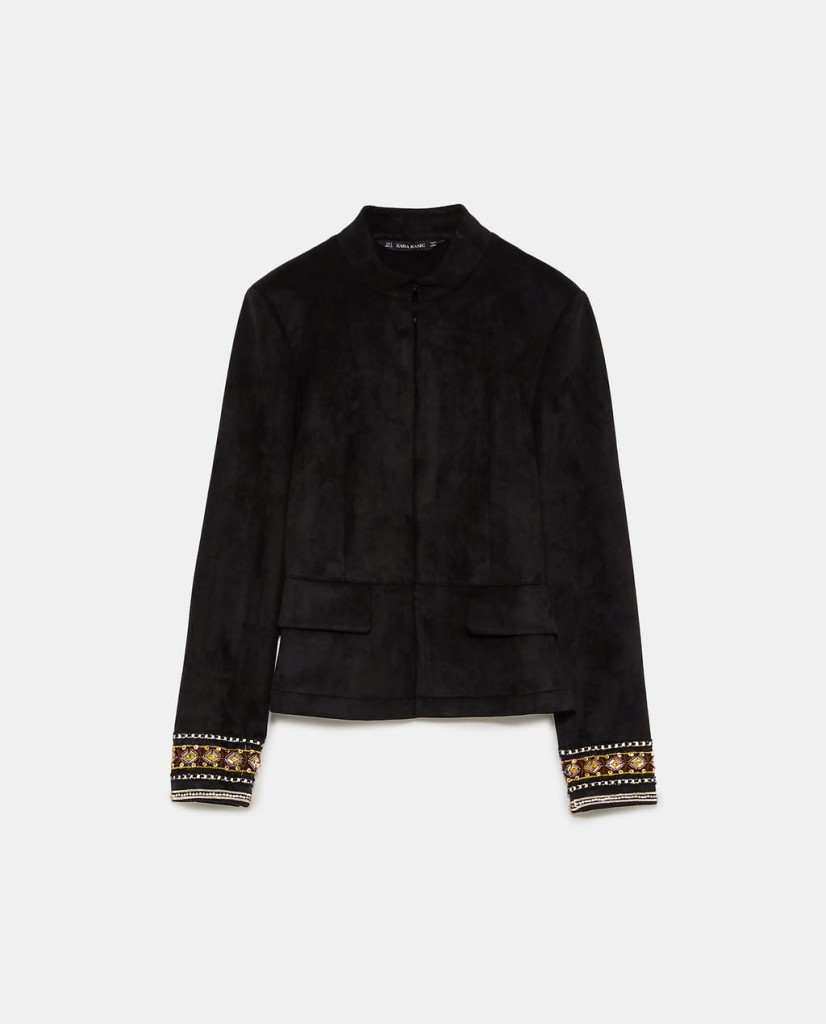 Embroidered Cuffs
Another embroidered cuff pick, Zara faux-suede jacket is great to take from office to after-work drinks as it can be worn both formally with trousers or dressed down with a tank and jeans. The high collar and beaded embroidery on the cuff is add a regal, luxurious look to this otherwise minimal jacket. Overall, it's a classic look that will sure to be a favourite in your wardrobe!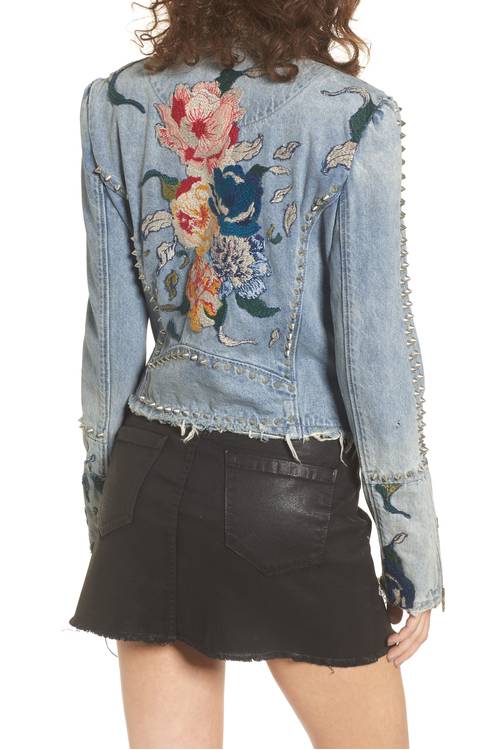 Biker Chic
With denim continuing to reign for yet another season, we couldn't help but include another jacket to our list and this one is definitively to die for. This BLANKNYC jacket is oozing edgy with nearly every detail from the distressing, to the studs and even overall cut which is softened with a lighter coloured denim and feminine floral embroidery.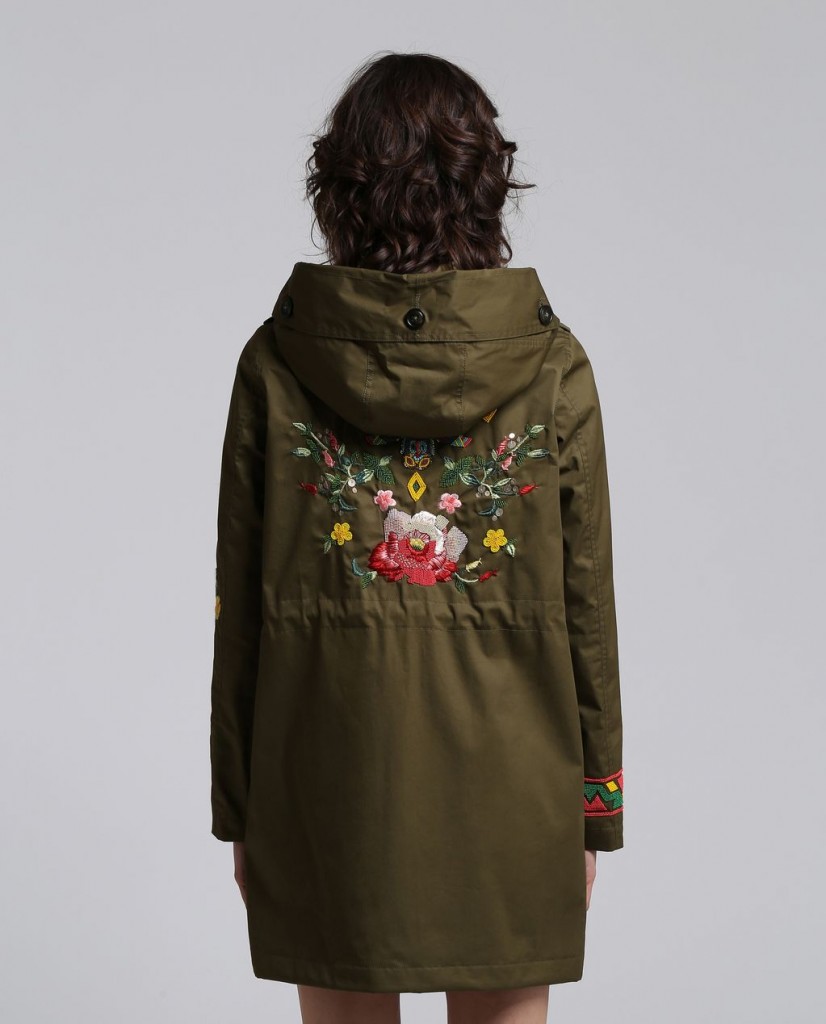 Work of Art
Looking for something a little more exclusive, like a work of art? Well this limited edition military spring parka by Woolrich is definitely for you. Woolrich took their Prescott Parka and created a unique limited-edition version that encompasses their Spring/Summer 2018 collection inspiration. The Embroidered Prescott Parka is available exclusively at their Flagship locations and exclusive retailers worldwide including their Canadian flagship store at Yorkdale in Toronto.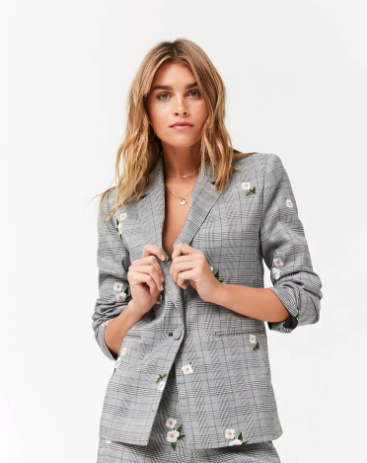 Flower Power Suit
You can take this spring-approved trend into the workplace with this feminine embroidered blazer from Forever 21. Plus, you can totally throw this over a cute slip dress on the weekend when you head out to meet your girlfriends for brunch.
Inspirational Image:
Image courtesy of Elle UK
Product Info:
By: M.J. Elle, Toronto, ON (@TheMJElle)
Are you an employer? Post your fashion job or retail job here.
Are you a job seeker? Find fashion jobs and retail jobs here.
Don't forget to follow us on Instagram for the latest fashion jobs, style jobs, retail jobs, career advice and fashion trends!