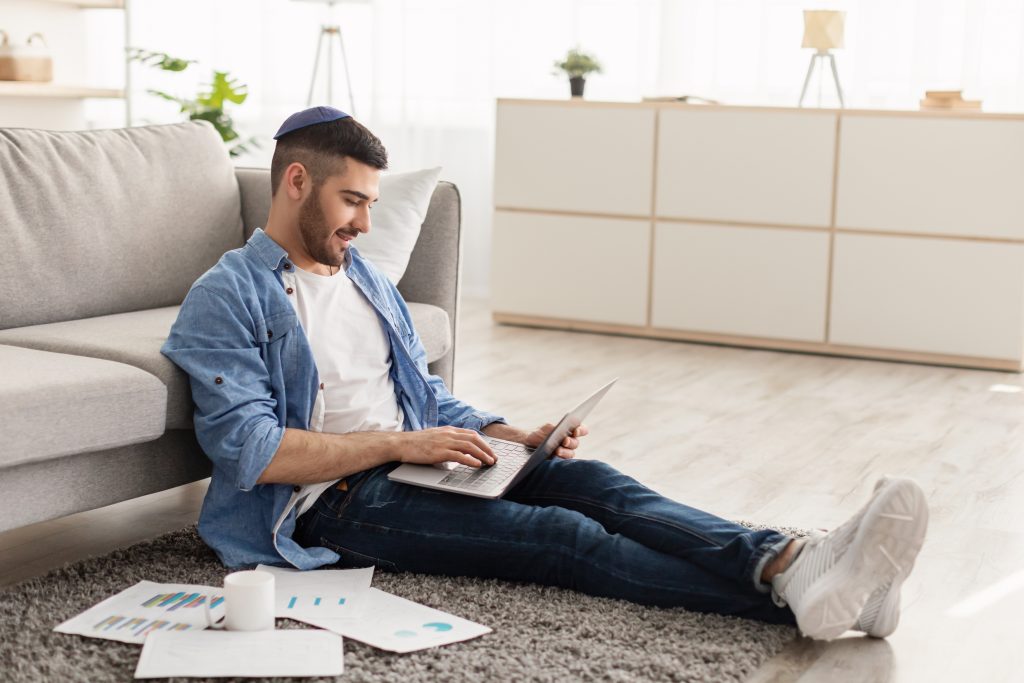 Style Nine to Five founder, Christie Lohr says, "it's the little things that can make a big difference". Sometimes, when it comes to our job application, we are so focused on those big achievements, or the big picture of our job history, that we forget to add those small touches. If you take the time though, you may be surprised to find that little thoughtful additions can really resonate with a hiring manager. Let's discuss the small elevations you can make to your job application that just might inspire a call-back.
1 – Fresh Format / Professional Design
Gone are the days of black and white, text-heavy resumes typed out in a word document. If you want to level-up and make it to the top of the resume pile, use an aesthetic design. You don't have to be a graphic designer to create a top-notch resume design. You can find templates in Canva, or even check out the application templates from Style Nine to Five that just require you to fill in the blanks. Remember, you can always tweak or draw inspiration to put together the application design that best suits your needs.
2 – Include A Portfolio
If you work in anything design, or arts related, read: graphic design, fashion design, marketing, copywriting, etc. you should have a portfolio. While it may not always be mandatory for the application process, send it along anyway. Sometimes a portfolio is worth a thousand words. While your resume might read par for the course amongst the other applications, examples of your work can really set you apart from your peers when it comes to selling yourself as a candidate. I would recommend having a portfolio on hand and tweaking it as needed (just like you would your resume or cover letter) for each application. If you have a digital portfolio online, send along the link and direct your potential employer to the pieces they might find the most applicable.
3 – Metrics
I can't stress this enough. You are all talk unless you can back it up. Metrics should absolutely play a role in any application. In fact, I highly recommend taking note of your KPIs early on in any job and noting how those have changed over your tenure.
For example, say you've worked as a new social media manager for an up-and-coming Canadian fashion brand. What are their numbers – jot those down, follower counts, average engagement, total sales on Instagram, etc. Now, what happened to those numbers after you got your creative and analytical hands on them? Did you grow the follower count, by what percentage? Increase total sales? Maybe you ran a campaign that boosted sales both on social media and e-commerce.
Managers want to see these things. So even if you're a creative mind with little interest in numbers, take note and don't be afraid to brag about those achievements.
4 – Recent Company Achievements
Don't just limit yourself to your personal professional achievements, share those team achievements as well. After all, you are a part of the team who made it happen. Examples of this could be follower account increase, gross sales increase, or even a newsworthy mention your company got for an innovation, or team achievement. Tie this in with the part you played in this success. Being a team-player is almost always an asset for any job application and the more you can SHOW your skill set, vs. just TELL your skill set, the better. Sharing these stories is a way of showing, rather than just listing "team player" on your list of skills.
5 – Get Personal
Make a connection with the person on the receiving end of the application. If this company is important to you, chances are it's important in the same, or similar way to the hiring manager reading your application. They are human and they can be swayed and charmed by human connection, so make that with them.
Personally, I like a Ps, something short and sweet at the end of the cover letter. Tell them you really resonated with a recent ad campaign, or a sweet story about how the brand has been your favourite ever since you wore it for the first day of school in junior high. Brands, just like people love compliments, so feel free to butter them up in a genuine way.
6 – Show Your Ideas
In your research about the company, have you come across something they could improve on? Sometimes an outside perspective can really help bring new ideas and solutions to the table, especially if you are a consumer of the brand.
For example, let's say you are applying to your favourite fashion brand in an e-commerce role. Let's also say that there is something about the customer journey when shopping online with them that is less than satisfactory. Provide a solution in your application. You can include this in the end paragraph in your request to speak further about the role.
Example:
As an e-commerce specialist, I am always on the lookout for how a brand can improve its online customer journey. I noticed that when purchasing on your website [insert issue]. I would highly recommend [insert your dynamite solution]. Not only can this increase sales, but is a great consumer touchpoint for the brand. I would love to set up an interview with you to speak further about ideas I have for how we could improve the customer's online journey.
This is again a way of showing them you are creative, solutions-oriented and proactive, rather than just listing those skills in your resume without backing them up.
7 – Make Use of Their Branding
This one is so simple and easy and will definitely get you noticed. It's also a great way to mirror the company in your application and endear yourself as one of them. Make note of the company colours, fonts and voice and use those in your application. This is such a quick and simple change on your application but shows thoughtfulness and attention to detail.
Using these kinds of small and thoughtful – emphasis on thoughtful, tweaks can help to convey more than what you can just explain in a large body of text. Not to mention, your competitors are likely to list similar experience and skills that are asked for in the job description. Find ways to prove you're the right fit that are a bit more creative, create connection, and show them your value as an employee. Remember you've already "told" them why you're the right fit, these little tweaks and touches are how you "show" them.
Are you looking to spruce up your resume for a round of applications? Register for Style Nine to Five's Resume Refresh, with Founder Christie Lohr and feel confident about what you're putting out there!
Sheila O'Neill is a creative, innovative and inspiring storyteller with a background in fashion.
Feature Image: Adobe Stock