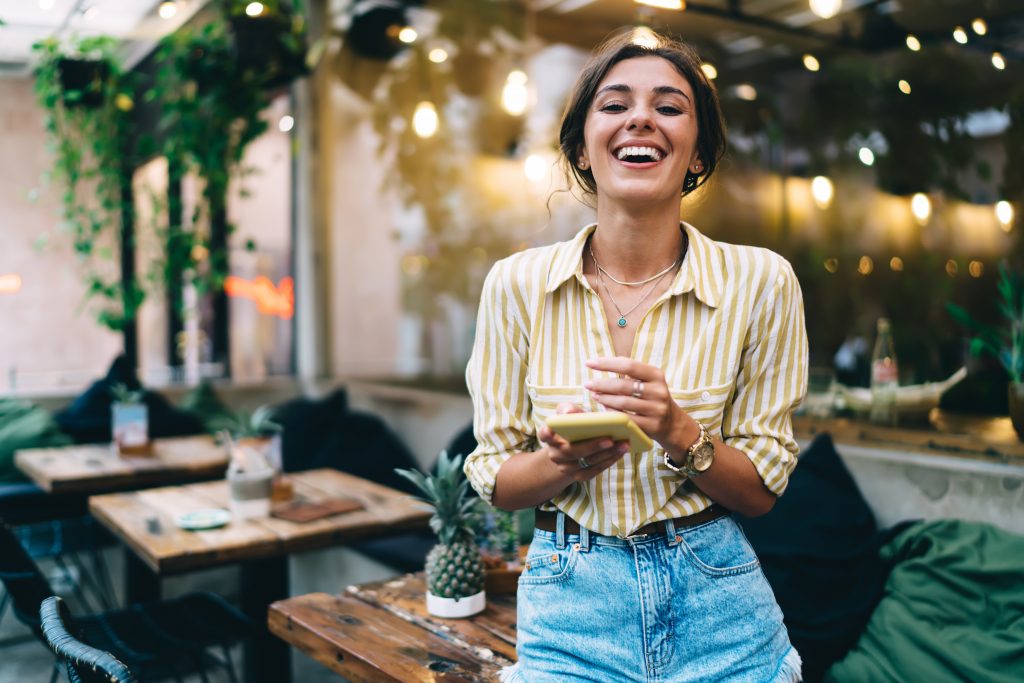 If you've ever applied to a job through LinkedIn, you'll know that some jobs you apply for – hundreds of people have as well. Of course, not all companies have this many people applying, but it gives you a sense of just how many people you might be up against. Going into the application process you want to be noticed because there are so many others fighting for the attention of the recruiter or hiring manager. Christie Lohr – founder of Style Nine to Five is well versed in what will stand out in your application and get you further into the hiring process. The further you can go into the process, the more you can show who you are and why you're the right fit and the closer you'll be to landing that job!
Having said that, here are a few things that you can do to stand out among a sea of applicants.
1. Include a Video in Your Application
When applying for any job, chances are there will be applicants who are (on paper) more qualified than you are, but if you can capture the hiring manager's attention, that's okay. Personalizing your application is the key to success – and what better way than to capture your personality in a video? Including a short video is a way to explain who you are, why you're excited to apply for the job, and overall make more of a connection with the hiring manager. It will help connect the dots between who you are on your resume and who you are in real life and give a sense of human-ness. You'll also be able to capture more of your enthusiasm for the job and your love for the company. Wondering just how to create a video application? Check out our blog post that outlines everything you need to know!

2. Customize Your Cover Letter & Resume for the Job
You may be applying to many jobs in any given week – so this part may seem time-consuming, but it's important. Remember – there are so many other applicants applying to the same job so you have to stand out and go the extra mile. By tailoring your cover letter and resume for each specific job, you'll stand out among the pile. There are a few ways you can do this, all culminating in a very customized application.
• Use brand colors in your resume
–  Start by using one of Christie's thoughtfully designed templates and customize them as needed for each job!
• Try to find the name of the hiring manager on LinkedIn and address them in your cover letter rather than the typical "dear hiring manager"
• Share a personal story of the connection you have to the company, if you've followed their success over the years, or if you love their products.
– For example, When I applied to work with an influencer I love, I mentioned how I loved the brand she's built and that I had met her and her team at a conference.
– When I applied to Indigo, I talked about the way I feel when I walk into their stores, and how it is my happy place.
• Tie in how your specific experiences (personal and professional) would be of benefit to that specific role and at that specific company.
– For example, rather than just saying that you are a creative problem solver, explain why that trait makes sense for this role and how you are uniquely qualified. (maybe you've picked up on something by following the company, etc.)
– This will likely be different for each brand and role that you apply for (or at least worded differently to match the needs of the company/role.)
3. Connect With the Hiring Manager on LinkedIn
Another way to stand out and make yourself more visible is by connecting with the people involved in the hiring on LinkedIn. If it isn't obvious who it is, head to the company's page, look at the employees, and see who is in that specific department in a senior position. For example, if you're applying to a social media role, try to find the social media lead/digital communications lead. Sometimes they will have even made a post on LinkedIn inviting people to apply and work on their team. Send an invite to connect with them and make sure to write a message as to why you're connecting and make that connection. Those on the hiring end are people too and generally like connecting and see you taking initiative and showing enthusiasm!
Here is an example of something I wrote after applying for a role –
"Hi! I hope you had a great thanksgiving weekend! I just wanted to follow up personally here as I applied for the social coordinator position a few days ago. An incredible opportunity at an amazing company I love. I look forward to connecting further. – Jenna"
In today's climate, the key to your success in landing the roles you want, it's working hard to stand out. Each time you apply for a job, your goal is to highlight what makes you different from everyone else. You have so much to offer and it's your job to showcase that in a way that gets you noticed!
Looking for some guidance on just how exactly you could level up your application and land your next job? Have a career meeting with Christie to discuss and strategize your next steps!
By Jenna Yeomans – Jenna is a freelance community manager and writer in Hamilton, ON with a passion for storytelling, creativity and supporting small businesses.