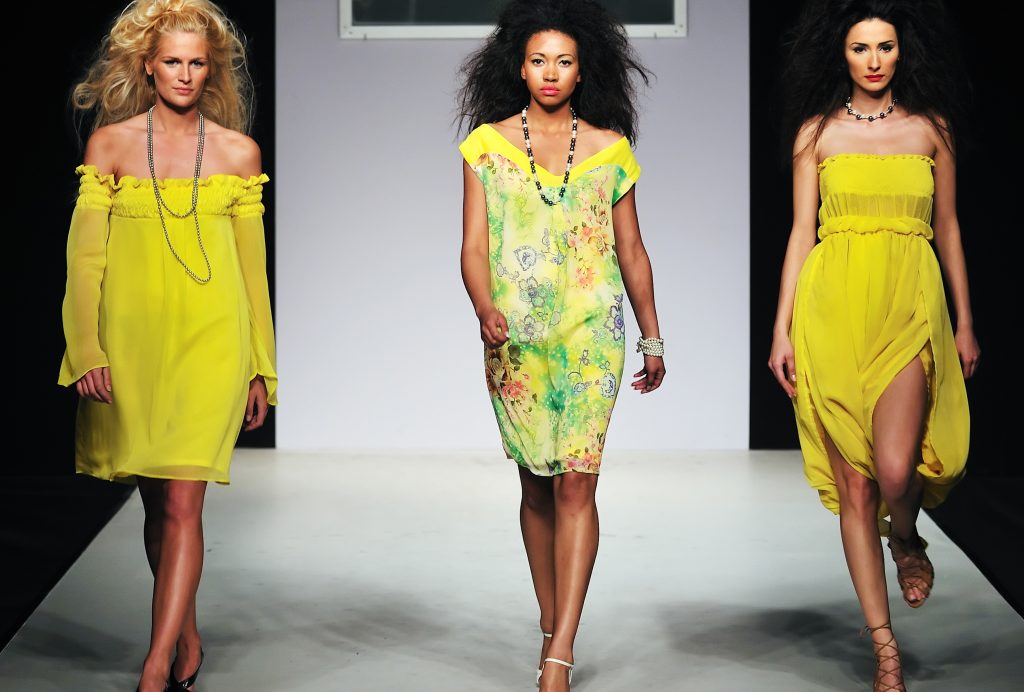 It's easier to get involved in the fashion industry than you think. There are hundreds of different ways to get your foot in the door, some that may have not even occurred to you or things that won't pop up in the typical Google search. No matter what area of fashion you want to pursue, there is an avenue to get in even if you're starting with nothing.
1. Get Networking
Fashion is a lot about who you know. The more connections you have, the more doors are open for you. This means that if you're starting from square one, the key to making your way in the fashion industry is networking. It sounds hard, but there are plenty of ways to do this. "Attend your local Fashion Week and network like crazy," suggests Style Nine to Five Founder, Christie Lohr.
If you don't have a Fashion Week or any similar events near you, try networking on social media. LinkedIn is a great place to start, but as the fashion world has seeped into other social media channels, there are plenty of local stylists, photographers, designers and more with professional accounts on Instagram, TikTok, etc. Reach out to them and share your interest in pursuing the industry – maybe you can grab some advice, or maybe they'll even offer you a place to start out at. Even just introducing yourself and saying you're a big fan of their work is a great start.
If you're in the habit of making your own work – for instance, designing your own clothes from home – you can network with local influencers or boutiques and see if they'll take a shot on promoting your work as well.
2. Start at the Bottom
Like every other industry, you'll usually need to start at the bottom. The great thing about the fashion industry is that there are tons of ways to do this. Christie has plenty of suggestions on where to begin: "Volunteer as a dresser backstage at a fashion show, seek out internships, see if you can find photographers that need a hand with styling or behind the scenes at their shoots, or contact fashion-related bloggers or industry publications to see if there are any odd jobs you can do," she says. "These might seem like small gigs, but you can start adding that experience to your resume and it shows that you're willing to work hard to get into the industry."
While you're getting more and more engaged in this world through networking and volunteering, the perfect way to make money is by working in fashion retail. In fashion retail, you learn a lot of skills that you can take with you to owning your own fashion line or to the commercial styling world – how to deal with different customers and their preferences, how to tailor their looks to their body types, and how to keep tabs on what's selling and what isn't. Sure, it isn't styling feature films or running your own company, but you learn about trends, styling, fashion marketing, and so much more.
3. Learn New Skills
Aside from design, sewing, styling, and other typical fashion skills, there are plenty of skills you could learn to have an easier time pursuing fashion – and most of them can be self-taught in the comfort of your own home!
"Fashion-related tech skills are a must. Look online for the most commonly used software for the role you want and start playing around with it or watching free tutorials online to familiarize yourself with it," suggests Christie. Adobe Illustrator, for instance, is a tool that's commonly taught in fashion courses, but you can download it and teach it to yourself on your personal computer and your own time.
"For soft skills, you can demonstrate a lifelong love of learning or the fact that you have an inquisitive mind by subscribing to industry publications like Women's Wear Daily to keep your finger on the pulse of what's happening," says Christie. Not only will subscribing to these publications show your ability to learn as well as offer brand and industry knowledge, there are even skills to be garnered from each publication's articles.
Even the fashion skills that you lack can be self-taught at home – style outfits for your friends, family, and for yourself to show off on social media, or teach yourself to sew and do design sketches from online tutorials.
Going to school for fashion is always an option if you have the money and time, too – fashion school will teach you all of the above skills and even more, as well as provide you with a built-in network and offer opportunities like school-sanctioned fashion publications and runway shows.
4. Use Your Transferrable Skills
If you've already been through school or are in the working world but are trying to switch industries to fashion, you probably have a ton of transferrable skills – even some mentioned above. For instance, if you've ever used Adobe Illustrator as a graphic designer, the experience will still count for something in the fashion world.
Communications, marketing and social media skills are also essential in the fashion world. Social media has rapidly become the most important place for fashion and trends, which means you'll need to make and manage various social media accounts and a website for your designs, styling, or whatever else you may be doing. "Learn the ins and outs of Google Analytics and digital marketing tools," suggests Christie. If you've ever worked in communications, social media management and digital marketing will look amazing on a fashion resume.
The fashion world is also hinged on communication. "Skills in public speaking and giving presentations are a huge asset as well," says Christie. In general, you also need to be a great communicator and collaborator, so all experience regarding communication and teamwork are must-haves on a fashion resume.
"Regardless of whatever skills you're listing on your resume, make sure you have examples to back them up – that automatically makes those skills look even stronger to potential employers," advises Christie. This is the most important part – your experience may not directly relate to fashion, but the fact that you have examples at all is what's important.
So, there you have it – brush up on your skills, network like crazy, and find a place at the bottom that'll allow you to climb to the top. No two journeys in fashion look exactly the same, so figure out the path that works best for you and go from there. That's all it takes to get into the fashion industry, and soon, you'll be dominating it!
To look your best while applying for fashion jobs, purchase a Style Nine to Five Job Application Template!
Emily Morrison is a media professional with passions for writing, film and popular culture.
Feature Image: Adobe Stock