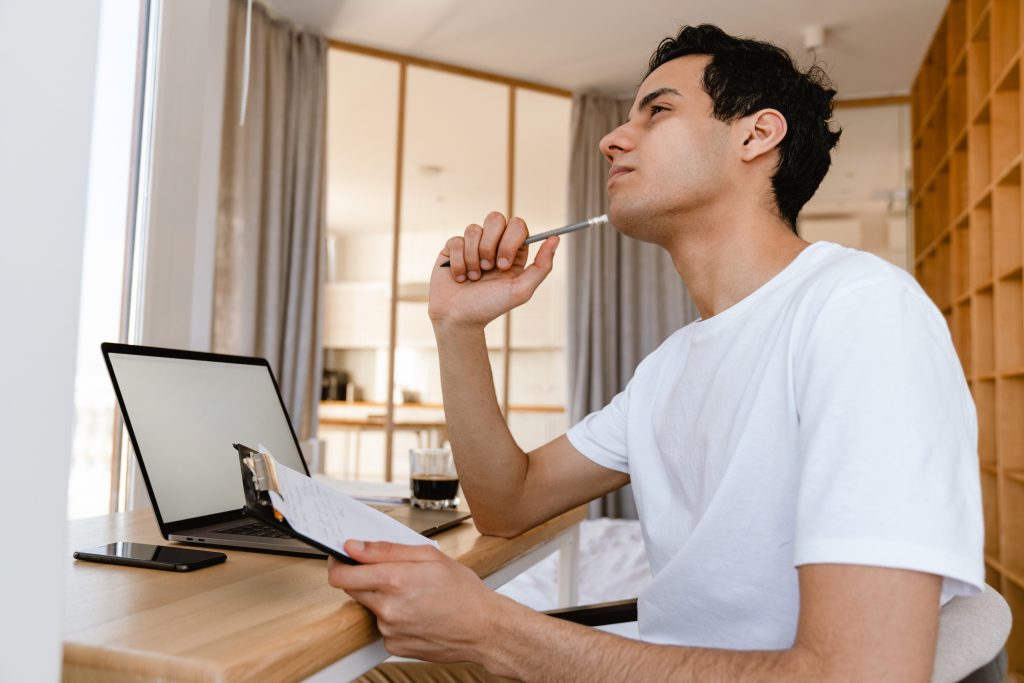 Nothing is more intimidating than a blank page – especially when you've got to figure out how to pack your entire work experience into it. It's hard to know what's important to include, how to phrase all of it and, most importantly, how to get into the groove of writing when you're starting with nothing.
But there's a formula to writing a resume and cover letter that'll make the process much easier every single time!
1. Start With An Outline
The first step to making a blank page less daunting is more simple than it seems: you just need to put something – anything! – on it. So, to take the pressure off, start with an outline. You can start off by finding or designing templates for your application package, then placing all the application must-haves in their respective positions.
For your cover letter, you'll want to outline the three main paragraphs you plan to include and the points they hit about you. Your first paragraph will be an introductory paragraph with an attention-grabbing opening line before you give a few quick sentences about what drew you to the company and why you'd be a great fit as an employee. Your second paragraph should be where you break down the job requirements and tie them into your job history with personal anecdotes and specific metrics. Your closing paragraph will sum up why you're a great match for their company and explain that you can't wait to hear back from them.
For your resume, you'll want to map out where you'll put your skills section, your education and what parts of your work history you'd like to include.
2. Break Out the Bullet Points
It feels like there's a lot of pressure on you to get your resume and each cover letter perfect, but remember that few things are ever perfect on the first try. To alleviate the pressure, try to think of your first go at your resume and cover letter as a rough draft. That way, you don't even have to begin with full sentences and interesting wording.
Break everything you'd like to include in your resume and cover letter down to basics, starting with plain bullet points if need be. For example: 
• Did styling for music videos
• Increased Instagram followers by 40%
• Wants to work at this company because of sustainable practices
That's it! That's all you need to put for the first draft. Nothing detailed, flowery or eye-catching, just the basics. By the time you've listed everything you'd like to include, you should have enough information to take up the full pages required – nowhere near a blank page anymore! From there, you only have to expand.
3. Add in the Detail
By planning out all the information you'd like to include, you've already gotten the hard part out of the way. Your next task is to take your bullet points, one by one, and change them into full, detailed sentences. All this requires is playing around with wording and proofreading to make sure everything flows nicely and isn't repetitive. You'll be done before you know it.
To make this part of writing even easier, the best thing to do is start with your resume, since your work experience descriptions should be written in bullet point format anyway. You just want to add some interest to those sentences. Once you figure out how to do that, you'll have one done, and a better idea of how to power through writing your cover letter.
And there you have it – how to go from two blank pages to a full application package in three easy steps. All you have to do next is proofread, make minor edits, send your application off and, hopefully, land the job! And if you don't get the first job you apply to, rest easy knowing the application process will seem much simpler next time.
Want to streamline the process even more? Book a Resume Refresh and Cover Letter Refresh Package by Style Nine to Five, and our Founder Christie Lohr will do the work for you.
Emily Morrison is a media professional with passions for writing, film and popular culture.
Feature Image: Adobe Stock