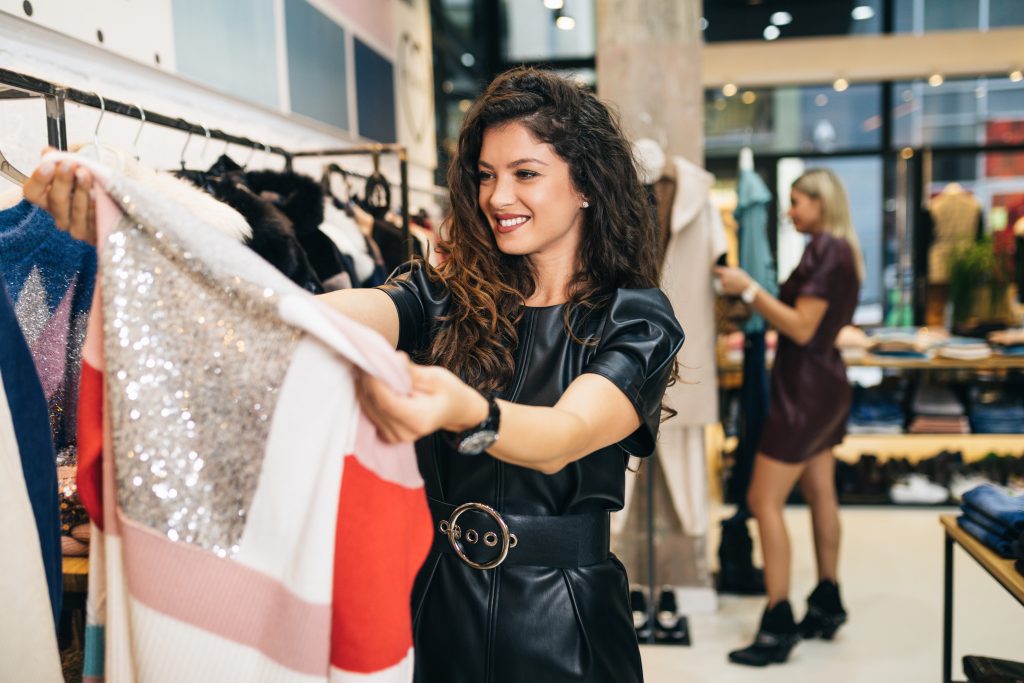 What could be more glamourous than a career in fashion? Being a buyer, designing your own collections, working as a professional stylist, being on the creative team for a major brand….the list of possible jobs goes on and on. If these career ideas are what lights you up inside, you should definitely reach for that dream job! That said, if you're just getting started or you're switching industries to pursue your fashion industry dreams, the chances of you landing a corner-office job right off the bat are very unlikely.
If you have big fashion career goals but turn your nose up at the idea of working retail, you're missing out on a valuable opportunity to learn. Instead, look at starting in retail as a stepping stone towards more senior positions in the fashion industry. How? Let's dig into five important lessons that can learn from working in retail.
1 – Learn What Sells
Before you can be a buyer or open your own boutique, you need to have a strong understanding of what customers want. When you work retail, you have your finger directly on the pulse of what flies off the shelf and what ends up on the clearance rack.
Pay attention to this because it's an important lesson that you can take with you as you move up in the company or if you're looking for a buying position with another brand. In time, you'll start noticing patterns in what your customer gravitates toward. If you have an opportunity to speak to higher-ups in your company, talking about the sales trends you're seeing is a surefire way to impress and have them notice you as more than just someone who is there to punch the clock.
Style Nine to Five's Founder, Christie Lohr, couldn't agree more, and speaks from her own experience of working at Le Chateau as a salesperson before moving up to more senior roles in the company. "If you're a sales associate or a store manager, you could take the initiative to make reports of customer insights and what products are selling well, if your store doesn't already do that. Make the role work for you and your career goals and avoid standing behind the cash desk chatting with a co-worker. There's always something to do!"
The more action you take on your own to go the extra mile, the more you'll stand out to your supervisors and the managers who are looking to promote people within the company.

2 – Learn About Fit
If a career in design or product development is something you want to pursue, you'll want to study as much as you can about fit, and what better way to do that then helping customers as they try clothing and decide what works and what doesn't.
For Christie, working in a retail role presents a great opportunity for on-the-job learning. "It gives you a chance to work with the product, understand fit, drape, and care (aka. product knowledge), as well as customer feedback," she says.
Pay attention to how different fabric drape on the body, which styles flatter certain body types, and the way that some pieces look universally great (or not so great) on nearly everyone. Working in a retail environment gives you in-person access to this valuable information, with exposure to a wide range of body types, fabrics, cuts, and styles. These are the important things that you'll draw on when you start designing.
3 – Learn About Styling
You might have your own personal style down pat, but many people don't consider themselves to be fashion savvy. When someone walks into a store, they might fall in love with a blazer or a sweater, but they don't necessarily know how to wear those pieces. This is where you come in as a proactive and helpful salesperson.
Showing people different ways to style clothes gives you practice when it comes to working with other people's fashion needs. If you're eventually working as a personal stylist, a stylist working for a brand's creative team, or a stylist for film, it's about bringing someone else's vision to life. Prep yourself for professional styling and get all the practice you can while you're on the sales floor.
4 – Learn About Marketing
Working at a store means more than just ringing in purchases. It gives you an inside look at the company's branding and marketing strategy. Taking that same proactive approach, ask yourself, w is your audience? What are they looking for? How does your company cater to them? What works and doesn't work for merchandising your store?
Understanding a brand and how to market to their customers is essential in any fashion industry job. A retail position, especially one that you stick with for a while, lets you see which campaigns are coming up, how they're communicated to the public, and all the branding insights you'll need to learn if you want a job in fashion marketing or PR one day.
Remember that your job in retail can be so much more than just learning the perfect way to fold a sweater. Christie turned her retail career into a 10-year stint at Le Chateau and believes that her experience helped her to become a successful entrepreneur today. "Being a business owner now, I gained insight into business operations, leadership, and customer service. Working long-term at one company allowed me to work closely with many departments which further added to my experience," she says.
5  – Learn How to Overcome Tough Situations
No matter who your clientele is, there's always going to be a disgruntled customer, a high-maintenance client, or someone who walks into the store with a bad attitude that they'll take out on you. These situations are never easy to deal with, but learning how to handle these tough moments in a professional manner without losing your cool will help you in any other job you get.
In any career, there are hard conversations or conflicts that you'll have to navigate from time to time, and learning this on the sales floor is a great way to hone your conflict-management skills. Dealing with tricky situations also shows your manager that you're dedicated to the job, as many people will just quit when they're put under pressure. If you can keep calm and work through it, you're proving your potential, even if it just feels like a bad day at work. You can take skills away from any job, and learning customer relations and how to ask for help when you need it, is a tool that you can apply to any job in your future.
If you're doubting whether working in a retail position is the right starting point for you, keep an open mind and a can-do attitude. While you might think it's not the most glamorous fashion industry job, experience as a retail employee makes hiring managers take notice. "How do hiring managers see your retail experience? It's a bonus! It shows that you've worked in their industry. This can also show that you have an interest in fashion and chose  retail over another unrelated position," Christie says.
Change your perspective, get active, and turn a job in retail into a step along the way to landing your dream job in fashion.
Check out our latest retail jobs: Retail Stylist at Melanie Auld in Vancouver, Retail Sales Associates at Good Neighbour in Toronto and Assistant Manager at The Pink Door in Toronto.
If you want more of Christie's expert career guidance to help you on the journey to your dream job, take the chance to purchase the Ask 1 Career Question service. She'll answer your top question via email and share her advice that's personalized just for you.
By: Jeanine Gordon – Jeanine is a freelance writer and editor with a passion for creating stellar content for global brands and small businesses alike – specializing in fashion, beauty, and lifestyle.
Feature Image: Adobe Stock