You know the saying, April showers bring May flowers! And despite many parts of the country having April flurries heading into May, that's no reason to forget about the rain gear that we'll be needing this spring. This season, why not upgrade your standard rain supplies for some of the chic options that have been seen all over catwalks? Love it or hate it, one of spring 2018's biggest trends is plastic, translucent fashion, and it's definitely sticking around. To get a jumpstart on this trend, we've rounded up five of the best plastic pieces on the market right now.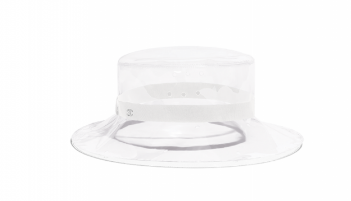 PVC and Grosgrain Hat
Ever wonder what a luxury rain hat would look like? Well wonder no more, because Chanel has created the most luxurious one imaginable! Seen on the Spring/Summer 18 runway last fall, models paired this hat with tweeds and beaded day dresses for an unexpectedly chic rainy day look. If you've got the funds to pick up one of these bad boys, expect to be the envy of fashionistas everywhere.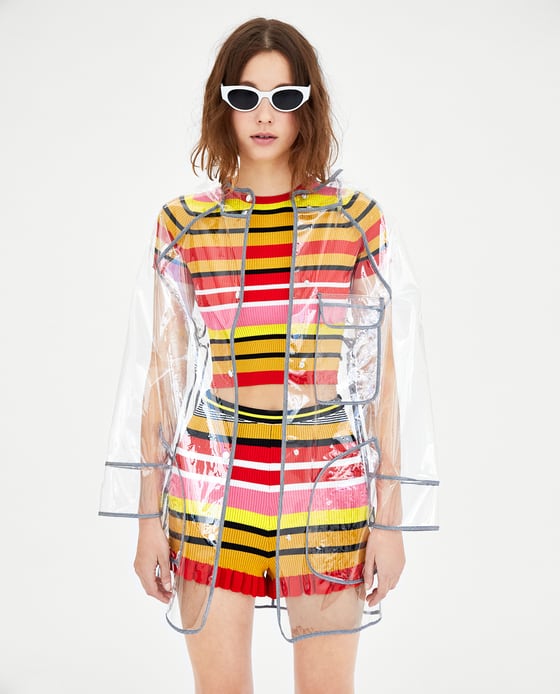 Transparent Raincoat
For a more affordable take on transparent dressing, Zara has plenty of fun offerings this season. One of our favourite pieces is this clear raincoat with colour blocked trim. You'll never have to wonder if your outerwear clashes with your outfit again, since it can be seen straight through! Just make sure that you're 100% happy with your look, since there's no hiding what you're wearing in this coat.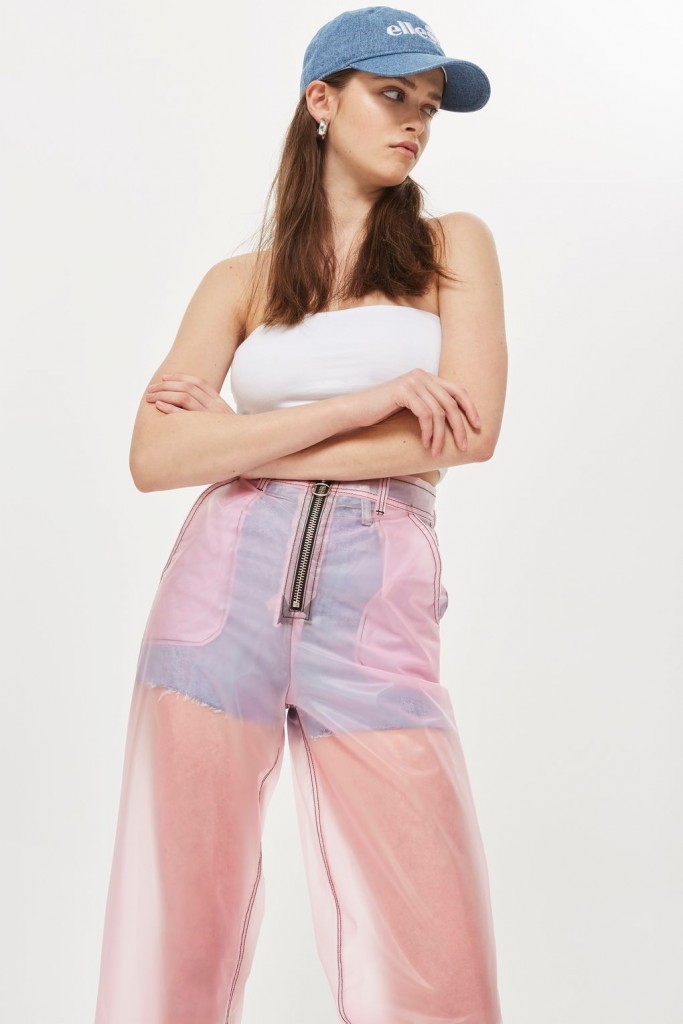 Pink Transparent Cropped Jeans
You could say that Topshop is one of the pioneering brands bringing plastic fashion mainstream, as it's been including PVC in its collections for several seasons now. The brand has never been one to shy away from controversial garments (anyone remember their plastic jeans?) so this pink pair comes as no surprise. It's definitely an experimental choice for an outfit, and one for the boldest of fashion's risk takers.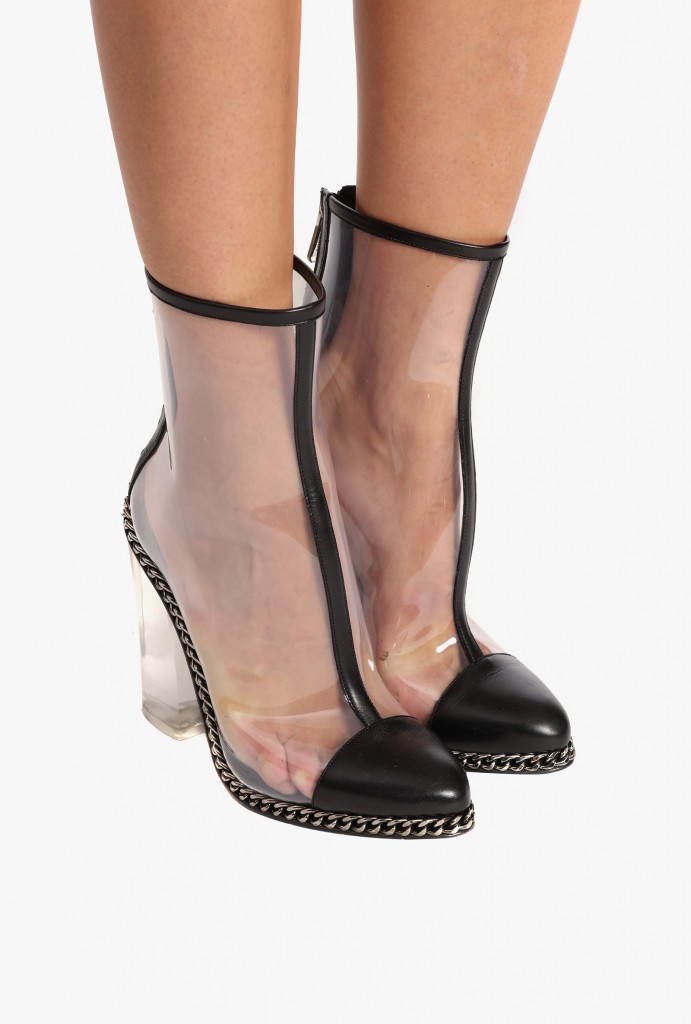 Vinyl and Leather Dax Ankle Boots
Arguably one of the easier ways to incorporate this trend into your wardrobe would be through this pair of Balmain boots. Think of them as a hybrid between rain boots and party shoes that you could really wear anywhere with some creative styling. The chain detail makes them appropriate for evening, and the clear plastic and lucite heel make them surprisingly wearable in wet weather.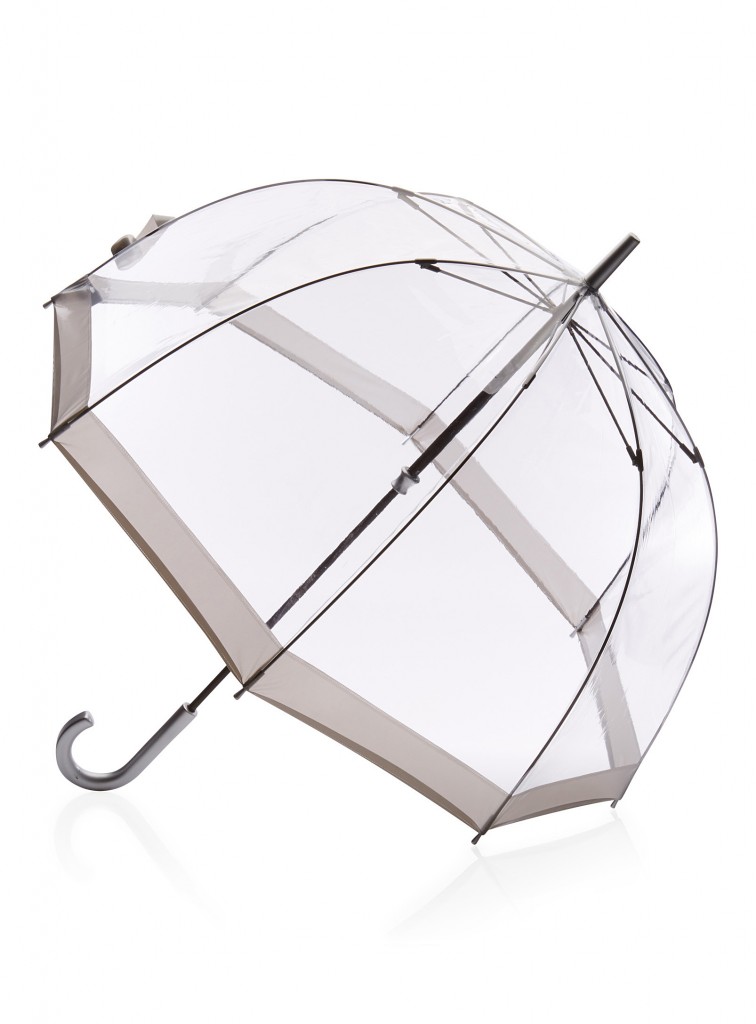 Sheer Bell Umbrella
Finally, a classic take on the plastic trend is this simple umbrella from Simon's. This timeless umbrella manages to stay on trend with its metallic trim, and is perfect for adding a fun element to an otherwise practical item. Since it's made from clear plastic, it gives its wearer a full view of their surroundings when in use – perfect for dreary days when the wind is blowing in every direction.
Product Info
PVC and Grosgrain Hat, $1,400, available at Chanel
Transparent Water Repellent Raincoat, $49.90, available at Zara
MOTO Pink Transparent Cropped Jeans, $55 available at Topshop
Vinyl and Leather Dax Ankle Boots, $1,895, available at Balmain
Sheer Bell Umbrella, $30, available at Simons
By Kate Mendonca, Toronto, @kate.mendonca
Are you an employer? Post your fashion job or retail job here.
Are you a job seeker? Find fashion jobs and retail jobs here.
Don't forget to follow us on Instagram for the latest fashion jobs, style jobs, retail jobs, career advice and fashion trends!