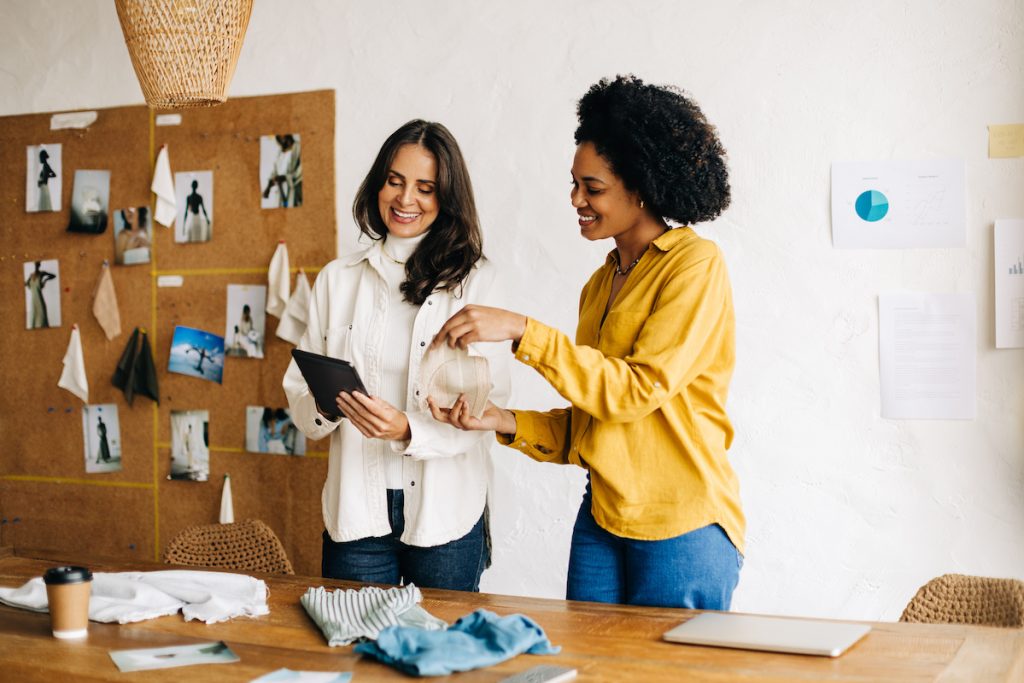 Having your own label is one of the most highly coveted careers in the fashion industry. The multi-faceted aspects are what make it both a desirable role as well as a challenging one. Challenge doesn't have to mean negative though, as long as you have the right tools and enough determination. Having your own label means being a creative visionary, a marketing expert and a business person, amongst many other hats you will likely wear as an emerging designer. This is the Style Nine to Five guide to launching your own label, put together to make that process as seamless as clothes in your new label.
1. Define Your Vision
Take some time to consider what having a fashion label means to you. You can begin with a vision board, a great place to start for creative and visual people like fashion designers. Consider everything. Who are you designing for, what is the brand name, will you have brick and mortar stores or e-commerce, will you sell your line in other stores, what does your office look like, what does your team look like, how many people are on your team? This is the "big picture" stage of the launch. Dream big, you don't have to launch everything at once, but at least you will know what the whole picture looks like, zoomed out.
2. Research and Inspiration
Before you launch your line do your market research – what are your competitors doing? Who are the brands that inspired you to launch your own label? Maybe it wasn't a brand at all, maybe it was a decade in fashion, or celebrity style, or something even more abstract altogether. Find out what forecasted trends are, what problems is your customer having that you can help solve?
Additionally, do your research into who you will need on your team. How much can you handle on your own? Do you need a numbers person? Another designer? Here are some departments you may want to consider outsourcing if you want to focus on the creative vision and designing:
• Accounting
• Shipping
• Digital: Marketing / E-commerce / Social Media
• PR
• Business relations
• Operations / general manager
If you are just starting out, you may have to wear a few of these hats yourself. However, once you start to grow it is important to be able to delegate and feel comfortable letting others take things off your plate so you can do what you do best – being a great designer!
3. Create a Business Plan
Your business plan is what you will present to your potential investors to help fund your label. Your business plan should include:
• An executive summary: a history of the company along with goals for the next three to five years
• Company description – your brand identity (see below)
• Market analysis – use your research findings from #2
• A description of your products
• Your marketing strategy – see #9 below
• Financial projections
4. Building Your Brand Identity
Now more than ever a brand is an important aspect of any business. It will be how people recognize you, it will also be how people identify themselves as your customer base. Build a brand bible. This is something that helps inform all the decisions you make as a brand. Things that should be in your brand bible include:
• The name of your label
• Logos and how they can be used
• Brand colours (used in social media presence, signage, advertising campaigns, etc.)
• Brand personas (who is your customer)
• The brand voice (how you speak to your customer on social media, your newsletter, the language on your website, etc.)
5. Source Materials and Suppliers
Consider where you want to source your materials from and build relationships with your suppliers. Though much of the textiles we wear are produced abroad, you may want to consider working with local suppliers. This can sometimes be a more ethical choice and it can also mean the supplier is more easily accessible for you as well. Who you work with will depend partly on what you are producing. For example if your label is a line of cashmere sweaters that will be very different from a line of luxury bridal gowns.
6. Design and Prototyping
The fun part! This is probably the reason you are interested in launching your own label. This is where the magic really happens and you will have the opportunity to make your vision come to life. You can begin with fashion illustrations of your creative designs, which then need to be transferred to patterns and prototyped. If you don't have experience with pattern making and prototyping, you will want to hire someone with that expertise. As with any creative passion, sometimes the vision doesn't translate, you'll need someone with the experience and understanding of how patterns fit together who can assist with bringing your vision to life.
7. Production Planning
Once you find a manufacturer you can work with them to decide on a production plan. For this you will want to have estimates around how much you will sell as well as a budget for how much you can produce of each product. You will have to work with the manufacturer to find out how much lead time they need and plan to make sure that your launches align with selling seasons.
8. E-Commerce and Retail Strategy
To begin with you will want to decide how you want to sell your clothes. This can be done three different ways: you can have your own brick and mortar store, you can have an e-commerce site, or you can sell your clothes through a third party, such as a boutique or a department store, or you could do a combination of those three. What you do is up to you and what makes the most sense for you and your brand. To inform this strategy you might want to return to your brand identity and your customer personas to try to decide what would work best for your business and your customer
Each of these options will come with their own pros and cons and each their own challenges. For example, selling through a third party is great because you have their entire customer base's eyes on your label, however you will need to build a relationship with that third party first. A brick and mortar is also great as you have street traffic and brand recognition, but you will also likely be paying a premium for rent in a high-traffic shopping district. It is now easier than ever to set up your own e-commerce store. With platforms such as Shopify it is something you can do all on your own, but you will need the resources to be able to ship your product out and a great online strategy to be discovered by new customers in the digital space.
9. Marketing and Promotion
Like brand identity your marketing strategy and ability to promote your product are imperative to the success of your business. With the rise of digital marketing tools like newsletters and social media, marketing and self-promotion is cheaper and more accessible than ever. You will definitely want to set yourself up with a strong digital presence in 2023 as it will be the first place people go looking for your name and can be a great way to get new leads and convert them to sales.
Look into the various opportunities for promotion, such as working with niche influencers, display ads on websites and YouTube, as well as Google Ads that bring you to the top of the search results. If you have a larger budget you may want to look into print advertising in fashion magazines, billboards in your city and postering, or advertising on transit like the side of city buses – hello Carrie Bradshaw.
Whichever option you choose will depend on your budget and who your customer and potential customer are. You will also want to call upon your brand persona to inform your campaigns and ensure that everything is "on-brand" and instantly recognizable. Pay attention to the colour scheme, logo placement, copywriting etc. Consider innovative ways that new, young brands are advertising. For example Reformation, SSENSE and Lululemon have fantastic brand voices and strategies that resonate with millennials and Gen Z. Keep an eye on to what your competition is doing, but try to be just as innovative with your marketing as you are with your fashion design –  good marketing is sometimes half the battle.
10. Launch and Feedback
One of the most exciting parts of the process will be…finally launching your label! For this you may want to work with a PR agency who can help you get the word out. Maybe you will host an intimate gathering at your new brick and mortar (if you have one) to celebrate with a little toast of bubbly. Perhaps you want to be a part of a fashion show in your city – Toronto for example has a Start Up Fashion Week, designed to help put new up and coming designers on the map. How you launch will again depend on your personal decision, your budget and what kind of label you have.
Once you have launched, pay attention to the feedback you receive. If you had a media campaign you may receive some reviews in print, or digital publications, you may offer customer reviews if you have an e-commerce website, or just look through your DMs to find out how your label has been received. Customer feedback is some of the most valuable information you can have when running your own business as it can tell you what you need to improve, what your customer is looking for from you and what is already working that you can continue to do.
11. Continuous Innovation
In an industry that relies on new styles and trends every few months (you may have noticed this has sped up even more in the last few years), it is not simply enough to be on-trend, you have to be setting the trends. Innovation is key to standing out as a designer. What are you doing differently? What can you offer that someone can't get from an established brand they already love? What will keep your established customer coming back season after season and catch the eye of new potential customers and convert them into brand-loyal consumers.
Launching your own label is both exciting and daunting. Style Nine to Five has an abundance of resources available from financial advice, hiring advice, how to capitalize your social media to grow your business and much more. We can't wait to see your first collection!
If your questions weren't answered above, consider booking a Career Meeting to speak with Style Nine to Five founder Christie Lohr. She specializes in careers in fashion and can help demystify the journey to launching your own label.
Sheila O'Neill is a creative, innovative and inspiring storyteller with a background in fashion.