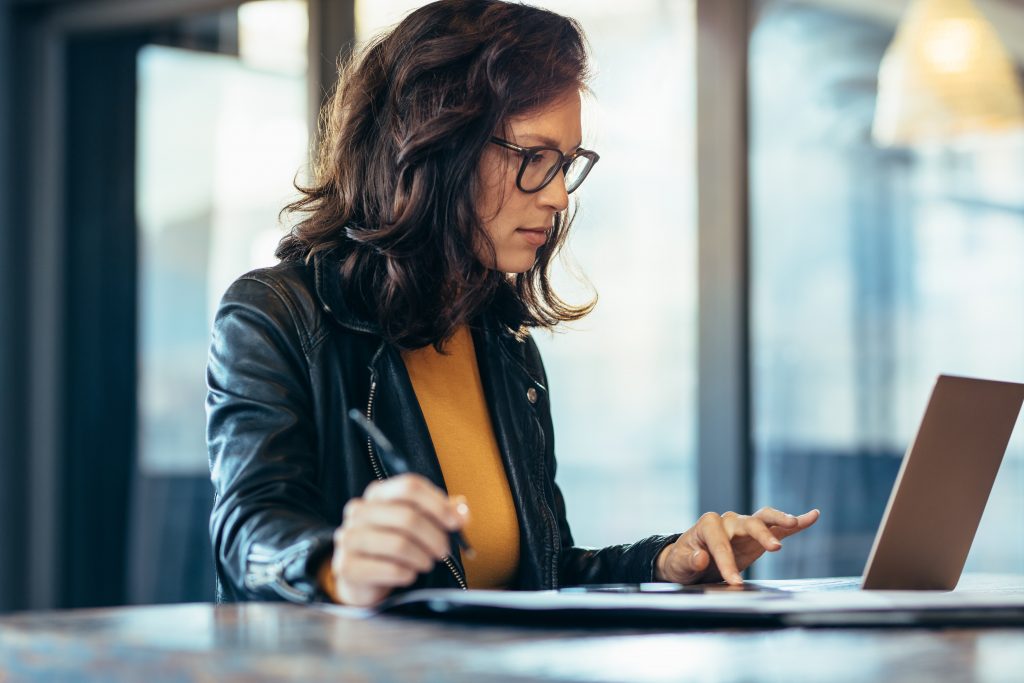 In the past few decades, the job application process has evolved in many ways. Gone are the days when job-seekers would search newspapers for jobs or visit business locations and storefronts to get the opportunity to share their resume with the hiring manager. Today, candidates are able to locate job postings online and can even apply with a simple mouse click, but before you hit 'submit,' make sure you're checking all the boxes to set your application up for success.
1 – Review the Job Posting
Once you've selected a job that interests you, it's important to review the job posting in depth. Job postings are an introduction to the company and most importantly to the responsibilities, expectations and requirements of the job. Seek out clues in the posting to make sure you're hitting the highlights that the hiring manager wants to see.
To ensure your cover letter and resume stand out, select keywords from the job posting and include that language in your cover letter, resume and application email. Below are some great ways to review a standard job posting. Make sure you have a pen and paper handy to jot down the phrases and job descriptors that you want to mirror in your application.
The first section of a job posting typically provides candidates with a quick glimpse of the company's mission and the specific qualities they are searching for in a potential hire. Focus on locating the organization's values and the type of qualities they are looking for in a candidate. Implement the information in your job application by including it in your cover letter. Explain how you connect to their mission statement and/or core company values. For example, if the business values teamwork, include a how teamwork is important to you.
Next, pay attention to the job requirements and qualifications they're looking for. Customize your cover letter and resume to include the specific skills required for the job that match your own skillset. If you are applying for a styling job, customize your resume to showcase any relevant work experiences or tasks that are related to styling, merchandising or sourcing product.
The next section usually provides the candidate with specific tasks that are assigned to the role for which the organization is hiring. Update your resume to include your own similar work experience that is aligned with the specific tasks of the role.
The last section will highlight the organization's accomplishments and total rewards information such as the benefits provided to the individual who holds the job position. Include this information in your answers to the job application questions. Most online job applications may include questions such as "What about Style Nine to Five interests you?"  To answer these types of questions, reviewing the job posting will give you information about the business' mission or values and you can demonstrate how those values are connected to your own.
2 – Update your Resume
Anytime you decide to change jobs or careers, it is important to update your resume with current information. Be sure to include all relevant work experience and educational credentials. A great way to determine what is relevant and what is not is to go back to the job posting. As mentioned above, job postings contain information that can be helpful during the application process. Focus on the job requirements in order to match your work experience and your educational background to what they're looking for. If specific job experiences are not relevant to the job you are applying for, it is best to remove them from your resume. Please remember that even if your job experience is not directly related to the job that you're applying for; you can look for specific skills that are, as many skills are transferable from industry to industry.
3 – Customize your Cover Letter
To ensure your job application stands out, you can set aside some time to create a customized cover letter to the position and company that you're applying to. Below are some great ways to customize your cover letter:
• It is time to avoid using "To whom it may concern." Instead, try to address the cover letter to the hiring manager and remember to include the company name. This will allow your application to feel more personalized. If you are provided with the hiring manager's name, always make sure to use it!
Example: "To the Hiring Manager of Style Nine to Five"
• Conduct research on the organization's mission statement and their values. Add this information in your cover letter to show the hiring manager that you are knowledgeable about the organization. 
Example: " I am interested in working for this organization because I want to be a part of a group that values teamwork and I admire the way your company recognizes your employees on your social media channels."
• Don't be shy about including relevant work experience and other skills on your cover letter.
Example: " I believe it is important to have excellent computer skills to be successful in this role and I have experience working with Microsoft and Mac software, including  Canva, Photoshop, Adobe Acrobat".
4 – Proofread and PDFs
With any document or task, it is always important to proofread and double-check your work to ensure it is complete and accurate. Prior to submitting your job application, set aside some time to review your resume, cover letter and any job application questions. Check for grammar and spelling errors. A great online tool to use is Grammarly which assists with automatically detecting grammar and spelling errors in all forms of documents, including the email you send with your application.
Once your cover letter and resume are ready to be submitted, please remember to save the documents in PDF format. This will ensure the original format of your documents appear the same when shared via e-mail and application software. When sharing the documents, it's also important to name the files appropriate to the job that you are applying for. Here's an easy format to use when saving documents for online job applications:
First Name, Last Name – Job Position and/or Company Name – Resume
Jane Smith – Fashion Writer Style Nine to Five – Resume
Now that you have reviewed the job posting, updated your resume, customized your cover letter and have proofread and saved all relevant documents in PDF format, it is now time to click 'Submit'. Good luck and we hope you get selected for a job interview!
Updating your resume? Try Style Nine to Five's eye-catching, customizable resume templates.
Najja Morris is a human resources professional with passions for writing and fashion.
Feature Image: Adobe Stock