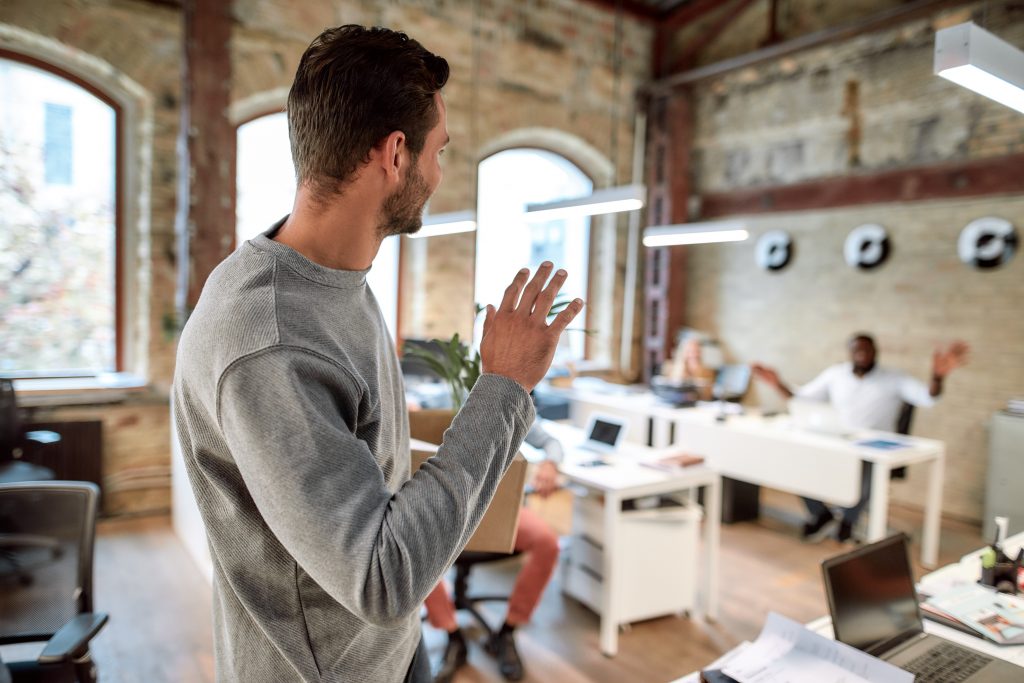 Quitting your job can be just as scary as applying. It's hard to know exactly what a job expects of you in your final weeks, and you want to leave on a good note to ensure that you have a great reference moving forward. But how do you do that?
Resign in Writing
You're always going to want to leave a formal letter explaining that you're resigning. "Proper etiquette calls for putting your resignation in writing, stating your last day of work, and the effective date of your resignation," explains Style Nine to Five founder, Christie Lohr. It doesn't have to be long and thorough, just include those details and you're good.
Before you write your letter, you're going to want to double check the rules around resignation at your job. For instance, some jobs may require that you put in a final two weeks of work, while others may say only one week is fine.
Speak to Your Supervisor
While it's important to leave a letter, you need to sit down with your supervisor and speak to them about your resignation as well – don't leave any loose ends at your job, especially if you want a good reference later on. "You owe it to them to have a conversation and let them know, even if you want to omit getting into the nitty-gritty of why you're leaving or what your next plans are. It's a professional courtesy," says Christie.
You can have this conversation with your supervisor on the day you turn in your resignation letter, but if possible, it would be best to have this conversation before you even write the letter. "Keep your supervisor in the loop!" suggests Christie. "No one wants to be blindsided, so if you communicate that you're looking for more of a challenge, they'll be more likely to take it better than if your resignation comes out of nowhere." Your supervisor will be grateful if you discuss your resignation with them early on. Even if a conversation feels more daunting than just handing in a letter, it'll make both of your lives a lot easier – they'll know what's coming moving forward, and your final weeks at your job will be marked by the respect you showed through this action.
Now, this final talk with your supervisor may be tricky if you're leaving due to the toxic work environment. Not every job nor boss you have will be kind and respectful, but it's important to be polite to them even on your way out. "You should always make sure to show your gratitude for the opportunity even if it's a toxic job or company," says Christie. "Always take the high road!" You may need to use this job as a reference down the line, so as much you hate the toxicity of your workplace, look past it to leave properly. After all, it's only a few more days!

Leave On A High Note
Speaking of making the final weeks at your job great ones, remember to keep up the momentum you had throughout your time at your job. "While you're still there in your last few days or weeks, make sure you're not already checked out – participate and do your best work," advises Christie. "People may disagree with your decision to leave, but you can always make your mark with the high-quality work you do."
Doing great work during your final days will be remembered fondly, particularly when you want to use this job as a reference moving forward. "If you want to use them as a reference, be sure to let them know and ask if there's anything you can do for them while you're still at the company that would help solidify a good reference," says Christie. Maybe you'll need to make a guide on how to train the next person who steps into the position, for example. Even if you think of anything you can do to make life easier for your boss while they try to fill your position, take the initiative and do it.
It's just that simple! One letter, quick conversation and a few extra days later, and you'll be free to move to the next step in your career journey with ties from your old job still intact. As a plus, the amazing energy you brought to your final weeks at work will be brought with you to your next job!
Need advice on where your career path goes from here? Ask Christie One Career Question.
Emily Morrison is a media professional with passions for writing, film and popular culture.
Feature Image: Adobe stock