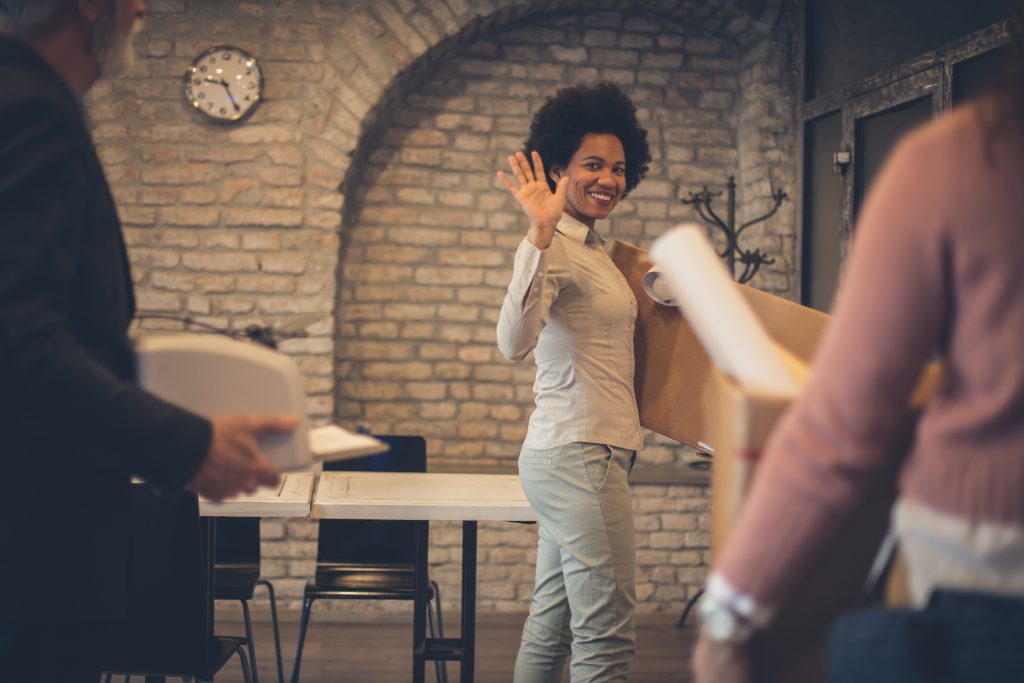 "I QUIT!" You've seen this scene in the movies before: something happens at work and the character just can't take it anymore. Then in a flurry of emotion, they go to their boss, say that they're leaving and never coming back, grab their things, and walk right out of their workplace.
Although it's fun to watch on screen, in real life quitting your job shouldn't be so dramatic. Whether it happens on a whim or you've been planning it for months, Style Nine to Five is here to walk you through the key steps of properly resigning from your job.
Get Organized
Okay, so isn't quite the quitting part yet, but this step will ensure you're walking into this experience ready. Go look at your offer of employment or contract that you signed when you were first hired. It's possible it says that you need to give a certain amount of notice when resigning from your job. Two weeks is common practice for many jobs because it allows your employer to get organized and start the process of finding someone to fill your spot.
This isn't a legal requirement, but more often than not, the higher level of responsibility the more notice you need to give. Once you know how much notice you have to give, you're ready for the next step.
Notifying Your Boss
The moment we all dread. Sometimes it doesn't matter how confident you are in your decisions, these types of conversations are tough!
If you're able, it's best to have this conversation in person. If you're someone who is working remotely, pick up the phone or jump on a video call. This conversation can be sensitive no matter which side of the table you're on, so treat it with the respect and professionalism that you both deserve.
If you're a person who is feeling nervous about breaking the news to your boss, try practicing your speech beforehand. Here are a few examples of some points to hit in your conversation:
• I'm resigning from my position as…
• I'm going to pursue a new opportunity in…
• This is my two-week notice and my final day will be…
• Thank you so much for everything during my time here…
• I'll follow up by email with my letter of resignation and so we can connect on the next steps…
Even if you don't get through all those points, just make sure to remember two things: say that you're leaving the company and thank them. Being a manager and having positions turnover is no fun. Hiring is a lot of work, so try to express your gratitude even if you're not ending on the best note. There will be time later for you to share why you were looking for a new job in the first place, so for this conversation, keep anything negative to yourself and channel your inner Michelle Obama: "When they go low, you go high."
The Resignation Letter
This is a common practice that puts your resignation in writing. It's a safety net for the employer and employee that confirms that you are going to leave the company and what your final day is. Even though you'll have this conversation with your boss, nobody wants a mix-up where you said your final day is Wednesday, and they thought it was Friday. This keeps your intentions as clear as possible.
You can hand in the letter while you tell your boss or send it to them after. Now, I know what you're thinking, "a letter?" In 2021 this letter doesn't need to be printed and put in an envelope, but since this is more of a formality following your verbal resignation you'll still want to format it like one. I'm talking about a document with your employer's name, the date, a salutation, then the actual content of the letter saying you're resigning. Here's an example:
Jane Cardigan
Fashion Land
July 2, 2021
Dear Jane,
I'm writing to inform you that I am resigning from my position as Retail Associate at Fashion Land. My last day will be Friday, July 30, 2020. I have greatly enjoyed working on the retail team and appreciate all the support you provided during my time here.
Should you need any assistance in the transitionary period, please feel free to reach out to me.
I wish you continued success.
Sincerely,
Your signature
Your name
Your letter doesn't have to be fancy or long, just make sure you have all those details in there: you're resigning, your last day, and a thank you. Email a copy to your boss and/or HR manager, and keep a copy for your files.
The Exit Interview
It's likely your boss might offer you an opportunity to have an exit interview or final meeting to discuss any final feedback you'd like to share with them. If they haven't yet, you can always reach out and pitch the idea to them!
Make sure to prepare for your exit interview. Bring a list of accomplishments you're proud of from your time at the company and skills you've gained or developed so you can celebrate the time and effort you put into your job.
You can also share any constructive criticism you have about the company or suggestions for improvement. Just make sure your feedback is thoughtful and you prepare what you're going to say. This isn't the place to walk in and start venting about everything you didn't like. Don't get me wrong, I'm sure that'd feel therapeutic, but if you're looking to resign from your job properly, then don't burn any bridges.
It's interviewing best practice to ask the interviewer a question or two at the end. The same goes for exit interviews. This is a great time to ask for feedback on skills you need to improve or see if they have any advice for you on your career path.
Your Last Day
You might think you're done and can skip off the premises, but that's not the case. If you're working from home, make sure to organize a time to give back any company property (think keys, computers, etc.) If you're able to be in your workplace, make sure to clean up your area, get rid of anything that they won't need (did someone say junk drawer?), and take your belongings home.
It's time for the next step in your career journey. You might want to run right out the door, but taking your time to tie up loose ends and leave your job in a better place than you arrived will be so much better in the long run.
Looking to take the next step in your career? Get your application package ready for action with Style Nine to Five's Get It ALL package including a Resume and Cover Letter Refresh, 2 Career Meetings with founder Christie Lohr, and more.
By: Catherine Gautreau – Catherine is a communications and fundraising professional in Vancouver, BC with a passion for storytelling, the arts, and giving back to the community.
Feature Image: Adobe Stock