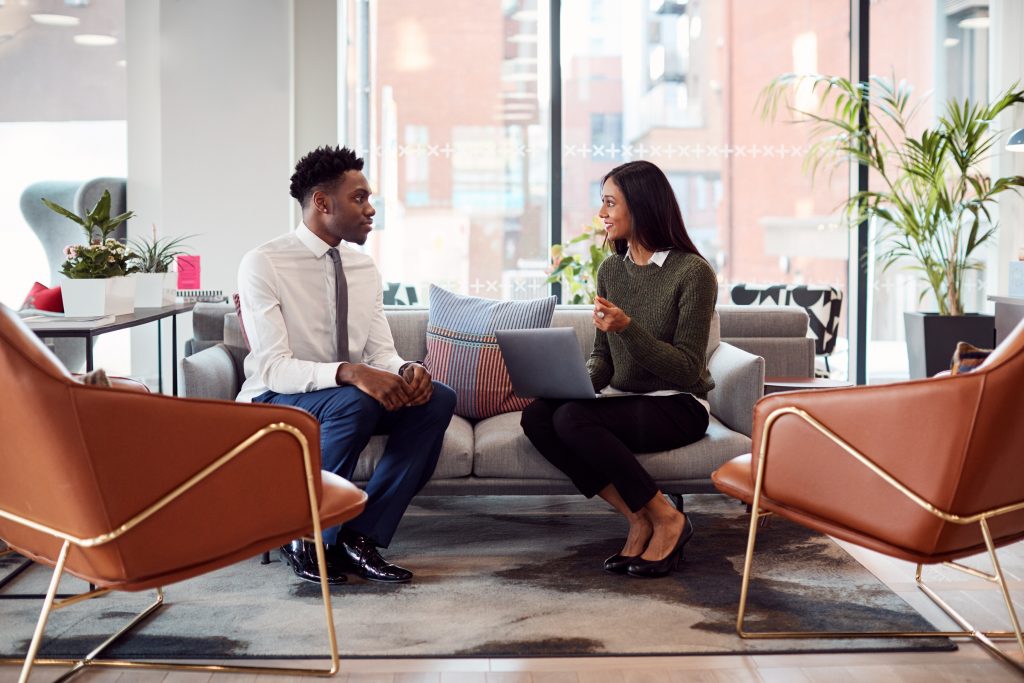 "So, do you have any questions for us?" *Cue silence* "No, I think you covered everything."
How many times have you been in an interview and your mind goes blank when the interviewer asks if you have any questions? Although the interviewer may have done an overview of the role, this is your opportunity to get more insight on nuances of the position as well as the company culture. It's important to make good use of this space and clarify any questions you may have—this will not only show that you are prepared, but also that you're engaged, curious, and forward-thinking.
Outlined below are a few questions to use during these moments to help you find out more about the role and stand out to prospective employers at the same time.
1. If I'm hired, how will my performance be assessed?
Understanding work expectations will enable you to have a smooth transition when you're onboarded, without having to play catch-up and learning as you go. It also allows you to gauge if they are a purely numbers-driven company, or they have a more holistic approach to running their business. For example, you may be applying to a position as a content writer. It's important to understand whether your performance is purely based on the number of views or clicks your content received or a combination of this and the quality of your ideas and whether they are in line with the brand.
If the interviewer responds by stating "you are responsible for receiving minimum 1,000 views per article and this is how your performance will be reviewed," you'll have a measurable idea of what the expectations are, giving you more information about what the role requires, more so than the general job description.
2. What skills do you think the department is currently lacking?
This question demonstrates a willingness to work and grow. Also, by asking this question, you can easily parlay your previous work experience into why you are the perfect candidate. By having the interviewer pinpoint existing weaknesses you can demonstrate your knowledge of the field by giving some examples of strategies you would implement. For example, perhaps you are interviewing at a creative content agency who had a failed campaign leaving their client unhappy. When reviewing their campaign, they realized there was a flaw in their social media strategy. You could respond to this by stating, "If I am hired for this role I would love to see the analytics of all of you social platforms. At my previous role I was a social media strategist and campaigns weighed heavily on demographic-specific hashtags, the timing of posts, as well as the language used."
3. Have you seen yourself grow within the company?
This may seem like a personal question and a bit bold, but it demonstrates to the interviewer that this is not just a "stepping-stone job" for you and that you see yourself here for the long haul. This is also a great question if you are being interviewed by someone who is in a role you can see yourself in down the road.
This will give the interviewer an opportunity to speak to their own career and the growth opportunities the company has provided them and may be available to you. This will also shed some light on the culture of the company if they are keen on developing their own talent or looking to recruit from outside of the company.
4. How would you describe the department/company culture?
Company culture is so imperative to a cohesive and collaborative work environment. Healthy competition can increase moral but there is a fine line between always bettering yourself and burn-out. If you decide to ask this question the interviewer will most likely not tell you directly, "our culture isn't great," so it is important to read between the lines and look for words like "hyper-competitive" (emphasis on the hyper) or "rigid work structure," for example. These words and phrases should raise some red flags or have you questioning how much you want the job.
5. What are some foreseeable challenges that come with the role?
Don't shy away from asking the difficult questions. Ups and downs are part of any job, and for most employers it is important for them to see you handle the rough spots rather than when everything is running smoothly. Understanding the challenges allows you to put a plan in place to prevent your early days on the job from going awry. When any roadblocks come up, you'll find out who you can turn to for support and how they expect you to handle issues that arise. 
Owning the space during an interview is truly the key to being successful during the process because interviews can be daunting for anyone. Don't shy away from asking questions as interviewers are often immersed in the job and know the role so well they may forget to fill the gaps. Asking key questions demonstrates to the interviewer that you are attentive and truly invested in the conversation and the role.

Are you wanting to make big career strides? Try Style Nine to Five's Get it All offering! The name says everything—with this package you will receive a resume, cover letter and LinkedIn Profile Refresh in addition to interview prep and 2 career meetings with Founder, Christie Lohr. That's not all, this package also includes your choice of a portfolio refresh or personalized contact cards.
Demetra Maragos – Demetra is a Master of Arts candidate at New York University, who loves thinking outside of conventional lines to combine her passions of everything culture, fashion and lifestyle.
Feature Image: Adobe Stock