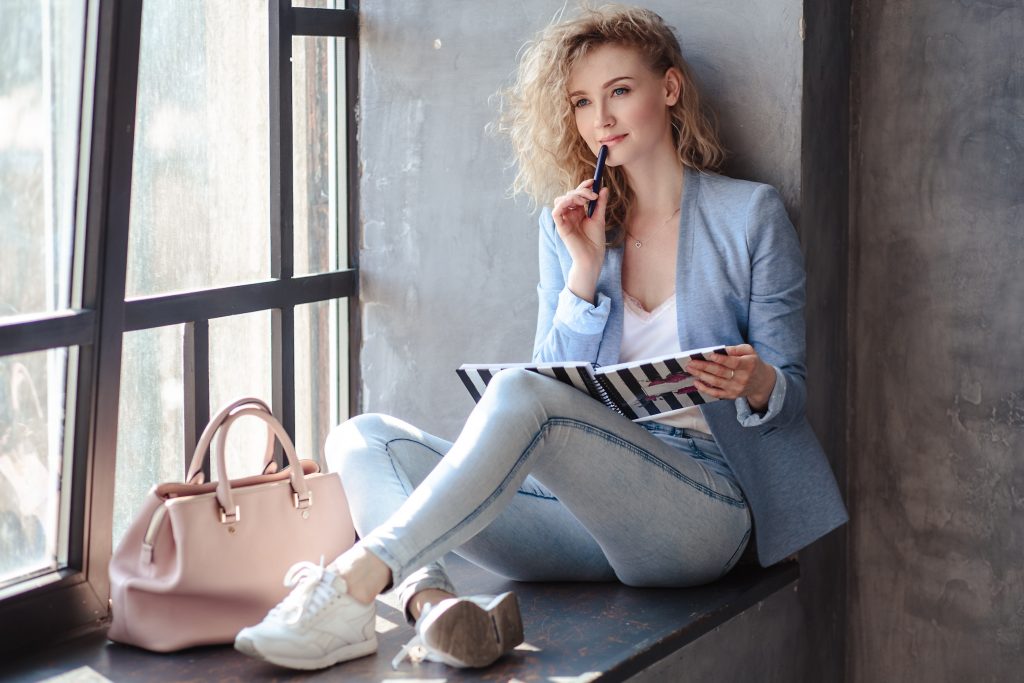 It doesn't matter if you haven't started your career yet or if you're a seasoned professional—there is never a bad time to start setting goals for your career. In fact, the sooner you start, the better! Why, you might ask? Creating goals can help you stay focused, remain accountable, and give you the motivation you need to become your best professional self.
Not sure where to start? That's where Style Nine to Five comes in. We've done the research on your behalf so you can start reaching your goals faster and more efficiently. If you're not convinced, one of my top StrengthsFinder (a popular online personality quiz that identifies your greatest skills, then shows you how to maximize them at work) qualities is Futuristic, so planning for the future and setting goals is my catnip.
There are many strategies out there, but they all come back to the same key components:
1. Make time to set measurable short and long term goals
2. Create a detailed plan outlining how you're going to get there
3. Make time to follow up and follow through
Now, let's walk through the steps you need to take when setting and striving for your goals in more detail.
1 – Identify Your Career Goals
If you're looking to grow in your career, it's important to identify how you want to grow by setting goals that propel you forward.
Are you yearning for a promotion? Is there a specific skill set that would help you change careers? Do you have a side hustle that you'd like to turn into full time work?
If you don't have a career goal in mind, take a few moments to think about your ultimate dream job. Go as big as possible. Do you have an eye for the latest trends in fashion? Do you daydream about writing for Vogue, InStyle, or Flare? For the purposes of this article, let's say your current career goal is to work as a fashion journalist.
So, you have a goal, but you're asking yourself, "But where do I begin? Is this really attainable? How do I make it happen?"
2 – Research, Research, Research!
Once you've identified your goal, you need to do some research to learn about what is commonly involved in acquiring that skill/position/salary/etc. (whatever your goal is!).
Unless you're forging a new job in a field that doesn't yet exist (which is entirely possible), it's likely that someone before you has worked towards that same career goal, which means you can learn from their experience.
If you're looking for a change in role or industry, Googling those job titles or jobs within a certain industry is a great place to start. Resources like LinkedIn, job boards, or meeting with a recruiter can also provide more specific insight into your chosen path.
Keeping with my example of the goal to become a fashion journalist, after a bit of research you'd likely find that some of the common responsibilities include writing articles about the latest trends and styles, often for print and online magazines, blogs, and social media. Fashion journalists interview stylists, designers, and often attend various fashion events including photo shoots, runway shows, awards shows, and more.

3 – Outline The Steps You Need to Take
Now that you know what's involved, it's time to set smaller, short term goals to help you reach your overall career goal.
If you picture your career path as a road trip, where you're trying to get to an exciting destination, these are the landmarks you're aiming to hit to get you to your goal. Oftentimes, there are many paths to get to one place. Not every path will look the same for every person. The important part is that you figure out what steps are important for your unique career goals. Some examples of common steps you might need to take to become a journalist might be,
1. Take some journalism courses
2. Start a writing portfolio
3. Make connections in the field
4. Intern at notable fashion magazine
Although this seems like an accurate list of steps to take to become a fashion journalist, within each step, you need to define your goal and outline the steps that need to be taken to achieve it. Take ,"making connections in the field." You're a busy person, so making time to make connections is probably never going to happen unless you define that step in more detail. These landmarks need to support you on your career road trip and your success depends on you making SMART decisions.
Stay SMART by making your goals:
S – Specific
M – Measurable
A – Actionable
R – Realistic
T – Timely
This leads us to our next aspect of goal setting for career growth.
4 – Creating a Plan
"A goal without a plan is just a wish" —Antoine de Sainte-Exupéry
This is where we get down to business. Waking up and saying, "I want to be a fashion journalist," isn't going to turn you into Anna Wintour. Like all professions, it requires hard work, determination and a well-executed plan.
Although jumping into your car and driving sounds like a romantic plan for a road trip, it's not the most effective way to get to your destination. You're going to want to create a more detailed plan for how you're going to reach each of these steps on your journey to your career goals.
As mentioned, it's time to add specific, measurable, actionable, realistic, and timely details into your landmarks. For our fashion journalist, this might look like:
1. Take 2 Journalism courses through the Ryerson's Chang School of Continuing Education in 2021
2. Start a portfolio by writing 15 fashion-focused articles by Fall 2022
3. Build your network by setting up at least 2 coffee meetings with local fashion bloggers 
4. Secure an internship at Elle Magazine by 2023
Each of these steps includes specific details that will push you forward, while also staying realistic about timelines. If you're finishing school, creating a portfolio of 15 articles at the very same time might not be very realistic. When adding SMART details into your steps, be honest with yourself. Although you might not accomplish something as quickly as you'd like, you have to take into account everything else that's going on in your life.
If you're looking to grow while in your current job or if you're looking to be promoted internally, there might be appropriate opportunities within your current company. As Style Nine to Five Founder, Christie Lohr, has said on her Instagram stories in the past, "work for the job you want, not the job you have."
Have an honest conversation with your boss or Human Resources manager about your career trajectory. Are there opportunities for you to learn new skills within your position, work on a project that is outside your job description, or mentor with a senior member of the staff? Schedule a meeting once you know what you're looking for, or if you're coming up to a performance review, now might be a perfect time.
Don't be afraid to connect with employers, fellow industry workers, friends, or family about the career goal you're working towards. If you know someone who might be able to help you, there is no harm reaching out to ask. If you don't ask, you'll never know, so get out there and reach for what you want!
That brings us to one of the most important elements in goal setting success.
5 – Identifying Your Key Stakeholders
One of my favourite songs from the iconic Barbra Streisand musical, Funny Girl, is about how people need other people to live. It seems simple, but the song reminds us that we are not on this journey alone.
Identifying people you can share your goals with will help you when you need it most. They'll help hold you accountable, pick you up when you fall down or you hit a bump in the road, and they'll be your biggest cheerleaders. This group might even be able to open more doors for you and help you build connections with people they know who can also help you along the way.
Remember, one of these people might be your current boss, it might be a mentor, parent, partner, or circle of friends. It doesn't matter who it is, but the important thing is that you choose people you can rely on and who believe in you and your chosen path.
6 – Holding Yourself Accountable
As you speed along the highway, make sure to check in along the way. Do you have enough gas in the tank? Are you going fast enough? Are you still heading in the right direction?
Making time to assess where you are in relation to your goal might be the final part of the process, but it's the part that will be most significant on your journey. Depending on who you are and what is happening in your life, you want to make sure you're holding yourself accountable to the goals that you made.
Identify a few times throughout the month or year that you're going to check in on your progress. You might need to adjust your measurables whether you're ahead or behind on your journey.
It's important to make sure that the goals you set are still serving who you are and who you want to be. A goal or dream job can change as time goes on, so don't worry if you decide to remove a step or change your goal completely. Priorities can change as life goes on. If you think back to what you wanted to be when you were a child, it's likely that it's quite different from the job you do now. I wanted to be a ballerina, and although I still love to dance, it's definitely no longer part of my career goal.
Setting goals to grow in your career can often be pushed to the sidelines when there are so many competing priorities in your life. Making time to give your career goals the attention they deserve can have so many benefits and get you to where you truly want to be. Looking for a change? Set a goal and get planning!
Do you need more personalized help to set your career goals? Book a Virtual Career Meeting with Style Nine to Five's Founder, Christie Lohr.
By: Catherine Gautreau – Catherine is a communications and fundraising professional based in Vancouver, BC with a passion for storytelling, the arts and giving back.
Feature Image: Adobe Stock