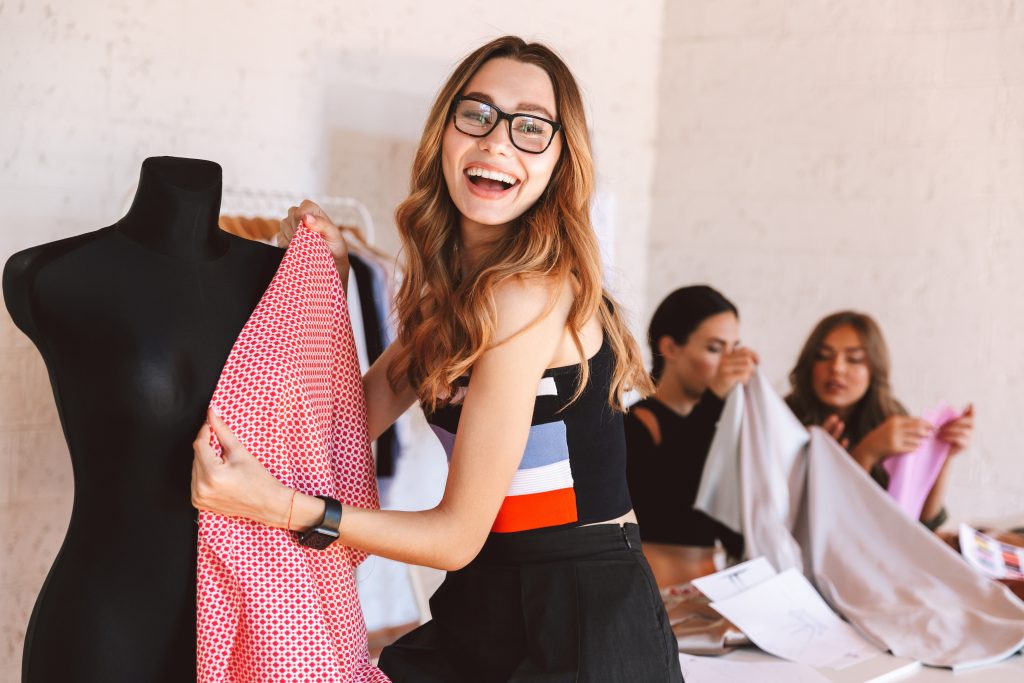 If you're thinking about the next step in your fashion career, you might be considering pursuing higher education in fashion.
Whether you want a degree or a specialized skill, there are lots of Canadian fashion programs to choose from across the country.  Style Nine To Five has you covered with a province-by-province roundup, including updated information on what they offer and their programs cost.
Right now, many programs are either limited capacity or offered online, depending on provincial COVID-19 restrictions, but if a program catches your eye, make sure to keep checking their sites for more information about the fall.
British Columbia
LaSalle College – Vancouver 
LaSalle College is a subsidized private college with two campuses in Vancouver, BC and Montreal, QC. Their Vancouver campus offers a brand new Bachelor of Design in Fashion Design program, as well as two diploma programs in Fashion Design or Fashion Marketing. Domestic tuition is $79,740 for the degree program and $38,250 to $39,870 for the diploma program. You can find out more information about how to apply – including scholarship information – here.

Kwantlen Polytechnic University
Kwantlen Polytechnic University (KPU) offers two fashion programs – Fashion Design & Technology and Fashion Marketing – through their Wilson School of Design. Fashion Design & Technology is full-time, four-year program starting in the fall, with the option to exit the program after two years with a Diploma in Fashion and Technology. The program is based on building analytical, garment construction and technical skills.
KPU's Fashion Marketing is two-year diploma program which focuses on fashion communications, merchandising, branding and more. Domestic students pay an estimated $2,527 tuition per semester, or $5,054 in addition to student fees and technology requirements. Prospective domestic and international students can get an idea of their potential costs on this tuition estimator.
Prospective students can find out more on how to apply to the Design & Technology program here. And more about the Fashion Marketing program here.
The Cut Fashion Academy 
The Cut Fashion Academy is based in Vancouver, B.C that offers part time and full time and online fashion design, fashion business and costume designs programs. Recently, they have added digital 3D design programs. According to the Cut Fashion Academy owner, Liza Deyrmenjian, 3D design has become even more popular because you can design, render fabric, and make patterns completely online — which is appealing given limited travel opportunities during the pandemic. 
The cost of 8-week part time programs ranges from $495 to $525, and 14-week full time certificate programs are $6995.00, with instructor-led and lab time including a TA. Class sizes are small, with the academy taking only 8 students per class, and are all taught by industry professionals.
Style Nine to Five readers can get 10% off of their courses with the code SALE10!
Ontario
Ryerson University
Ryerson University a public university in Toronto, ON that offers a 4-year bachelor's degree or a 2-year Master's program in Fashion.
New for students admitted in Fall 2020 or later, Ryerson offers five options for concentrations in their undergraduate program – Fashion Communication, Fashion Design, Design Leadership, and Textiles and Material Practices.
Domestic fees for the undergraduate program range from $7,900 to $8,400 per year, and $10,105.93 for the Master of Fashion.
Both degrees have various academic and non-academic requirements, including minimum GPA, portfolio and letters of reference. Both programs start in the fall, and the deadline for the undergraduate program is February 1st.
It's a small and competitive program, with an acceptance rate of 16%. More information on the undergraduate program is here, and graduate students can apply here.
George Brown College
George Brown College is located in Toronto, ON and offers 1 to 3 year-long diploma, postgraduate and certificate programs starting in January and September, or September for some specific programs.
Their diplomas programs are Fashion Business Industry, Fashion Management, and Fashion Techniques and Design, with tuition ranging from domestic tuition ranging from $4,146 to $4,207. 
Their postgraduate programs and certificate programs in things like Apparel Technical Design, International Fashion Management, and Sustainable Fashion Production.
Domestic students can apply through ontariocolleges.ca and international students can find out more here.
Seneca College
Seneca College is located in Toronto, Ontario and its School of Fashion offers advanced diploma, diploma and certificate programs ranging from 3 years to 8 months. Programs start in September and January.
Seneca has 2 advanced diploma programs, Fashion Arts and Fashion Business Management. Both are 3 years long, and domestic student costs including tuition and supplies costs range from $6,252 are $4,722 per year respectively.
There are also two 2-year long diploma programs Fashion Business and Visual Merchandising Arts. Total domestic costs for Fashion Business are $4722 per year and for Visual Merchandising Arts $5,486. They also offer one 8-month certificate for Fashion Studies. Costs are $3,452 for tuition and $1,055 for books and supplies.
Domestic students apply through Ontario Colleges Application portal and international students can find out more here.
Humber College
Humber College is located in Toronto, ON and offers fashion programs through its business school. They offer a 4 year Fashion Management degree program in addition to a diploma program in Fashion Arts and Business and a graduate certificate also in Fashion Management. Programs start in September and January. Tuition costs for domestic students enrolled in the degree program are  $7,196 per year, while $3,855 for students in the diploma program. Domestic applications apply through the Ontario Colleges application portal and International apply via their International Centre.
Quebec
LaSalle College – Montreal
LaSalle College's Montreal campus offers a variety of programs ranging from fashion design and footwear to costume design. Average tuition costs for the college are $12,500, and they offer classes in both English and French. Prospective students can apply to their Montreal campus through online registration form.
CEGEP Fashion Programs
Quebec offers publicly-funded post-secondary, pre-university college called CEGEP. Students attend this kind of college after secondary school and begin working in the fashion industry, but CEGEP education is unique to Quebec and may only be recognized there. You can learn more about some of your options here. 
Alberta
University of Alberta
The University of Alberta in Edmonton offers a Bachelor of Science in Fashion Business Management, which is four-year undergraduate degree. The new program offers co-op and internship opportunities to prepare students for a management career in the fashion industry.
Including tuition, books and supplies, the University of Alberta estimates total costs for domestic undergraduate students to be $9,190, More information on how to apply can be found here.
Fashion school can be a great place for connections and career opportunities, no matter where you go. Make sure to make the best of your opportunities, learn and network so you can be working your dream job in no time.
Do you have a burning career question but you're not sure who to ask? We've got you covered! Try Style Nine to Five's  Ask 1 Career Question. Style Nine to Five Founder, Christie Lohr, will answer one career question via email and 100% of the proceeds go towards sending one follower back to school to take a course or program to help them further their career.
Emma Buchanan is a fourth-year journalism student at Ryerson University in Toronto who loves reporting on lifestyle, arts and communities.
Feature Image: Adobe Stock