2017 was a momentous year for me due to the emergence of numerous opportunities in my life. One of my biggest breaks was finally reaching the gates of the fashion industry through effective networking and obtaining significant knowledge in the editorial field. Thanks to Style Nine to Five, I had the utmost confidence to apply for different editorial positions and communicate with various fashion professionals in the city of Toronto. Eventually, I was fortunate to acquire a position in a prominent south Asian publication firm as an Editorial and Marketing Intern.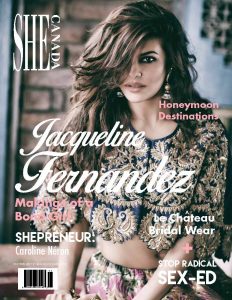 The firm that I am currently a part of is the creator of the Canadian version of SHE, a bi-monthly south Asian magazine that covers various topics related to fashion, lifestyle, and entertainment. It has been in publication for fifty years and is one of the most widely read English language publications on the sub-continent.
Launched in 2012, the Canadian edition is popular amongst influential south Asian women between the ages of 20 and 40. My experience at SHE has been very rewarding and my typical day generally involves writing daily blogs on the website, endorsing and creating content on various social media platforms, as well as working on editorial spreads for the magazine issue(s). Another highly valuable opportunity is being sent out to various fashion events in Toronto, including fashion week and brand launch events to promote our magazine and of course, socialize with fashion elites!
So far, it has been a remarkable journey interning for SHE. My managing editor and co-interns are very supportive in nurturing my knowledge pool. Everyone is passionate about writing and creating fashion-related content, which considerably motivates me to work hard and exert more effort than I should! Style Nine to Five provided means of demonstrating my finest capabilities, which was successfully accomplished via writing blog posts for readers. Ultimately, the site was a crucial instrument to exhibit your "passion for fashion" in the real world and become recognized.  
Whether my current status in the field is for keeps or a stepping-stone, I am truly content with where I'm currently at because I know that there's no other way to go but up. Surrounding yourself with peers who will push you up and bring out the best in you is certainly the fundamental element that will lead you to success in the world of fashion!
Inspirational Image:
Image courtesy of Not Just Alabel
By: Franz Tabora, Mississauga, @phranzzzz, Style Nine to Five Contributor
Are you an employer? Post your fashion job here.
Are you a job seeker? Find fashion jobs here.
Don't forget to follow us on Instagram for the latest fashion jobs, career advice and fashion trends!