Today's workplaces are a lot different than what they were five to 10 years ago. A big culture shift we are starting to see is employers starting to provide more work-life balance to their environments with some giving employees the freedom to use laptops to work from home, at off-site locations or hoteling stations within the office when required for their schedules. With that change in structure, a lot of us sometimes find ourselves bringing our work home, stuffing our files and paperwork in our purses, and lugging around a tired laptop bag given to us by the not so trendy IT guy. We scoured our favourite places to shop and found five office approved bags that are not only practical but look good too!
The Bag You'll Want
This nylon tote from Want Les Essentiels is a classic style from their line of bags and accessories. It makes a great bag to carry around your work essentials like laptop and paperwork and also has some side compartments great for organization of things like your stationary. Your option to carry it by the handles or strap it across your body makes it a perfect option for those who commute on public transit!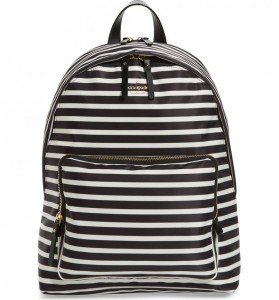 The Backpack
For those of you wanting to take the backpack trend to the office or those who might bike into work but still want to look stylish, this Kate Spade striped one is not only super cute but functional too! It has a front compartment for things you might need easier access to like your phone or keys and a laptop pocket to keep it safe without needing a case.
Keeping it Classy
We are loving this sophisticated and classic purse-style tote from Zara that has multiple zippers and compartments perfect for your paperwork and smaller style laptops. Its slim style doesn't let you carry too much more in there other than your work essentials, but it's over the arm strap makes it easy to carry along with a second purse or bag.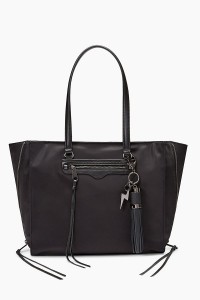 Everyone's Favourite Bag
The Regan line is known as one of Rebecca Minkoff's most popular collections and this tote-style made from nylon with leather trim is a stunner! We love that this bag has a zipper closure and gives you more than enough room to carry everything from your laptop to your wallet and cosmetic bag.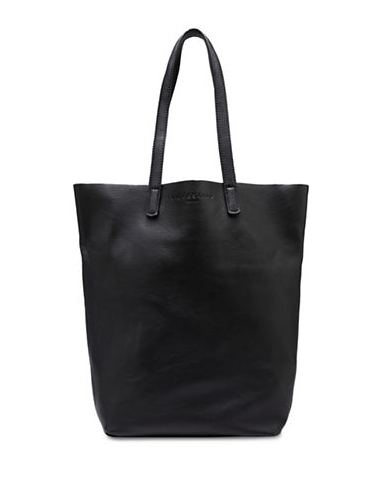 Clean and Simple
For those of you who already have your go-to purse for work (or several) but need an easy tote to carry around your laptop instead of a bulky laptop bag, this Liebeskind leather tote is totally for you! You're not getting much help in the organization department with absolutely no pockets, but it's got enough room to fit your laptop, planner and paperwork!
Inspirational Image:
Image courtesy of Le Fashion
Product Info:
By: M.J. Elle, Toronto, ON (@TheMJElle)