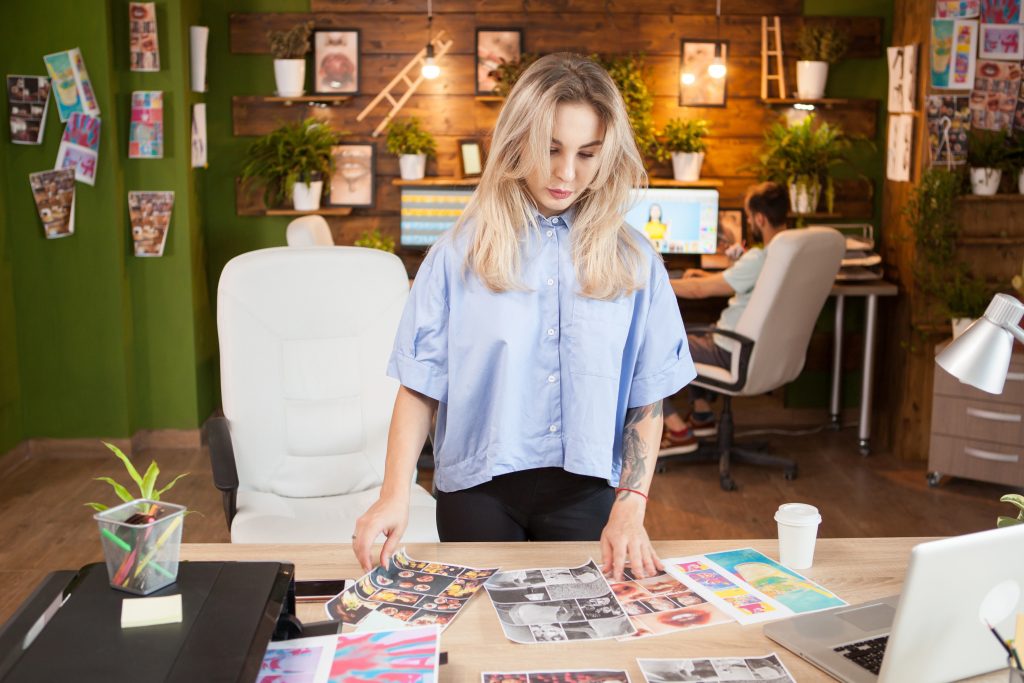 In most fields, you can simply find a job on LinkedIn and apply. The fashion industry, however, isn't exactly like that. You usually have to get in through an internship, or start out as an assistant – but how do you get that kind of position?
Look Online
The first step is always going to be browsing various websites to find jobs that appeal to you. You can't stop at Indeed and LinkedIn, though – niche jobs (especially in creative industries) will not be advertising there. "Use job boards that are specific to your industry (like Style Nine to Five) to find open positions," Style Nine to Five Founder, Christie Lohr, suggests.
Look for fashion job boards and other similar boards that might fulfill your niche in the fashion world – for instance, if you wanted to do costume design on film sets, you might want to seek out job boards specific to the film industry. Facebook and LinkedIn groups are another way you can find jobs – often, creative industries have small groups for professionals within the industry to help each other out career-wise. Jobs and internship opportunities are advertised within.
Despite all these tips, Christie advises, "not all jobs are advertised externally or, in some cases, companies might not even be hiring….yet."
That's where our next two steps come into play!
1. Make Connections
Often, in the fashion industry, it's about who you know. Even if you're starting at zero, you can still make it far though – you just have to make those connections.
"First, make as many connections as possible – without spam-style connecting on LinkedIn," says Christie. If you're reaching out over social media, be thoughtful about who you're connecting with – make sure they're people who are in places in the industry you'd like to be in someday, or at least have a leg up that'd help you get there. Even better would be making connections in person: at industry events like local fashion shows or speaker sessions.
However you make these connections, make sure you keep the people you connect with involved in your circle. "Foster those relationships by engaging with those connections on social media or at in-person events," says Christie. If you meet someone in person, add them on LinkedIn as soon as possible and shoot them a message about how much you enjoyed speaking to them. Be honest and specific about why you'd like to connect when adding people, and offer thoughtful contributions to their posts. If you run into any of these people in person again, make sure to catch up with them.
Christie also adds on, "make it known that you're looking for work and they'll keep you top of mind if something opens up where they work." Once you've built up a good rapport, don't be afraid to reach out and ask if their companies ever take on interns, assistants or anything of the sort.
2. Reach Out
Now, let's say through all your research you've discovered a designer, company or stylist that you absolutely adore – someone you really think could be the ideal mentor for you. Prepare a portfolio, a resume, a great social media presence and reach out to them on your own.
"Be bold and cold-email the companies or designers you want to work with. Let them know WHY you want to work with them (be specific!) and what you have to offer and see if they have any potential openings," says Christie.
Maybe they aren't hiring or looking for any help at all, but there are still benefits to reaching out to be sure: "They might not even know they needed a new social media intern until you pitch yourself for the position! The worst case is that they're not hiring right now, but you've made a connection that you can follow up with in the future." If you see them hiring in the future, for instance, they'll remember your name when you send your application in – you can even mention that you've spoken to their hiring manager before about potential employment!
But, what exactly are you supposed to write in this email? "Get specific on WHY you want to work with them," says Christie. Specificity is the absolute key – make your email short and sweet as always, but also as specific as possible. "It's just like how hiring managers can spot when an applicant sends the same generic resume to every company they apply to, the same goes here. It's not enough to say 'I'm a big fan of your work' and hope for the best. Show them that you really are a fan by naming a specific collection, piece, celebrity appearance, photoshoot, etc. that they worked on," says Christie.  "You'll also want to offer some specifics of what you can do for them. It's okay to say that you'd love any opportunity to work with them, but take it a step further and give some examples. Could you revamp their newsletter? Help with admin and invoicing? Assist with booking sales appointments? Be bold and give them a few ideas to show them what a great asset you'll be."
To work in a creative industry, you have to form and foster lots of connections. Get your name out there and make sure it's always attached to adjectives like responsible, helpful and kind. Just be brave and open-minded, remain unafraid to meet new people, and you'll find your way to the top in no time.
Are you unsure of how to get further in the fashion world? Connect with Christie to Ask 1 Career Question!
Emily Morrison is a media professional with passions for writing, film and popular culture.
Feature Image: Adobe Stock