Let's be honest, it's a little hard not to be jealous of Amal Clooney. The woman seems to have it all—beauty, a distinguished career, a husband that we've all fawned over for years and impeccable style. Since we can't swap bodies with Clooney à la "Freaky Friday," the next best thing is to take a few style-cues from her drool-worthy work wardrobe. Clooney is a model of perfection when it comes to corporate style, as she proves that you can standout in a sea of black suits and still be taken seriously. Instead of bland and safe ensembles, she puts her own spin on corporate attire by skillfully playing with colour and print, and experimenting with trends every now and then.
If you've been searching for a way to revamp your conservative office wear with chic and modern pieces, you're in luck because I've created a list detailing how you can replicate Clooney's on-point style. Start taking notes!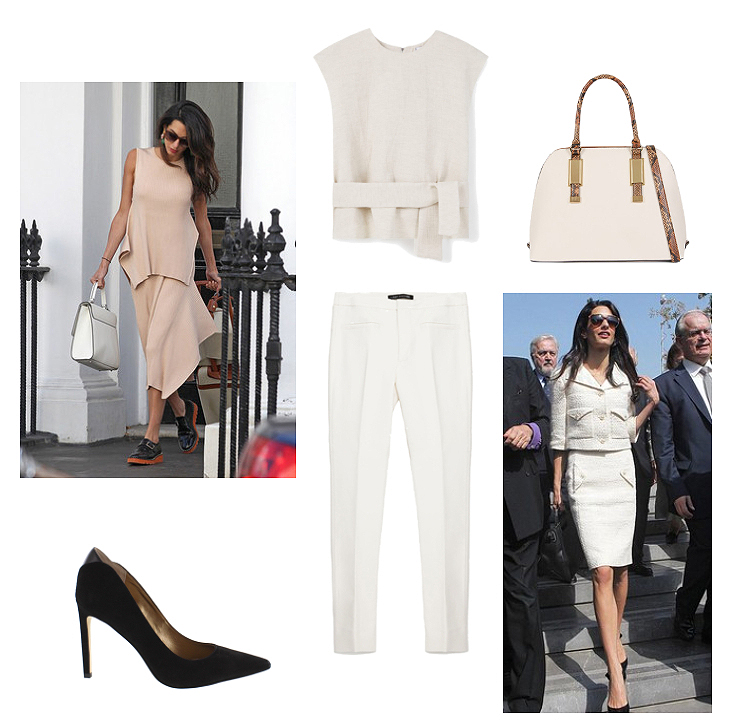 1. Master the Monochromatic Look
With her beautiful all-white outfits, Amal Clooney is a masterful minimalist. Forgo unnecessary distractions, like competing colours and bold prints in favour of neutral accessories when wearing a monochromatic look.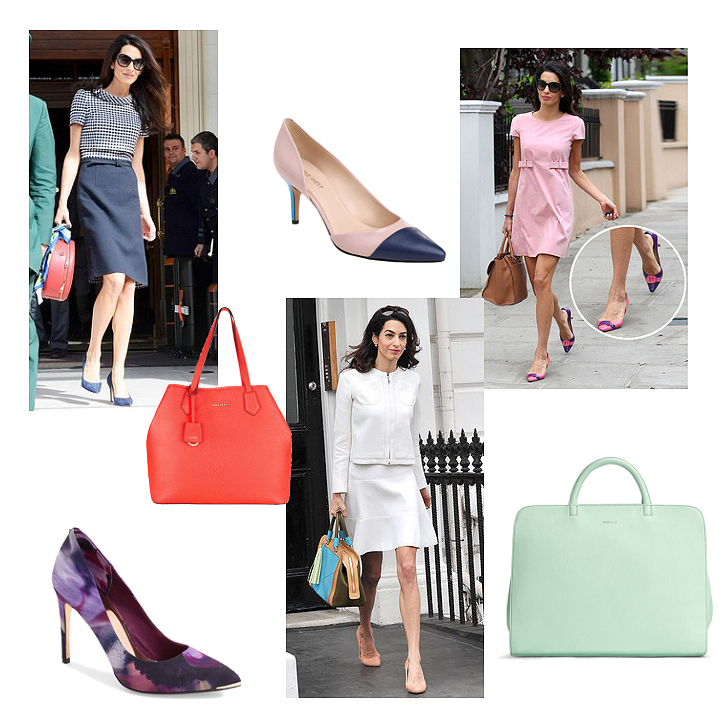 2. Play with Pops of Colour 
A fiery red bag or color-blocked shoe really packs a punch when worn with a monochromatic outfit. A pop of colour here or a classy print there is a great way to add some visual interest.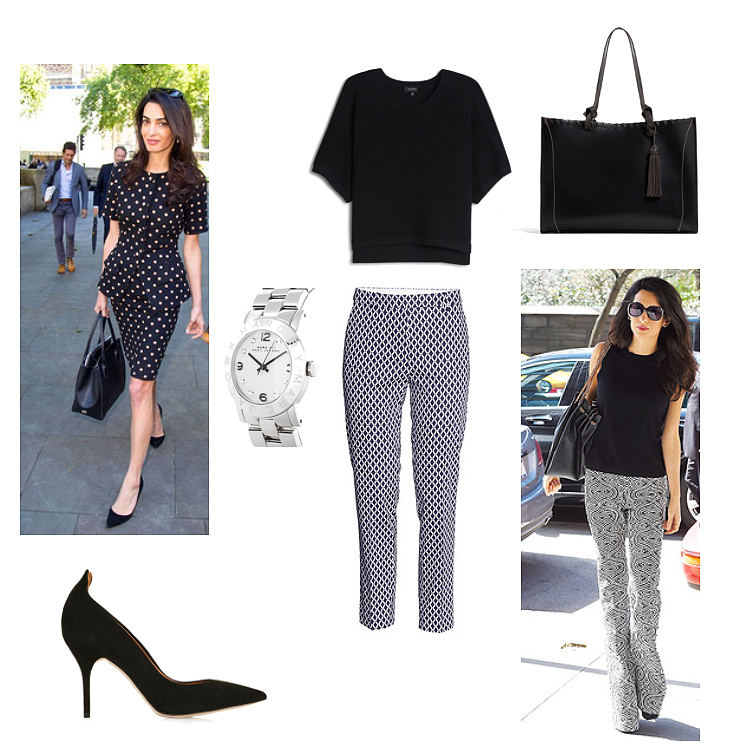 3. Make Friends with Prints
Conservative cuts and colours often define corporate style, but Clooney shows us that you can incorporate a little fun into your wardrobe by way of prints. Polka dots, or other simple prints, are great for the office, but remember to neutralize any busy prints with a black pump, blouse or handbag.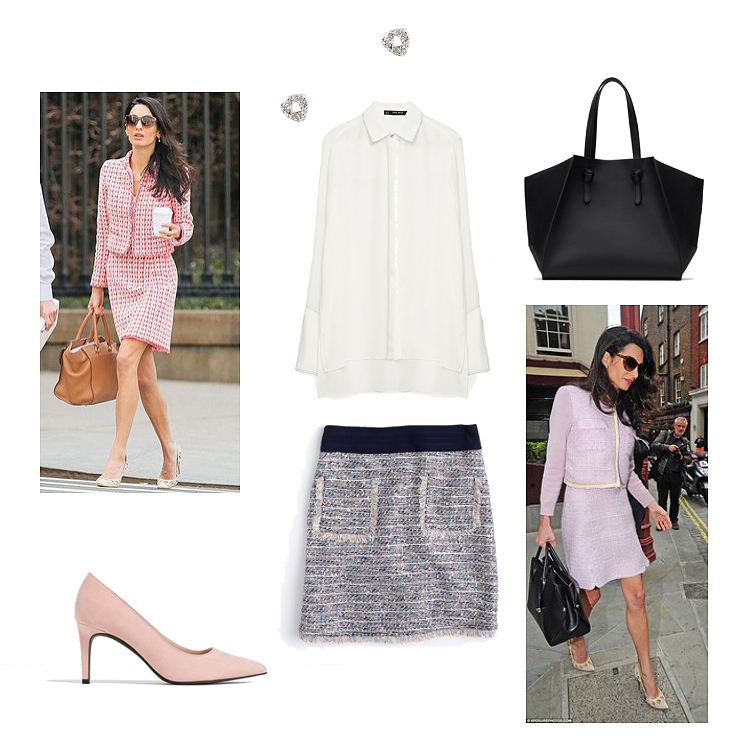 4. Channel Your Inner Lady 
Tweed skirt suits are the ultimate symbol of ladylike sophistication and judging from the multiple suits Clooney owns, it's quite clear that she has a deep fondness for tweed. These suits can run on the mature side, so if you're a Girlboss-in-training, create an outfit around one tweed piece and combine soft and classic pieces for that prim and proper look. Get Clooney's signature ladylike style by adding a bit of toughness to the outfit with a black leather tote in a structured shape.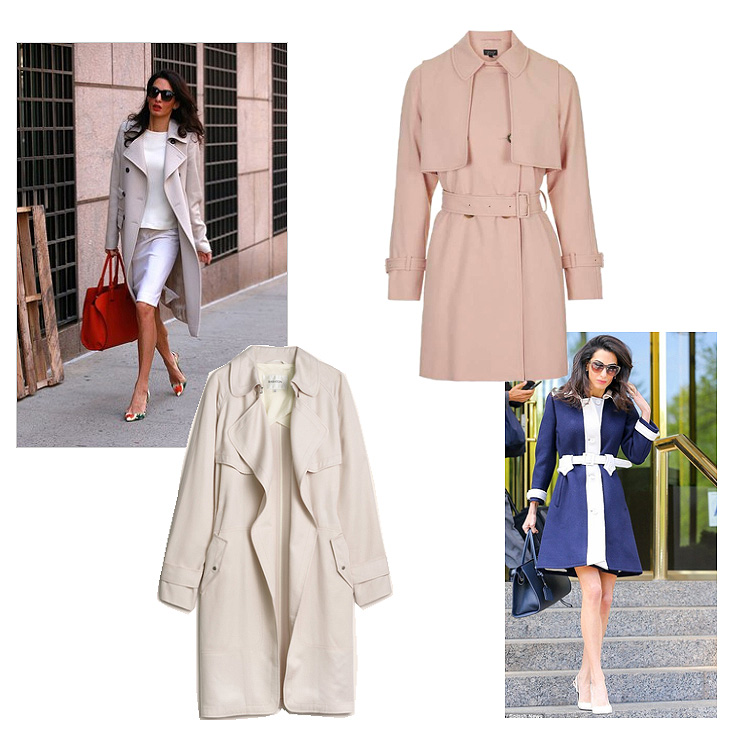 5. Sport a Statement Coat
Every woman should have a few coats in her arsenal of style that have the ability to make a wow statement. Ditch the classic structured black trench coat for a modern waterfall trench and coats with unique silhouettes, prints or colours.
Product Details:
1. Mango Cotton Linen-Blend Top, $69.95
2. Zara Skinny Trousers, $49.90
3. Aldo OUTLINE, $60
4. Sam Edelman DEA, $160, available at Capezio
5. Nine West KYRIAH, $125
6. Cole Haan Abbot Saffiano Leather Tote, $274, available at Hudson's Bay
7. Ted Baker London Neevo Pointy Toe Pump, $253.50, available at Nordstrom
8. Matt & Nat Avery, $160
9. Babaton Donald Sweater, $85, available at Aritzia
10. H&M Trousers, $29.99
11. Marc Jacobs Amy Silver Watch, $294.04, available at ASOS
12. Zara Tasselled Leather Tote, $119
13. Topshop Giddy Curve Leather Pumps, available at Hudson's Bay 
14. Forever 21 Twisted Knot Studs, $4.80
15. Zara Contrasting Topstitching Shirt, $45.90
16. J.Crew Multicolored Tweed Skirt, $103
17. Zara Geometric Tote, 45.90
18. Zara High Heel Shoes, $35.90
Style inspiration image courtesy of Vogue
(Credit: FameFlyNet; Ayhan Mehmet, courtesy of InStyle; AKM-GSI via InStyle; Splash News via InStyle; FameFlyNet via Redbook; Splash News via Vogue; PA Images via Vogue; Splash News via Instyle; Xposure Photos via DailyMail; Felipe Ramales via DailyMail, Splash News via Vogue)      
By Sasha Smith
Are you an employer? Post your fashion job here.
Are you a job seeker? Find fashion jobs here.
Don't forget to follow us on Instagram for the latest fashion jobs, career advice and fashion trends!