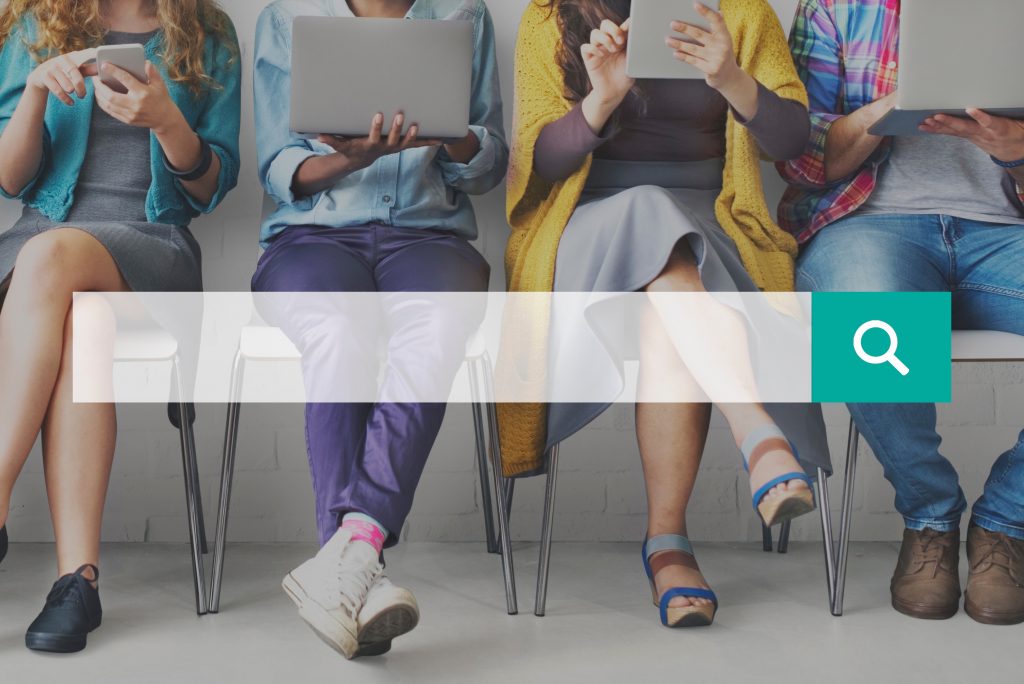 You're always told to research companies you're applying for, but you're never told how. The easiest thing to do is browse their website and pick up on their history, core values and previous projects – but that's not the only thing to do. There are plenty of places you can go to look for more information about a company you're applying to, and you'll learn much more than you ever would clicking through their website.
1. Social Media Mentions
You'll learn a lot about a company by browsing their social media. This should always be your first stop after the main website, because social media can help you determine if this is a company that you want to work for.
First off, you'll be able to keep an eye on their social engagement and the types of comments or tags they receive – do they have a lot of happy, loyal consumers that they engage with regularly or do they have low engagement? If it's the first one, you can go into interviews and your application discussing their strong brand loyalty and how you appreciate the way they speak to their consumers. If it's the second, maybe you can help fix that – don't be shy to point it out in an application or interview and explain how you'd help bring engagement up. 
However, maybe you notice that their high engagement seems to entirely be bots, they delete negative comments, or there are tons of unsatisfied customers in their comments – these are all red flags and you may not want to work for this company. It's okay to pass up on the opportunity – you wouldn't want to attach your name to an unreliable company.
Want to truly make sure it's a reliable company? Since their official social media account can be tailored to what they'd like potential consumers to see, venture further on social media to see what people are saying. Search their name on Twitter, Reddit, TikTok, anywhere you can think of: are consumers happily showing off their products or sharing stories of being dissatisfied with their service? All of this can be factored into the question of whether you even want this job, let alone what you put in your application or say in your interview.
2. News Articles
Another method of ensuring this is a trustworthy company you'd like to work for: what's said about them in the news? First off, if the company already seems a little shady, you want to make sure whatever articles you're reading are unbiased statements that were not paid for or written by the company – you can always tell by skimming the writer's other posts, if it's on a legitimate news website, and through the language used in the article.
But let's say you've determined this is definitely a company you want to work for and you're brushing up on news about them to learn more. Look for articles about their accomplishments, or ones where employees discuss reasons they enjoy working for the company. These sorts of things are great to bring up in interviews, as a hiring manager will take note of the fact you're familiar with the company and have sharp research skills.

3. LinkedIn Profiles
You've probably already looked up the company on LinkedIn, but have you dug into the profiles of people who've worked there? You'll learn a huge variety of things from doing this: more of the company's values, tasks you'll be entrusted with on the job and the career trajectories of previous employees.
You'll want to read the descriptions of the employee's duties at this job to get a closer look at what life at the company is really like, especially those who are in similar positions to the one you're applying for. Does what's listed match the description in the job posting? What tasks seem to be the most important to the company? You can also look at current employees' posts to see if they've posted anything about life at the company – what sorts of projects are they showing off? Are they sharing images and anecdotes from any events that the company has run? Are they writing about the reasons that they, personally, enjoy working at the company?
If you have enough time and you're particularly passionate about landing a job at this company, try to connect with the some of its employees on LinkedIn and request an informational interview (or even just a quick private message conversation, if that's all you have the time for) about their time at the company and how they landed a spot there. Not only will you be learning inside information about the company this way, but maybe making connections at the company will help land you the job!
Dig into these three places and uncover as much as you possibly can about the company. You need to make sure that this is a place you genuinely want to work and, once you've done that, you'll have tons of information to share in interviews. Hiring managers appreciate when they can tell an applicant is truly invested in their company, so knowing little details could make or break your interview. Study up, take notes and ace that interview!
Need some more help with your application? Purchase a Style Nine to Five Get Hired How-To Guide!
Emily Morrison is a media professional with passions for writing, film and popular culture.
Feature Image: Adobe Stock