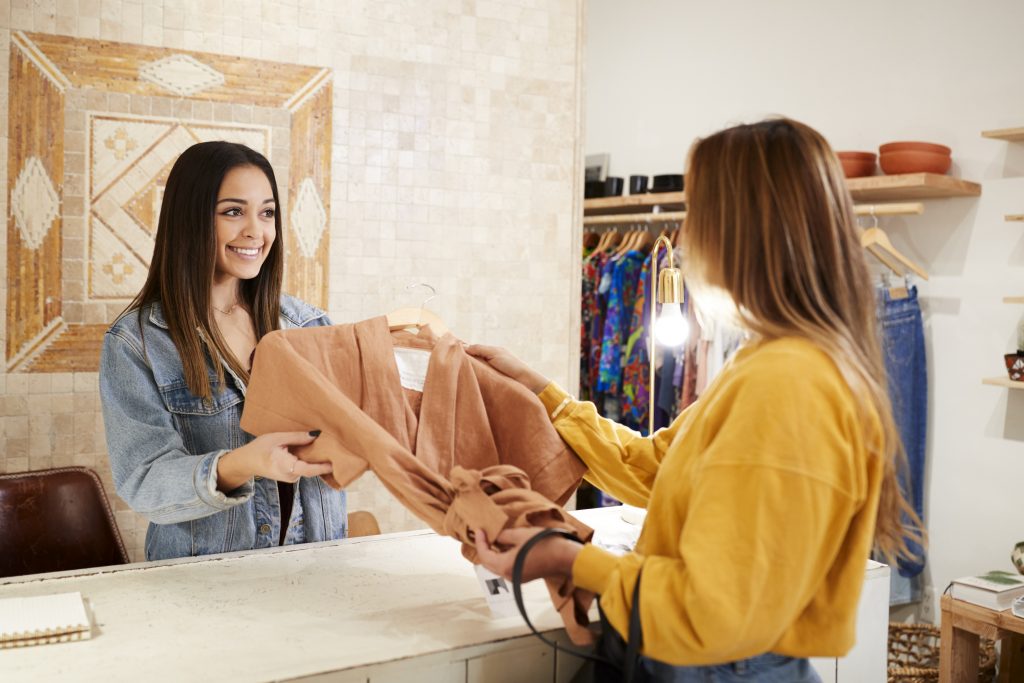 Retail is a great avenue for getting into fashion. Working retail can help you build the necessary skills for moving up the corporate fashion ladder because there are A TON of applicable lessons that you learn while working on the sales floor. Thinking of getting into fashion? Here are some essential skills you'll learn while working in retail.
1 – Customer Relations
Understanding customers' needs and wants is a key skill to have when working in fashion, and there is no better hands-on experience than on the sales floor. Working with consumers on the floor helps you build problem-solving skills to mitigate issues with unhappy customers. For example, a customer comes in to buy a specific pair of jeans but unfortunately, you're sold out of their size and will not be getting any inventory in store for a few weeks. How would you deal with this? What viable options could you present the customer with for them to feel heard? Is there a similar cut in their size? What does your online inventory look like?
The most important thing to keep in mind is you always want to ensure the customer has a good experience even if they can't find exactly what they're looking for. This is an important skill, especially in retail, because you want to make sure that customers come back not only for the clothing but for their loyalty to the brand as well. Strong customer service motivates consumers to continue to return to the store allowing you to build a clientele. This is essential especially if you're working at a store that is commission-based.
2 – Styling
Being able to create looks for customers in retail is a great creative outlet, especially if styling is something you're looking to get into. Putting together looks for customers shows them how brands intended their garments to be worn and teaches them how they can put their own unique spin on that vision.
If styling is something you're passionate about, working retail is a great way for you to practice your skills. It is a great time to experiment and pair different textures, color schemes, and prints as well as being creative with accessories. Styling is all about having a vision and thinking outside of the box. Many think styling abilities are something you're born with, but like any skill, it needs to be honed and refined, and there is no better place to start in than a retail store. As a bonus, if you're able to put together a polished look for a customer beyond selling them just a single item, they're more likely to buy more and boost your store's sales.
3 – Multitasking
When working retail, you'll often be doing a number of things at once, all on the fly, and it's a great way to develop your skills around succeeding under pressure. Especially during peak store hours, day-to-day responsibilities can be overwhelming. You may have to restock the shelves while customers are asking you questions in addition to also working cash.
Being in situations like this will help you learn how to tackle the most pressing tasks first without dropping the ball on the others. Fashion is a fast-paced and demanding industry where a lot will be asked of you at all times. Working in retail allows you to get a taste of this in an environment where you're part of a team and you'll have the support of your coworkers.
4 – Inventory Management
Looking to be a fashion buyer? Talk to your manager about getting some experience managing or assisting in purchasing the store's inventory. How well you understand consumer demands are reflected in your inventory, ask yourself, "Am I consistently forecasting what the consumer wants?" or, "Will this be a must-have item that my customers will buy?"
Being a buyer involves understanding consumer trends and having foresight into what the next big thing will be. But, understanding inventory also goes hand in hand with respecting your budget and not over-ordering items customers aren't interested in. Buying products means having a strong grasp of consumer demands as well as having an awareness of what you intend for your bottom line to look like.
Starting your career off in retail is a great avenue for getting tangible experience across all areas of fashion. You can get insight into anything from styling, budgeting, and payroll, to customer relations. Having a strong grasp of all areas of the industry allows you to pinpoint what you're passionate about and set goals for your career accordingly.
Making major career decisions and in need of some help? Try Style Nine to Five's Virtual Career Meeting offering. Within the 1-hour session with Founder, Christie Lohr, will help you assess your options and make the best decisions for you and your career!
Demetra Maragos – Demetra is a Master of Arts student at New York University, who loves thinking outside of conventional lines to combine her passions of everything culture, fashion, and lifestyle.
Feature Image: Adobe Stock