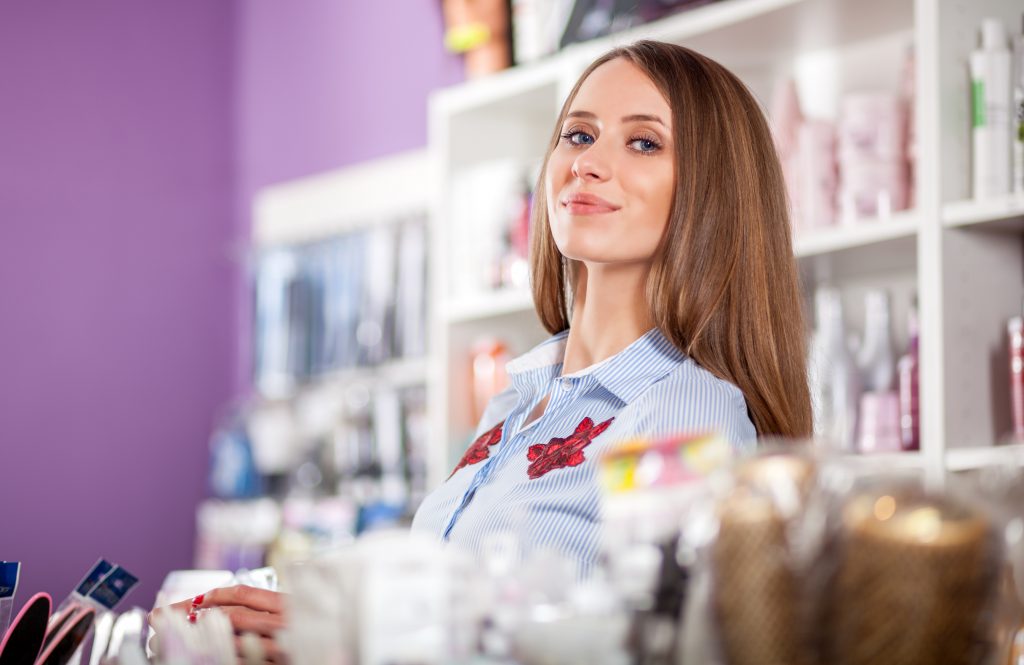 Are you looking to pursue a career in the beauty industry but unsure of your options? At first glance the employment in the beauty industry can feel limited to a few jobs. But we're here to tell you there is room for everyone with varying skills and interests. These are some unique jobs in the beauty industry you may not have thought about!
1 – Special Effects Makeup Artist
Are you a movie buff, a hands on creative and interested in a role behind the camera? Then a special effects (SFX) makeup artist job could be the right fit for you! SFX makeup artists play such a key role in movie production as they are responsible for transforming the actor completely. By learning how to prosthetics they are able to alter an actor from a dazzling starlet to an old woman or a handsome teen athlete into a zombie, the possibilities are endless!
In order to gain this type of role enrolling or completing a course at a local cosmetology school is so important. During your education you will learn how to properly use prosthetics, implement 3D effects into your work and so much more. Also, working in the film industry can often be high stress as there are tight schedules and sometimes limited budgets depending on the film, so the ability to work under pressure and a stick to a budget are important skills to have. If you're interested in working as a makeup artist in the film industry, check out our article about how to break into the film industry.
2 – Image Consultant
Often when people think of an image consultant they think about clothing stylists. Although fashion and finding the right look for your clients is a huge part of the role, an image consultant looks at their client as a whole. This means they advise on how they should style their hair, to finding a signature makeup look. An image consultant creates a persona, not just looks, for their client.
An image consultant is the perfect position for anyone who considers themselves to be an entrepreneur and is interested in starting their own company or doing some freelance work as a side hustle. An image consultant should not only have strong fashion trend awareness, but also beauty awareness. For example, the latest makeup trends, beauty regimens and even nail art. Those who are interested in this role should thrive in customer relations and be personable yet professional – always listening to the client's needs while sometimes pushing them to step out of their comfort zone. 

3 – Cosmetic Buyer
Do you always have a gut feeling about what the next best thing in beauty is going to be? Are you curious about how large companies like Sephora, Nordstrom and Holt Renfrew decide what cosmetic brands they decide to sell? Then maybe you were built to be a cosmetic buyer.
To pursue this type of role, you should not only be passionate about beauty products but also tracking trends and customer statistics. Also, it is important to note that you will be buying for multiple demographics, so it is important to evaluate trends accordingly. A degree or diploma and marketing or finance paired with some retail experience would give you the competitive edge you need to nail down this job. 
4 – Beauty Clinic Manager
Clinic managers are natural leaders with a passion for beauty and aesthetics. Enjoying interacting with clients is a must in this role as often you will be one of the first people they interact with. Some of your responsibilities in this role may include, organizing staffing schedules, recruiting and hiring employees, and maintaining and placing inventory orders. One of your most important responsibilities is to be liaison with cosmetic labs and discussing the latest and greatest treatments and products. In addition to this you might also be in charge of overseeing technicians and ensuring they are following proper protocol. 
You truly have to be a jack-of all trades for this role. General knowledge of medical beauty treatments is also important as you must be able to give a surface level explanation of procedures and offerings to patients.
5 – Beauty Marketing Specialist
Have you always wondered how luxury beauty brands make a lasting cultural impact or what type of language brands use in their advertising? As a beauty marketing specialist, you could have a major impact on the industry. This role marries commerce and creativity by giving you the freedom to create mood boards and storylines for advertisements from the research you have conducted on the business side of the job.
On top of this you will also have to organize and oversee social media strategies, products description copy, and packaging. This role is best suited for someone with a diploma/degree or certificate in marketing and a background in graphic design could also be an asset.
Being passionate about your career and industry as a whole is so important as that it what fuels you. What is important to keep in mind is that you have a real keen interest in continuing to learn more about the industry as a whole is it is fast past and new trends are always emerging  Working in the beauty industry can strike a great personal balance of being able to fulfill your creative needs while also managing transferable skills that can be used in multiple industries!
In need of some career advice? Try Style Nine to Five's Ask One Career Question offering. Style Nine to Five Founder, Christie Lohr, will thoroughly answer one of your burning career questions via email. Looking for something a little more in depth? Book a One Hour Career Meeting with Christie where you will be able to discuss career options and the next necessary steps you will need to secure your dream job.
Demetra Maragos – Demetra is a Master of Arts candidate at New York University, who loves thinking outside of conventional lines to combine her passions of everything culture, fashion and lifestyle.
Feature Image: Adobe Stock