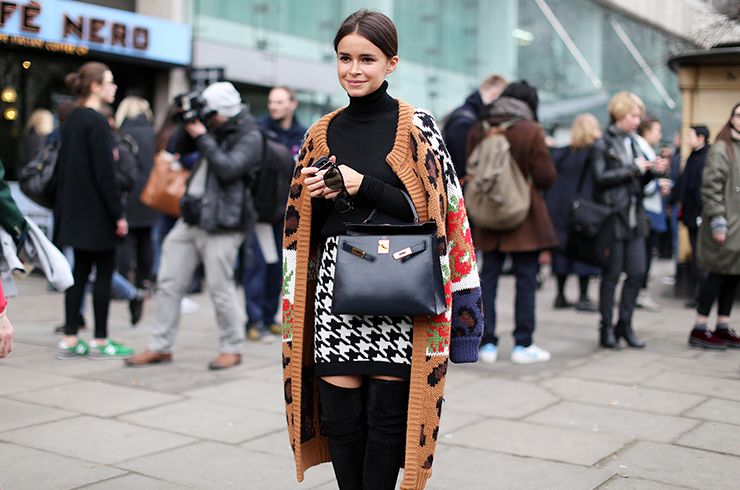 The minute those leaves start falling and that air gets crisp, it's cardigan season! A classic layering piece that never truly goes out of style, cardigans come in so many different cuts, lengths, and materials. Cardigans make the best type of layer sweater for the office as they're easily taken off and don't need to be pulled over the head, often causing static (a.k.a one of the biggest style faux-pas known to mankind) once those heaters go on. We plan on staying, cozy, cute and static free this year at the office with our favourite cardigans of the season!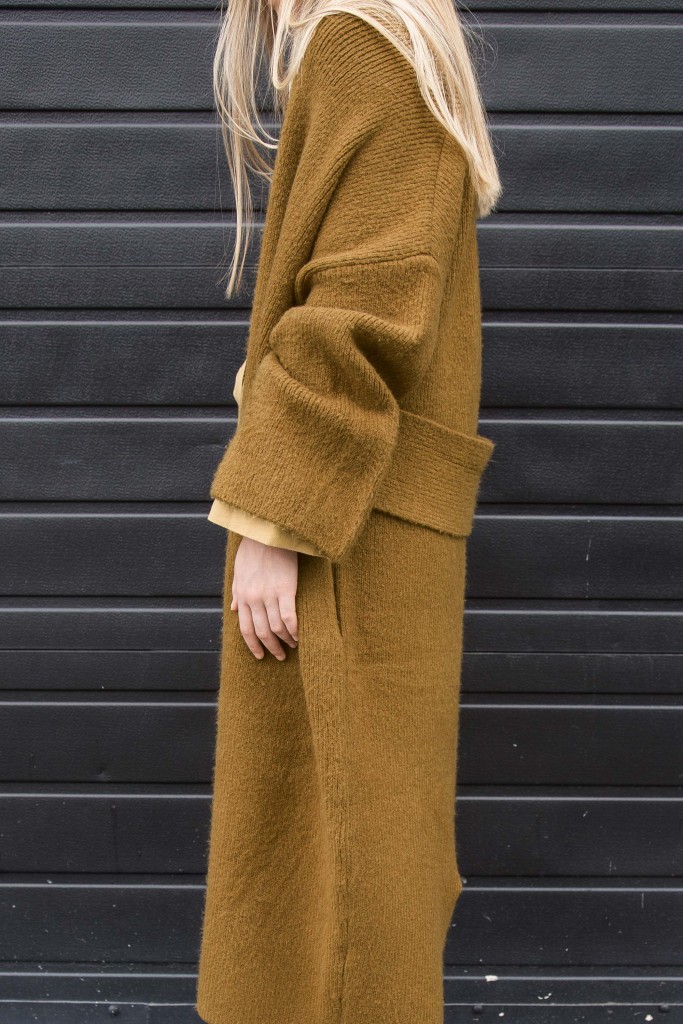 The "Jackardigan"
Especially on a cold Monday morning, who wouldn't want to wrap themselves pretty much head to toe in comfort? Yes, this cardigan is THAT long. It's got a great belted back that adds some style and structure to this cozy piece, and pockets which are always key when you're at work. We love this number from Oak + Fort in brown, but it's also available in black and khaki.

Shop the Look: Oak + Fort Cardigan 1553, $128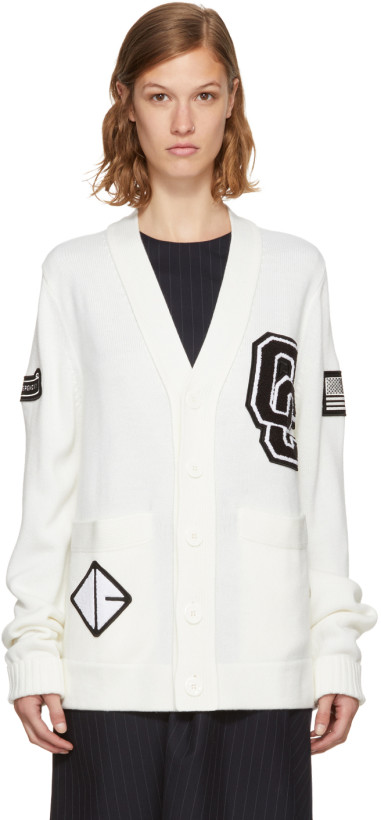 Patchwork
Opening Ceremony definitively did Varsity right this season and this 50/50 blend wool sweater is no exception. It's a classic cardigan style which really goes well with everything from slacks to skirts and even jeans or a dress. Again, this style also has pockets which are super handy when you're running to meetings with pens, phones and whatever else you're scrambling to balance. Just be careful not to get any coffee or pen marks on you!
Shop the Look: Opening Ceremony Off-White OC Varsity Cardigan, $395, available at ssense.com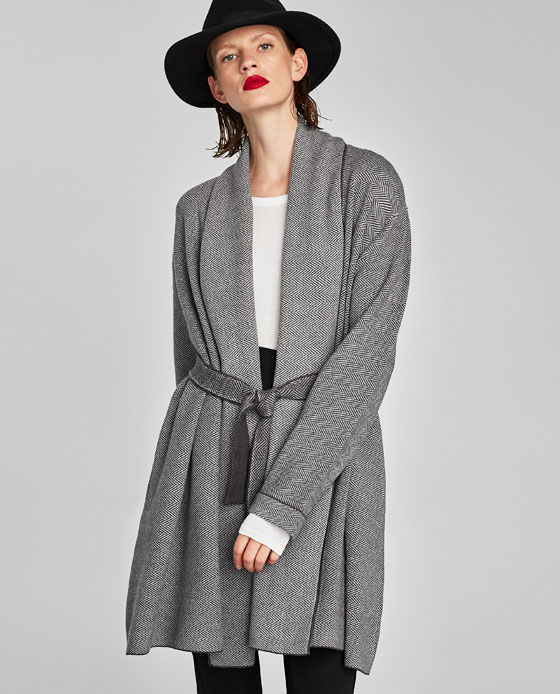 Trendy & Cozy
Leave it to Zara to take one of this season's hottest prints – grey herringbone – and bring it to us in ultimate comfort. We love this cardigan for so many reasons but mainly for its belted waist and thick but structured and not bulky knit. We see this cardigan going great on its own with a basic Tee, leggings, and thigh-high boots, or over a blouse with dress pants for a blazer look.
Shop the Look: Zara Herringbone Cardigan with Belt, $99.90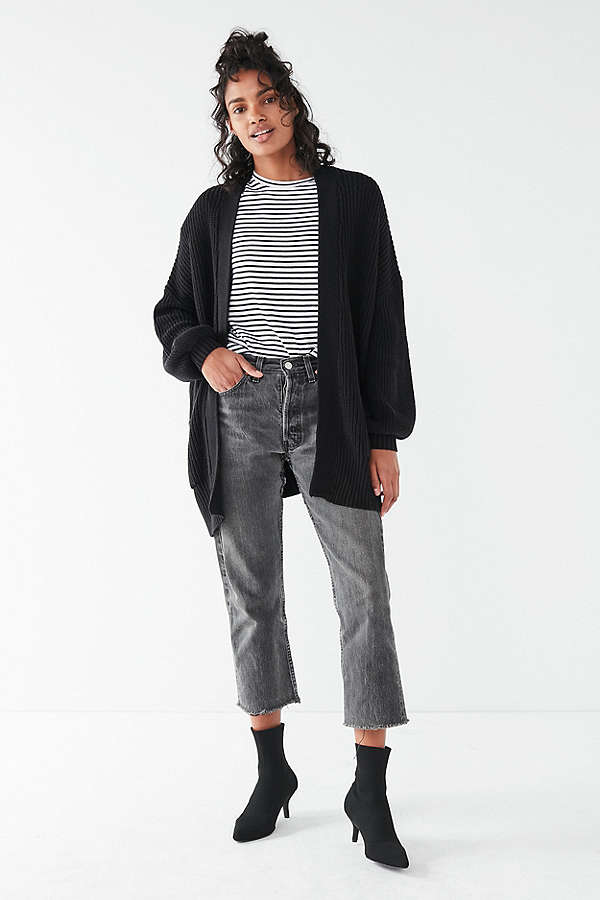 Easy Does It
Everyone needs at least one chunky knit cardigan, in whatever style you choose. We thought this BDG one was perfect to leave at the office as your go-to cardigan when you forget one at home, or on those surprisingly chillier days. It's simple enough that it'll go with almost anything and available in a total of 5 colours, we're sure you'll be getting at least more than one.
.
Shop the Look: BDG Charlie Dolman Cardigan, $72, available at Urban Outfitters
A Canadian Classic
If you're a cardigan aficionado, you probably either have this or need this in your closet. This Hudson's Bay Company Wrap Cardigan has a pin closure front and is a wool/nylon/cashmere blend. We love this Canadian classic worn with either joggers at the cottage in late fall or at work with a great slack and loafer.  
Shop the Look: Hudson's Bay Company Wrap Cardigan, $128
.
Inspirational Image:
Image courtesy of Refinery29
Product Info:
By: M.J. Elle, Toronto (@TheMJElle)
Are you an employer? Post your fashion job here.
Are you a job seeker? Find fashion jobs here.
Don't forget to follow us on Instagram for the latest fashion jobs, career advice and fashion trends!