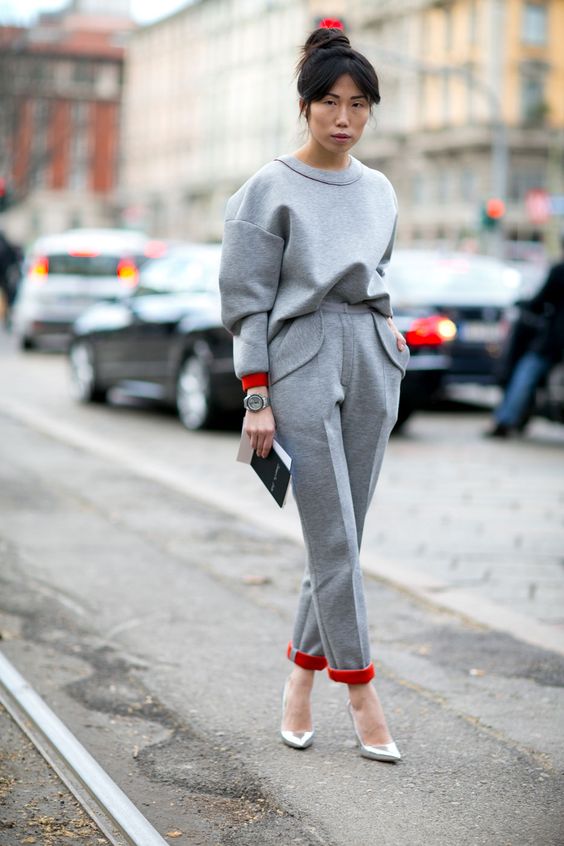 There comes a time in every woman's day when she drifts away in thought, fantasizing about the moment she can go home and jump into her sweats. The feeling of being liberated from your Spanks and skirts gives you a flash of encouragement and determination to finish off the day.
But what if we could take our sweats from the weekend couch to après work dinner and drinks? We aren't talking about the grey track pants you wear to bed; we mean a sporty pantsuit to take you from running around the office to your evening events. Allow us to teach you how you can take your sweats to the next level and how you can sport this trend sophistically to every occasion.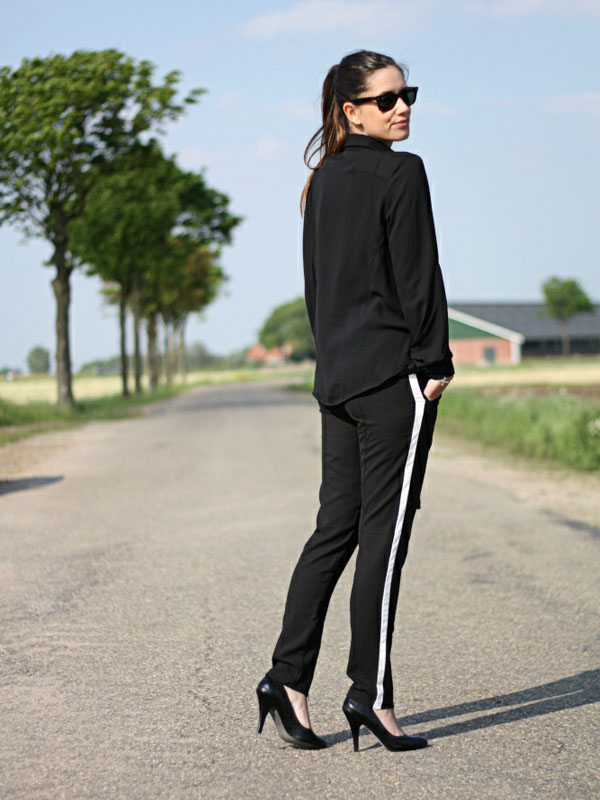 Nine-To-Five
The working woman has her standard, professional Monday to Friday uniform that has her dressed in appropriate office attire. She doesn't think it's unfathomably possible to wear sweatpants to work, but we're here to change her mind. You can get away with rocking the 'sweatpant' look by creating a monochromatic outfit in darker shades. This will prevent the pants from making too much of a statement. A blazer and pumps will sharpen and complement your discrete sweats.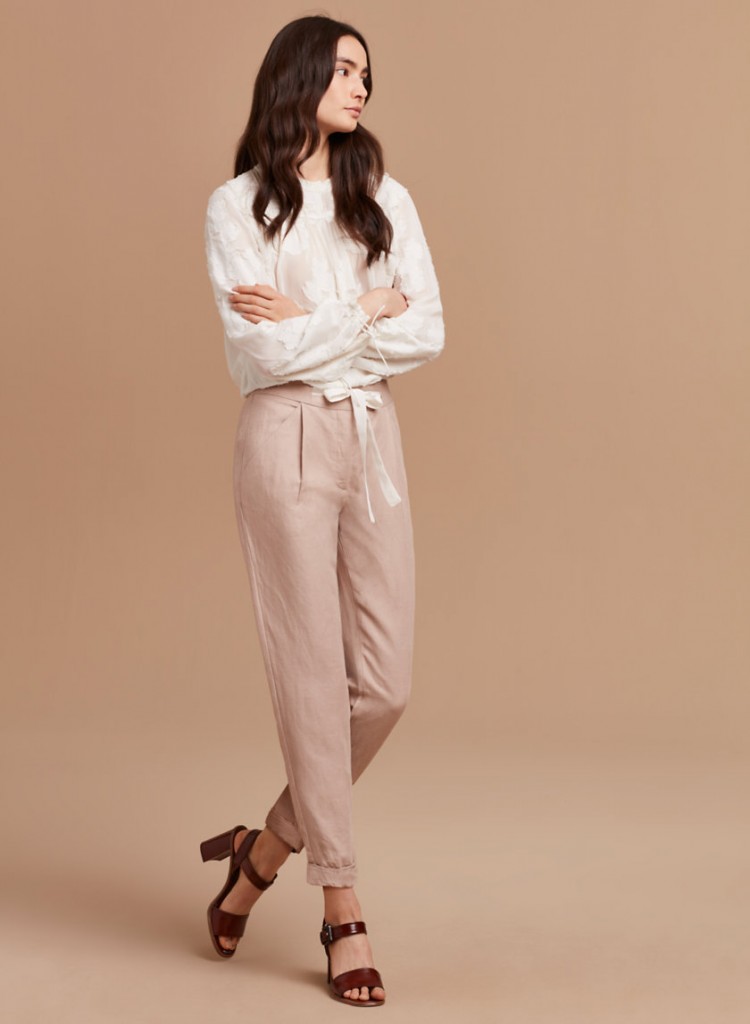 Brunch Babe
Any activity that involves copious amounts of food requires some form of sweatpants for all around comfort. Whether it is a casual gathering or a full-blown foodie event, this is the time to show your personal style and experiment with the casual, comfy look. Brunch and sweats go hand in hand, and pairing a soft pink pull-on pant with a relaxed blouse creates an effortless yet chic look in a matter of seconds.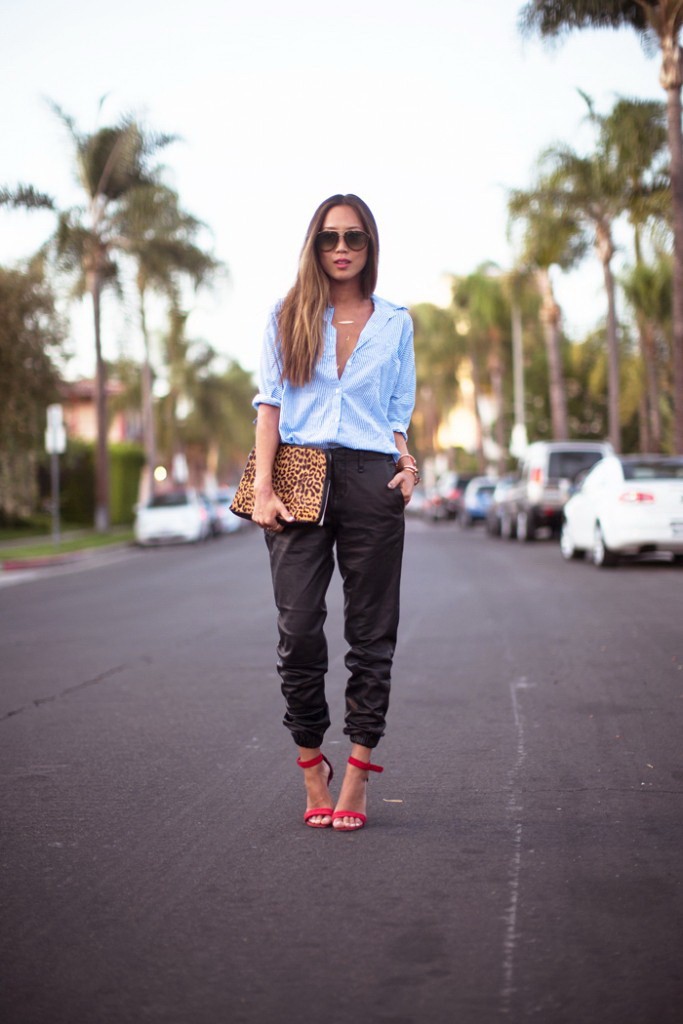 Girls Night
Who would ever think to wear slouchy, comfy pants to a girl's night out on the town? A pair of leather sweatpant-inspired trousers will make you the center of attention as they're a mix of comfy, edgy, and sex. For a night out, pair this style of pants with a simple strappy heel to dance so you can dance the night away. Paired with either a bodysuit or a button down blouse, you'll be the ultimate cool girl in these luxe faux leather sweats.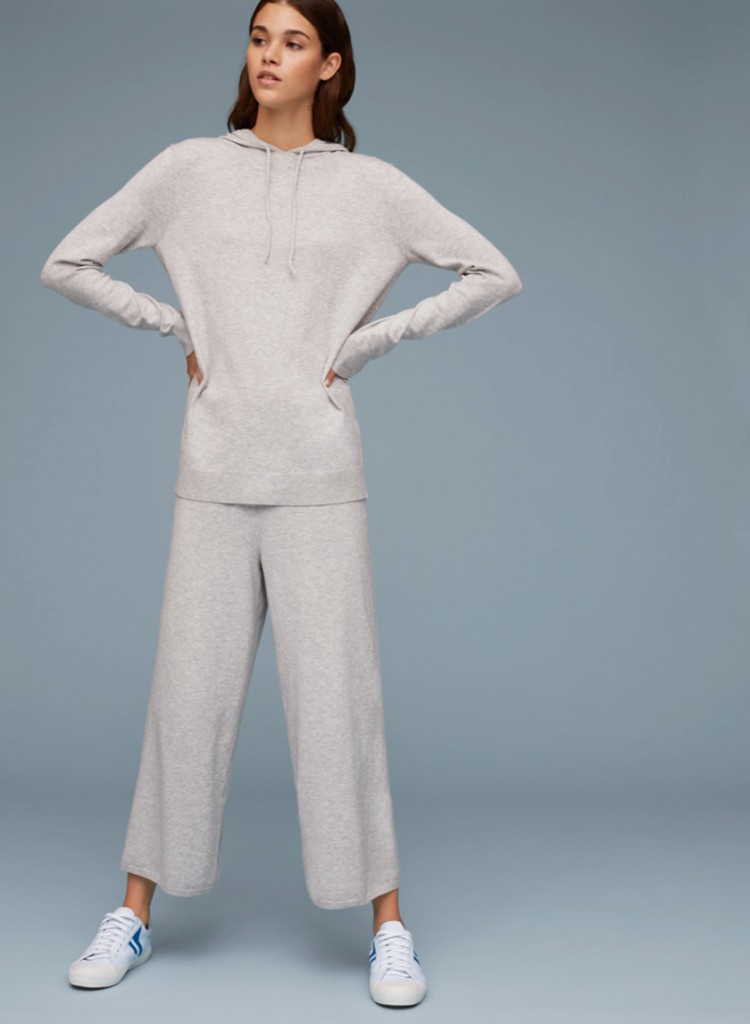 Weekend Warrior
Once the work week is behind us, we're granted two days of freedom to do and wear whatever we want so why not ditch the heels and swap them out for hip sweats and sneakers. For a modern and chic weekend look, rock a culotte-style pant in a knit fabric and style with layering tops and sweaters.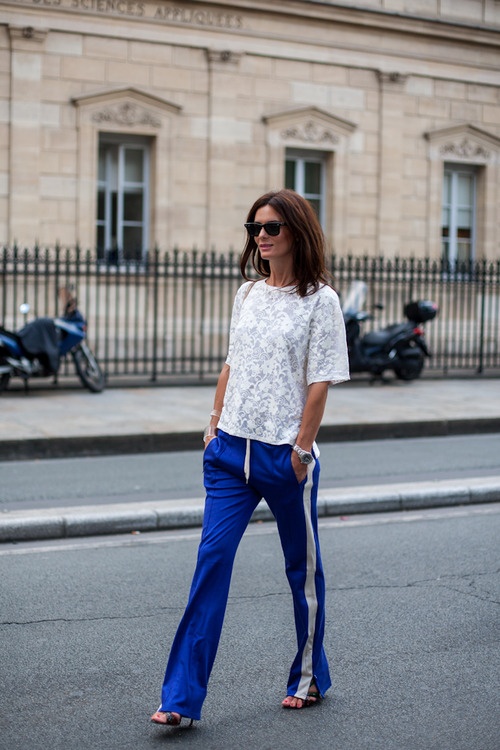 Style Maven
To all the women who are adventurous and always up for trying new things, we've got the pants for you. A pair of straight leg, high-waisted sweatpants will instantly make you forget about all the other trousers you have in your wardrobe and will leave you wanting to buy them in every colour. Worn with a blouse and heels, the straight leg sweatpant is extremely versatile giving off an elegant yet sporty vibe.
Inspirational Image:
Image courtesy of Pinterest
Product Images
1.Street Style, image courtesy of The Fashion Tag
2. Allant Pant in Cairo, $ 110, available at Aritzia
3. Aimee Song, image courtesy of Song of Style
4. Roxane Pant in heather grey, $98, available at Aritzia
5. Street Style, image courtesy of Pinterest
By: Ivana Pavkovic, Toronto, iforeveronvacation
Are you an employer? Post your fashion job here.
Are you a job seeker? Find fashion jobs here.
Don't forget to follow us on Instagram for the latest fashion jobs, career advice and fashion trends!