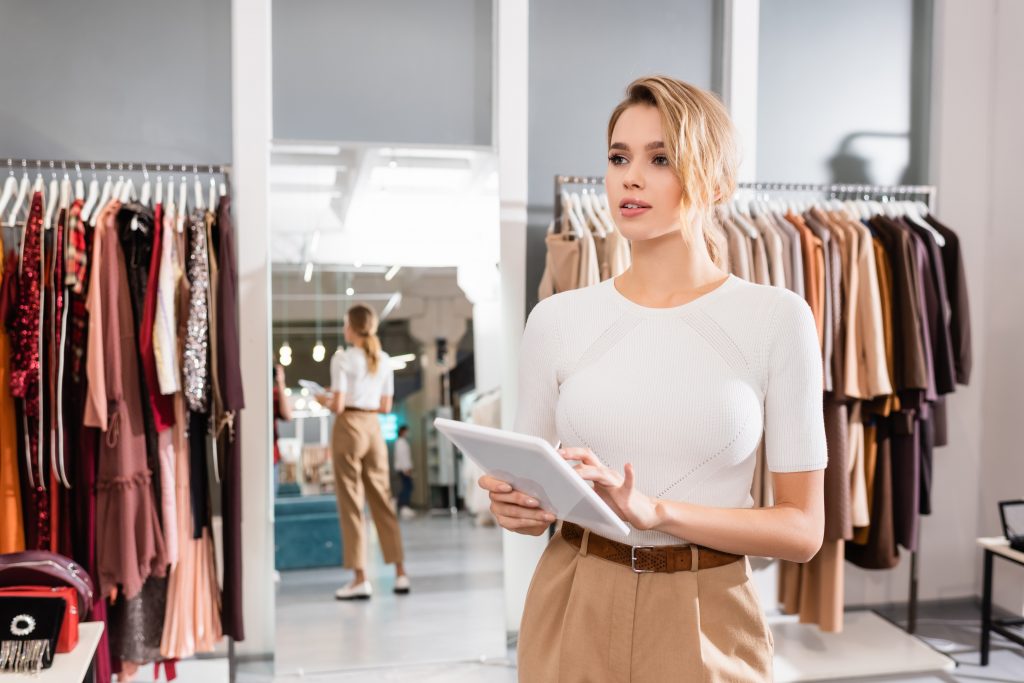 It's time to start viewing your retail job as more than a part-time gig to hold you over to something else. Retail can make for an amazing career opportunity, whether you want to work as a manager, a buyer, or even work your way deeper into the company. But how do you get into one of these positions? You're already a sales associate – all you need to do is prove your worth and work your way up.
Prove Yourself
The first step to growing in a retail career is making sure you succeed in the position you're already in. "If you want to grow in retail, you have to prove that you're trustworthy and hardworking," says Style Nine to Five's Founder, Christie Lohr. "This means being willing to start on the sales floor and not being "above" any task, whether that's cleaning, steaming clothing, or whatever is required."
You need to be able to churn out sales, engage with customers, and even do the menial tasks nobody wants to do like cleaning. On top of this, you need to be enthusiastic and prompt about all of it. Proving you're trustworthy and hardworking means going above and beyond in your current position – doing great at the aforementioned tasks, and looking for more, too. "Your manager will take notice of your work ethic and will start giving you more responsibilities so you can start working your way up," says Christie.
Learn to Lead
On top of doing your best on the retail floor, you need to position yourself as a leader. Do what you can to be a great resource to your team. Help new hires, offer best practices and advice to other associates, and even take the time to brainstorm ideas to help around the store.
You could also be more proactive in this area by asking your manager if they need assistance with any sort of managerial duties, like helping with the interview or onboarding processes. On-the-job training is the best way to learn and show your potential to have a leading position.
It also wouldn't hurt to study leadership by taking courses and expanding your knowledge base. Leadership skills are great to have in even the smallest positions, so you're making big improvements to your repertoire regardless of how quickly you ascend at your store.
Voice Your Aspirations
If your manager isn't aware of your end goal, they may not factor you in as a possibility for promotion. Sure, you can be doing your absolute best out on the sales floor, but there may be other employees who are following the same tips but have also told the manager about their intent to grow.
Like any other job, it's important to take initiative about your career goals. "Be honest with your manager about what your aspirations are," advises Christie. "They might not consider you for a management or buying position if they have no idea that you're interested."
Once you've had that conversation with your manager, it's important to keep checking back in about your performance. Seek out honest feedback and use it to refine your work style. Not only will you grow as a worker and be primed for a higher position, but your manager will take into account your willingness to improve. Taking the initiative and having these conversations will set you apart from other associates and deepen your connections with your higher-ups. 
In summary, work hard in your position, gain new leadership skills, and maintain consistent communication with your manager about everything is going. Keep improving yourself, keep proving yourself, and you'll be high up on the list when it's time to consider someone for one of the bigger roles.
Need more advice as you venture from associate to manager? Ask Christie One Career Question for help!
Emily Morrison is a media professional with a passion for writing, film and popular culture.
Feature Image: Adobe Stock