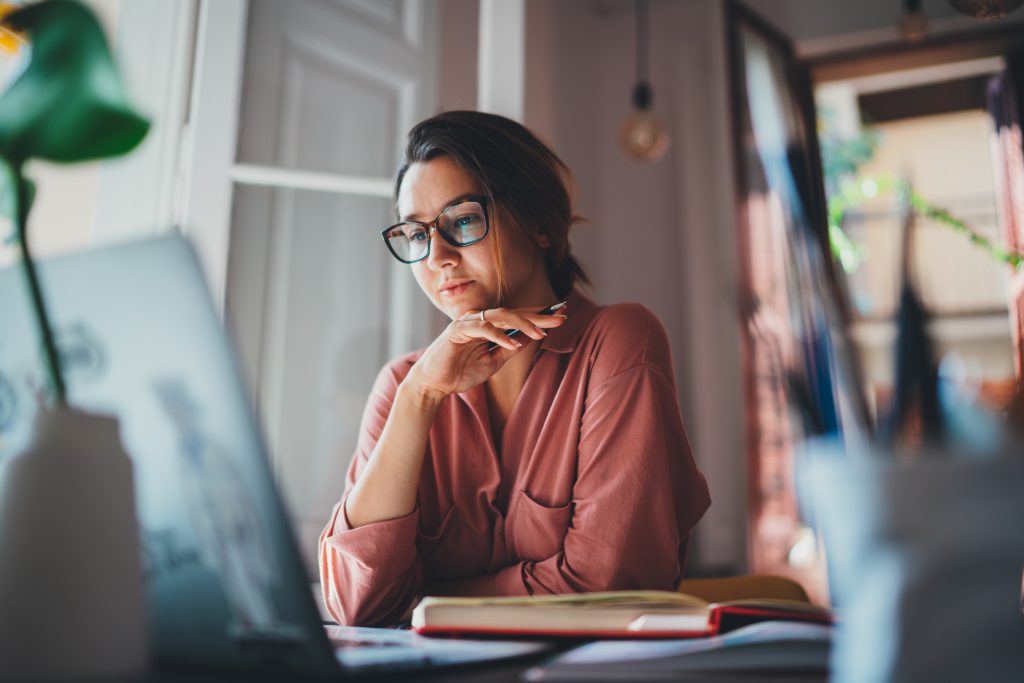 It's been a solid 14 months since I last held a concrete position. Feeling discouraged is an understatement. My confidence has certainly taken a beating, having applied to what feels like hundreds of jobs and getting minimal responses, if any at all, in return.
I've spent hours, sometimes even full days, putting together an application for a position, only to get this type of email back:
Dear Meghan, 
Thank you for considering X company as you make your next career move. We appreciate your interest in the position. Although we're impressed with your background, we've extended an offer to another candidate who has accepted the position.
Again, thank you for taking the time to pursue this opportunity. We hope you'll visit our website to explore other opportunities with our company. We wish you the very best in your career search.
Impersonal much? It can be infuriating, and I'll admit it's put a strain on any beliefs I had that positive things would come around. But that's where the real work comes into play.
Sure, job hunting is tough these days, (thanks COVID), but the rejections that come from them, are simply just rejections. While any type of rejection is stress-inducing, they are equally building blocks, (or should be looked at as such), to get you where you need to be.
Let me break it down for you and share the methods and things I've learned in continuing my job search.
It's Not Just You
I know it can feel like everyone else is getting jobs left, right and center, (thanks LinkedIn for the constant posts about it), but you have to remember that the whole world has faced setbacks as a result of last year. So, you're not the only one being handed the short stick when it comes to not getting any attention from your applications.
Be realistic. At some point or another, everyone will face career setbacks in their life. Maybe they've been let go from their position, or a colleague from their department got the promotion instead of you, or is equally experiencing a slew of ghosting in their application processes. Take comfort in this reality and keep it top of mind when you feel yourself gravitating to self-doubt.
Check Yourself Before You Wreck Yourself
Consistent rejections can make even the nicest people turn sour, making resentment and anger top of the list when it comes to unfavourable traits. Instead of blaming the world for your shortcomings, turn the scope around to you.
In moments of anger and frustration, we can sometimes use the wrong outlet to share our feelings. This means, relaying how bummed you are about not getting the job you wanted, and that the recruiting manager is stupid on social media is not the route to take. (See our post on Digital Footprints for why this is important). Employers and recruiters will search your name and can easily see the trail of negativity you've been spreading all over the internet. Feelings of anger and resentment can also lead to low moods, alienating others and ultimately leaving a bad taste in the mouths of the people that hold the keys to your future.
Make a checklist of all the ways you are visible to others and perform a lengthy self-review of yourself. I'm talking about looking at yourself in the mirror and asking yourself if there are any characteristics or behaviours that you are taking part in that are hurting your reputation for applications. Performing a self-review will allow you to take responsibility in the areas that may be failing you and will help to generate a goal to work towards so that you come across more able minded and positive both in person and on public platforms.
Celebrate the Small Stuff
You're putting in the work when it comes to your applications and your personal brand, so when you're dealt a, 'thanks, but no thanks', response, it's not quite what you were hoping for.
One of the best things that's helped me in my job application process is celebrating the little victories (and they don't have to be job search or employment related). This has helped taking the pressure off not hearing back from companies as I've given my brain positive endorphins in rekindling joy in the things I love to do or recognizing the small things that are actually worth paying attention to.
Here's some examples:
Victory: Contributing to blogs (hey Style Nine to Five!)
Why this is helpful: It forces me to take a break from job searching and focus on something else. It also provides me with the opportunity to share my experiences and expertise/information on topics that I'm knowledgeable about, looking to get into or are genuinely interested in.
Victory: Getting a response back from a real person about a job application
Why this is helpful: It's a real person!! Even if the response isn't what you were expecting, at least a human being took the time to let you know what their decision is. With the overcrowded market, this type of thing can help make you feel seen. Responding back to the recruiter with genuine appreciation of them reaching out to you also helps in closing the door on that opportunity and move your efforts on to the next one.
It's Not Meant to Be
"You're not put through hardships because you are incapable. You don't face challenges so you can crumble. You aren't given tests that you can't handle. The only reason why life wants to introduce you to pain is because it wants you to realize your power".
– Vex King
I've got this quote posted on my bathroom mirror to consistently remind myself that the struggle is real, but it's preparing me for something more, or something that I'm meant to do. Every job application won't be a winner and, as the title suggests, when they're not it's a sign that they may not be meant to be.
There are a ton of factors that go in to why you didn't get the job that are worth having consideration for, as opposed to taking on the guilt that it's because of you. Perhaps an internal associate received the job offer or the company went in a different direction. It's important to remember that it often has nothing to do with you!
Use Your Strengths as your Mantras
Getting rejected from job applications can aid in bringing back bad memories from the past. Not paying attention to these types of behaviours and thoughts, i.e., sulking every time a job doesn't come through, thinking that you're worthless because you didn't get the job, are perfect recipes for depression and anxiety to take fold, which we don't want.
Recite your strengths. What are you good at? What project did you last work on that made you feel amazing? What qualities do you have that make you a stellar candidate?
Keeping these on deck, (i.e., write them out and stick them on a wall in your house that you pass by every day, set them as calendar reminders in your phone with scheduled alert times), are a great way to counter negative thoughts or rejections when they come your way.
Stay Strong
I know it's easier said than done, ('cause I'm there with you), but wallowing in self-pity and self-doubt are only going to make the tough situation worse. When you're feeling down and out, hit the pause button and take a step back.
When I feel myself getting upset or irritated, I'll take a couple of days away from my computer or job searching altogether. Going for walks, taking up projects or doing creative personal projects are all what keep me inspired and helps me to reevaluate the attention I am giving to the negativity. These tasks are also great ways to rekindle joy which, let's be honest, we can all use!
It's not easy coping with the job market and job rejections, even in pre-pandemic days. I feel for you. It's a long battle for sure. But by focusing on the alternative, staying strong and adopting your strengths as your mantras, will only help combat any rejections you continue to receive and any of the negative feelings associated with it.
There's also a ton of stuff that you can do in between job applications such as upgrading your resume or getting it reviewed/redone by professionals to see how it stacks up. Other ways to stay present and focused is by taking part in learning opportunities like LinkedIn's learning videos, for example.
To close this off, I'll finish with another quote that I hold near and dear. It's one that I lean to time and time again as it offers so much insight. It's also quite fitting with what I've discussed here today:
"When a flower doesn't bloom, you fix the environment in which it grows – not the flower".
– Alexander den Heijer
Remember; You've got this!
Should you find yourself in a place that's just too much to navigate, don't hesitate to get the support you need. Christie Lohr, Founder of Style Nine to Five, offers amazing career services, which includes beautifully done Resume and Cover Letter Refresh services that cater to today's job seeker.
Meghan Kelemen – Hailing from Toronto, Meghan is a Creative Design professional with advanced experience in marketing strategies, creative improvements and project management.
Feature Image: Adobe Stock