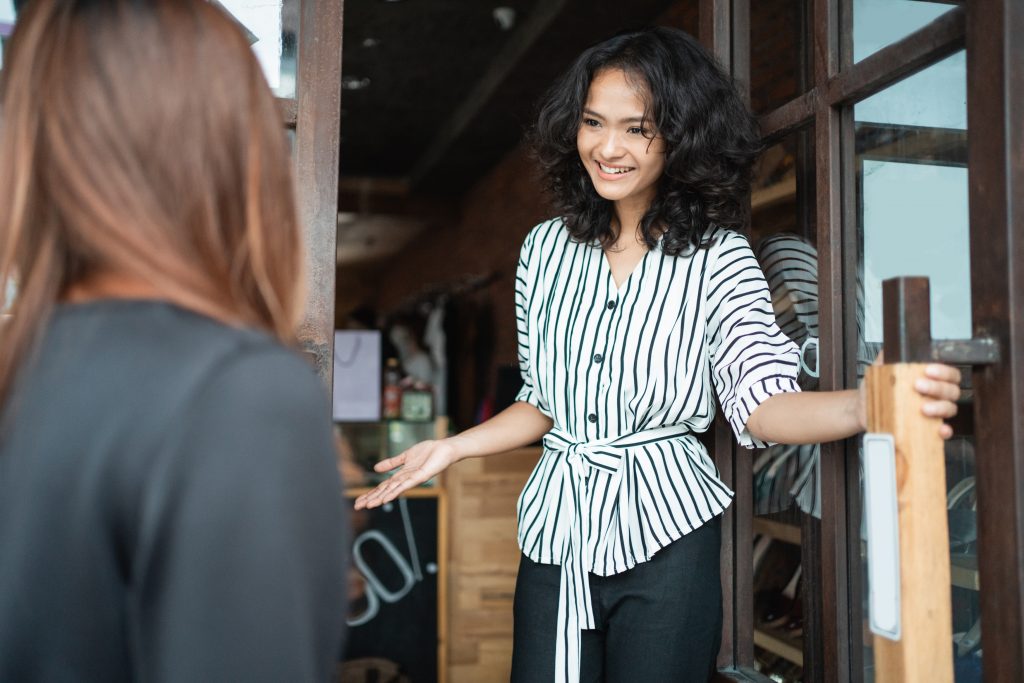 Many new businesses start as a solo show where you're taking care of all operations yourself, from accounting to marketing and everything in between. As your business grows, the time comes to start hiring. Whether you need an assistant, an intern, or retail staff, making those first hires can be daunting.
Two stellar Vancouver boutique owners, Erin Mullaly, of Commercial Drive hot-spot, Gatley, and Courtney Watkins, of luxury consignment shop, Mine & Yours share their experiences from taking and plunge and making their few hires, along with how they've honed their hiring experience to where it is today. New business owners: take notes as we learn from these two successful entrepreneurs who were once in your shoes!
Making Your First Hires
No matter what type of business you run, hiring challenges are similar, and the prospect of bringing someone unknow into your business is intimidating. Letting go of some of your tasks means giving up some of your control, and entrusting a stranger with your business is tricky.
Mullaly was hesitant when it came to staffing her lifestyle boutique. "The biggest challenge felt like trusting the employees to represent my brand in my absence and to ensure they had the business's best interests in mind," she says.
Watkins faced other challenges when building her team, particularly in knowing which roles she needed to hire for. "I found it hard to figure out what were the most important skill sets that we needed to add to the team. Almost everything could benefit the business, but I had to decide what was really the most important," she says.
Top Candidate Criteria
If you don't have an HR background or haven't done much hiring, knowing what to look for can be hard to pinpoint. For both Watkins and Mullaly, formal education or years of experience aren't what matter the most.
"The top of the list for me is attitude and enthusiasm–experience can be learned on the job," Mullaly says. "The other key thing for me is reliability. We are a small shop, and if someone blows off a shift or is repeatedly late, we are unable to open or operate during those hours. When someone isn't punctual or reliable, it's a deal breaker for me."
Mine & Yours also emphasizes looking for a great attitude when hiring. "Passion for Product and Connect & Uplift are two of our core values, so we look for candidates who are really excited about the role and positive," Watkins says.
Mistakes Made & Lessons Learned
Stumbling along the way is normal as you refine your hiring process. In any business, there are bad experiences with hires that didn't work out, but what's important is to learn from those mistakes so you can move onward and upward the next time you're looking for new employees.
Watkins admits to making the same mistake more than once, but that helped her tap into what wasn't working. "The biggest mistake I've made is trying to keep someone when they're not happy in their role," she says. "I thought that things could change, that they could change, and that they were imperative to the business, but every time, things ran smoother once they were gone."
Moving on from those experiences, Watkins found her stride in making swift decisions when it comes to employees that just aren't working out. "I used to feel guilty and would drag it out when I knew someone wasn't going to work out. Now, I really believe in letting them go lets them find a better for themselves and we can find a better fit for the company," she says.
Mullaly believes in setting employees up for success from the start rather than cobbling systems together as you go, saying, "The biggest lesson I've learned about the hiring process is that I need to make sure I train and set all expectations from the very beginning. It's very hard to go backward and retrain after someone has been in the position. When the staff knows the processes and expectations from the start, it makes it easier to give feedback or critiques."
Streamline Your Systems
You'll likely encounter a few roadblocks that will teach you those important lessons, and another thing you'll learn as you start to hire is how to make the process more efficient.
Both Watkins and Mullaly start with brief phone or Zoom call with prospective employees to get an idea of personality and attitude. When a candidate feels right, they come in for an in-person interview. An initial screening helps you eliminate candidates that you don't click with your brand and saves both parties a lot of time.
After that, Mullaly and Watkins agree that it's important to be organized in your approach. "I have questions for all stages of interviews planned and written out and make sure to take notes on their answers," Watkins says.
Mullaly likes to do her homework with reference checks to find the right candidates, along with testing the waters before committing. "I always like to do a trial shift before making the employment official," she says. "This is beneficial for both parties—we can both decide if it's a good fit."
As you navigate the recruiting side of being a business owner, keep these points in mind as you organize your own systems and hiring strategy, and build up a winning team that will help you're your business thrive.
If hiring stress is getting you down, take a look at Style Nine to Five's Recruiting services where Founder, Christie Lohr, can expertly guide you, take the hard work off your plate, and help find the best candidates to fill your company's roles. 
By: Jeanine Gordon – Jeanine is a freelance writer and editor with a passion for creating stellar content for global brands and small businesses alike – specializing in fashion, beauty, and lifestyle.
Feature Image: Adobe Stock