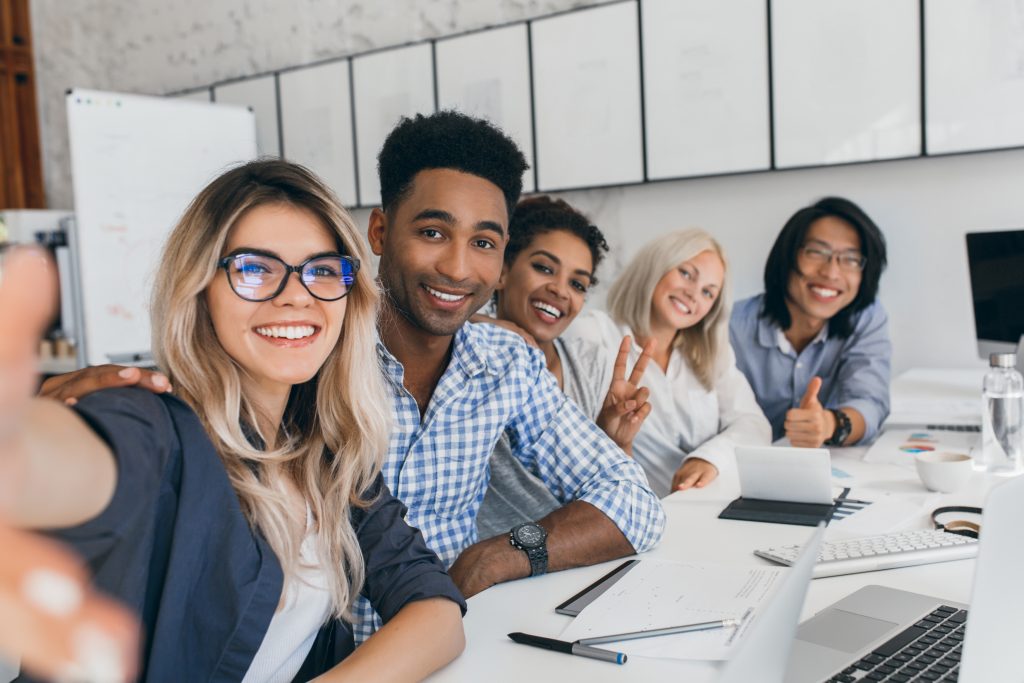 The push to create diverse, equitable and inclusive workspaces has existed for quite some time, but with the recent shift to remote work, employers need to reevaluate their work environments now more than ever before.
From the creation of a new position to the ways managers interact with their staff, equity and inclusivity should be at the forefront of all aspects of running a business. It's time employers recognize how people's identities, lived experiences and backgrounds influence how they work. Employers must actively make efforts to listen to, understand and accommodate the needs of their current and potential employees.
The thing is, creating an equitable workplace and accommodating employees isn't just another business choice—it's a human right. Under the Canadian Human Rights Act, employers are required to "ensure that all people affected by [their] organization are treated equally, regardless of their race, gender, sexual orientation or any of the other grounds of discrimination listed in the [Act]."
In their Human Rights at Work handbook, the Ontario Human Rights Commission outlines the best practices to protect the "right to equal treatment with respect to employment" throughout various aspects of doing business, including:
1. Creating a workplace that complies with the Code
2. Setting job requirements
3. Advertising
4. Designing application forms
5. Interviewing and making hiring decisions
6. Requesting job-related sensitive information
7. Pay, benefits, dress codes and other issues
8. Meeting and accommodating the needs of employees
9. More about disability-related accommodation
10. Training, promotions and advancement
11. Managing performance and discipline
12. Resolving human rights issues in the workplace
13. Ending an employment relationship

All this to say, employers must ensure their workplace:
• Uplifts those who have been historically disadvantaged through equitable hiring practices
• Acknowledges the needs of your employees through inclusive and individualized accommodations
• Facilitates open and safe space to talk through initiatives like employee resource groups (ERGs)
This is not only legally required, but something that will ultimately enhance your entire work environment.
The importance of equity, diversity and inclusion (EDI)
Amidst all the business language being thrown around in workplaces, the true meaning of EDI can be lost. As defined by the EDI guide created by the Canada Research Coordinating Committee:
Equity is defined as the removal of systemic barriers and biases enabling all individuals to have equal opportunity to access and benefit from the program.
Diversity is defined as differences in race, colour, place of origin, religion, immigrant and newcomer status, ethnic origin, ability, sex, sexual orientation, gender identity, gender expression and age.
Inclusion is defined as the practice of ensuring that all individuals are valued and respected for their contributions and equally supported."
Why is it important to ensure your workplace incorporates EDI? The reason is because systemic barriers—systems or policies that perpetuate unequal, unfair or exclusionary treatment of individuals from underrepresented groups—have made it very difficult or excluded groups of people in the past from being able to work at certain places. Once employed, systemic barriers make it difficult to advance in companies, create unsafe work environments and lead to pay inequalities for different underrepresented groups.
An example of a systemic barrier would be the fact that women in Ontario were excluded from many types of jobs until the passing of the Fair Employment Practices Act and the Female Employees Fair Remuneration Act in Ontario, in 1951.
A more modern example of unequal treatment of women in the workplace can be seen in the underrepresentation of women in the tech industry, as well as the subliminal ways that mostly male senior leadership are biased against women and people of colour when considering advancement opportunities, according to The Kapor Centre.
Intersectionality also plays a major role in the severity of discrimination an individual faces when applying for jobs or working for a company. The World Economic Forum lists several ways racialized women in the U.S face more barriers and inequities than white women, including greater wage inequality, increased sexual harassment and greater hiring discrimination.
People with disabilities experience various barriers to well-paid and fulfilling employment, from social stigma to lack of support in the workplace, according to a 2020 report published by Public Policy Forum, Future Skills Centre and The Diversity Institute.
Learning about the real-life results of systemic discrimination helps employers understand why EDI is important.
Approaching your business through an equitable lens doesn't simply mean hosting an annual training workshop or extending maternity leave by an extra month—it's an ongoing process of listening, learning and reforming how your company functions. Employers must continue to have open conversations with employees, listen to their needs and recognize past shortcomings. Then, they can actively seek to implement new, well-informed practices and workplaces will become more equitable spaces for everyone.
Here are some resources to guide and inform employers throughout their equity work.
Hiring New Employees
Even before a member joins your team, there are a lot of places that employers can potentially exclude certain groups of people. From setting up job requirements to designing application forms, the Ontario Human Rights Commission details ways that employers can make this process as fair as possible.
Here are some key considerations.
Job requirements
When writing out a position's requirements and qualifications, it is important to consider whether or not those requirements are discriminatory towards any particular group.
The Ontario Human Rights writes:
"If a person is prevented from meeting job requirements for a reason that is related to a ground in the Code, human rights law looks at whether these requirements are reasonable and bona fide (bona fide means "good faith" or "genuine"). This assessment includes determining whether the rule was designed inclusively and whether it would be possible to accommodate, without causing undue hardship."
While requirements such as "have a degree in business" is neutral and expected for a position such as a marketing coordinator, a requirement such as "must be young" or "must be clean-shaven" are discriminatory and unreasonable for the position.
Advertising jobs
When putting together a job posting, these are questions that all employers should ask themselves, as outlined by the Ontario Human Rights Commission:
1. Is non-discriminatory wording used to describe the job?
For example, the difference between "English must be your first language" and "must be fluent in English" creates two very different meanings.
2. Are the essential duties of the job clearly explained?
Lots of problems arise when employers aren't clear with the duties and responsibilities of a certain position from the get go. For example, not specifying that work meetings may take place after the set hours of 5 p.m. in a job description can negatively impact a working mother who may be employed for that position.
3. Has neutral language such as "salesperson" rather than "salesman" been used wherever possible?
This is a common language slip-up for many companies. Gender neutral language enforces the equality of all gender identities in that particular position. Think about the term "chairman" versus "chair" or "chairperson." Using "chairman" reinforces the notion that only men can fill that role.
4. Is there a statement that the employer is an equal opportunity employer and that accommodation will be provided during the hiring process?
Equal opportunity employer statements (EEO), says that the business does not discriminate on the basis of race, color, ancestry, national origin, religion or religious creed, mental or physical disability, medical condition, genetic information, sex, sexual orientation, gender identity, gender expression, age, marital status, military or veteran status or other characteristics protected by Human Rights Act. These statements also includes a company's policy of accommodating applicants during the hiring process.
5. Have accommodations actually been provided during the hiring process?
It's one thing to post an EEO paragraph on a job posting, it's another to actually follow through with it. Companies should be prepared to provide accommodations on a case-by-case basis, depending on the needs of your applicants. To accommodate people with disabilities, following AODA guidelines is always good practice. For example, confirming that in-person interviews will be conducted somewhere physically accessible for them, and informing applicants ahead of time what the interview process will look like will give them enough time to request accommodations.
Accommodations can also apply to people with particular family statuses. Providing flexible interview times for a parent who may have caregiving responsibilities is one example.
Creating an Inclusive Environment in the Workplace
The disparities between your employee's work-life situations are now more evident than ever. Your employees are experiencing varying levels of stress or difficulty relating to their work lives, and it's important to make it easy and comfortable for them to share that with you.
Creating an inclusive environment for your employees, especially when working remotely during a global pandemic, requires some extra legwork. This may look like one-on-one conversations with staff, non-work related check-ins and setting up entirely new systems of communication.
Employee resource groups (ERGs), are smaller communities in a workplace that connect employees sharing similar experiences, such as parent groups or female groups. These are safe, open spaces where employees can connect more deeply with other employees and feel a sense of belonging. For some staff, ERGs might mean a place to socialize and meet new people, for others, it may be a place where they feel truly comfortable being themselves.
ERGs or not, it's important for employers to understand their role in facilitating a work environment where employees can feel comfortable being themselves. Encouraging a culture of openness will benefit everyone—employees may be more comfortable asking for support and management will gain a better understanding of what their team is feeling and dealing with.
Recognize the diversity of opinions and experiences of your employees. Refrain from making assumptions about people's lives, especially when teams are working from home. Diversity brings a wealth of perspectives to your business, and it's equally important to consider it when interacting with your team.
Inclusivity also includes accommodations, which allows for all of your team members to work at their fullest potential. Accommodating for employees that might be facing a new set of challenges, such as time zone differences or unpredictable schedules because of childcare duties, is your obligation as an employer.
More often than not, implementing the practices described in this article are completely free. During this stressful and uncertain time, putting in the work to restructure your company's internal practices and human resources policies to be more inclusive and equitable is more important as ever.
Make sure to approach this work with an open mind and ear, ready to listen to feedback and insights from the team members. Through a well-informed and lateral approach, you can create a meaningful difference in your workplace that will empower and uplift your team.
By: Kayla Zhu – Kayla is a third-year journalism student at Ryerson University with a background in content writing and journalism.