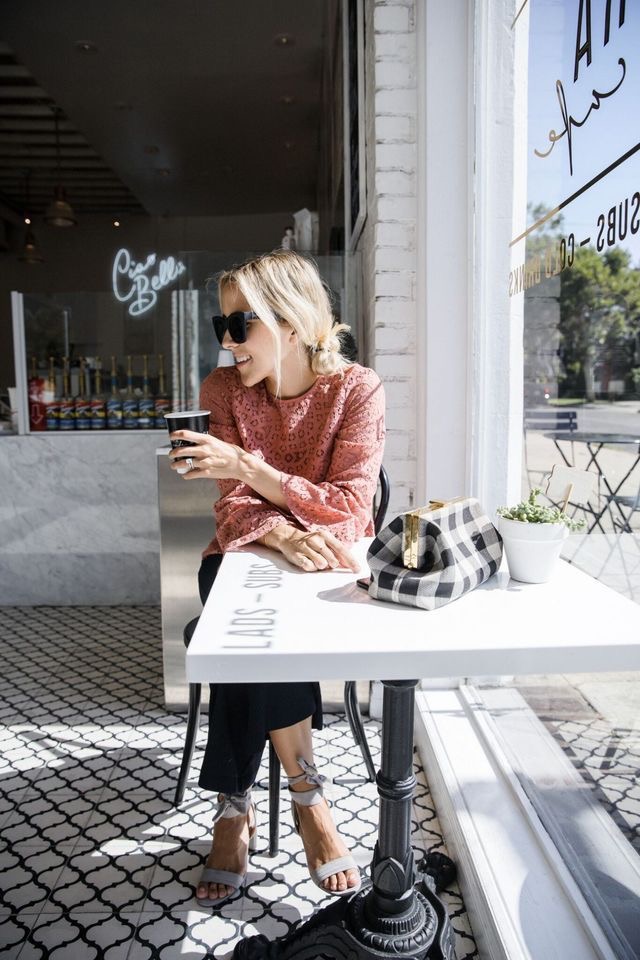 Things are changing in the world of business, and for us fashion industry insiders- it's exciting! Proper professional meetings and interviews are less and less common, and things in business are quickly becoming more personal and relaxed. As you already know, coffee shops are quickly becoming the new boardroom, and with that new rules for fashion (or less rules altogether!) are following suit. Gone are the days of stuffy suits and uncomfortable ensembles… but now what?!
Find fashion job advice, internship opportunities, fashion job listings, style careers, retail jobs, job advice, fashion design jobs, social media and marketing internships, stylist and buying jobs and many other fashion jobs on Style Nine to Five!
Jeans Are Not Taboo
Who knew? When you think about meeting with someone to discuss a professional opportunity or when meeting on business terms, jeans are typically off the table. But times are changing, and so are dress codes. Just as formal meetings are turning into more casual coffee meetings, the typical business attire is becoming a lot more casual too. That being said, meeting with an industry connection over coffee is not exactly the same as grabbing a latte with your girlfriend. It can be hard to navigate these new standards, and to know how to dress to impress for the occasion. So are jeans acceptable? Yes- but under a few conditions, of course. Stay away from ripped denim, super light washes, or any crazy distressing. Play it safe by sticking to black jeans, simple dark washes, or dressy styles (like trouser jeans!) Pair your denim with a chic top and your finest footwear, and you're sure to be the best dressed in any coffee shop.
Wear A Statement Piece
Meeting someone new is always a little nerve-wracking, especially when you're trying to impress a potential employer or valued industry professional. When meeting for coffee, it's always great to take the first couple minutes to ease into things and break the ice. What better way to start things off and lighten the mood than having a piece of your outfit be a conversation starter. Attract attention by wearing a bright colour or bold lipstick, or even a fun accessory. Wear something that people will notice right away and want to comment on! To keep it professional, less is more, so best to stick with just one statement piece at a time. Making a statement will also make you memorable, and a coffee meeting outside of the office is the perfect place to stand out.
Be You
Don't be afraid to show your personality! As you know, times have changed and this means you no longer have to feel constrained by classic office attire. Feel free to wear whatever best represents your personality, and whatever you feel best in! If you have a signature accessory or a favourite colour to wear, a coffee meeting is the perfect occasion to show what makes you unique, and how to express yourself through your style. Fun fact- when I met Style Nine to Five Founder, Christie for our first coffee meeting, she was wearing her signature hat as a killer accessory… I have since learned that a chic hat and anything leopard print are her go-to fashion faves. Now I'll always remember her by these trademark fashion statements! Wearing whatever makes you YOU will not only will you make a great first impression by showcasing who you are through your outfit, but you'll surely be remembered for your great style too. What better way to make a lasting impression than through your amazing look!
Now is a better time than ever to ditch the ordinary button down or stuffy suit, and let your personality shine through your style. Things are changing in the hiring scene, and it's time to get creative in order to stand out in the industry. Coffee meetings are the perfect opportunity to express yourself and put your best foot forward, starting with your great sense of style! By using your outfit as an extension of your amazing resume, many skills, and extraordinary talent, you're sure to stand out to any industry insider. Especially in the fashion industry… don't be afraid to step outside the box and out on whatever makes you feel confident, empowered, and most importantly- YOU!
*Image via @jaceyduprie
By: Heather Murray @heatherungraceful
Are you a job seeker? Find fashion jobs here.
Are you an employer? Post your fashion job here.
Don't forget to follow us on Instagram for the latest fashion jobs, career advice and fashion trends!