Since 2014, Brunette the Label has been a staple for women across Canada. Whether you're scrolling through Instagram, cruising the mall or walking down the street, chances are you've seen a boss babe rocking her 'Brunette', 'Blonde' or 'Red Head' pullover from Brunette the Label. In the past four years, the Vancouver-based brand has blown up nationally and internationally as of late, becoming more and more of a staple in wardrobes around the world. Style Nine to Five had a chance to speak with the founder and mastermind behind the brand, Miriam Alden, and learn how she started her brand, 
SNTF:  What was your inspiration in starting Brunette the Label?
MA: I wanted to start a clothing line that was inclusive and for all body types and for everybody, whether they lived for fashion, or just needed something cute to wear. Brunette the Label originally started as a marketing tool, I made one sweatshirt to promote my first company, Brunette Showroom, and then we grew authentically from there! I always had a goal of having my own clothing line, and it grew organically. I think that this saying is true, "If you have goals the universe helps you."
SNTF: 'Babes Supporting Babes' has become such a motto in Vancouver. Where did this come from? 
MA: It's an authentic feeling that I have about working together for the greater good with our clients, individual customers, colleagues, and my team. I had some not very Babes Supporting Babes experiences when I first started the showroom and I got to choose whether to be angry, upset or grow and learn from those experiences and create the life I wanted to lead. I chose to learn and grow, and Babes Supporting Babes was born as a result. So be thankful for all experiences good and bad as they create growth and intention. 
SNTF:  What is your favourite piece from your label?
MA: Currently, either our cropped sweatshirt/jogger combo or oversized "Be A Babe" hoodie, both from our fall collection! But on a regular basis, I wear our tees or Florence vegan leather jacket the most often.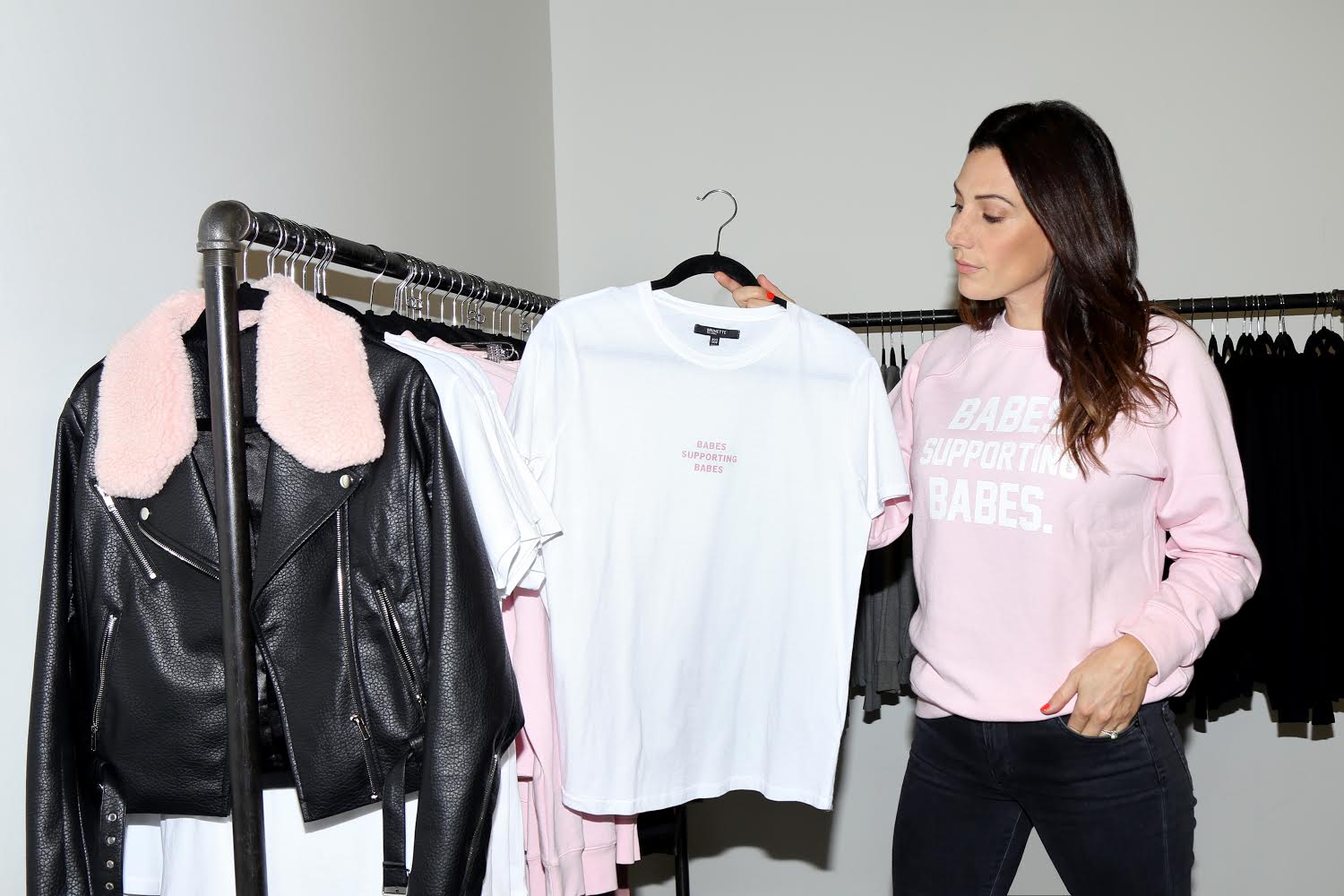 SNTF:  Brunette the label is a lot more than just sweatshirts. Where do you find the inspiration for all of your collections?
MA: A lot of my inspiration comes from travelling, immersion is hugely important! I'm always interested in what's going on around me, keeping an eye open whether I'm speeding through a city in a taxi or out for quiet dinner. I think by nature you start seeing things that call to you and then creating from there. I'd say about 50% of my inspiration just comes from what I'm feeling, too. My team also helps to inspire me and grow the collection, everyone in the office has their own unique style that connects to the brand, and we are all a big part of the ideas because we all bounce off our individual styles to create. 
SNTF:  What is your favourite thing about running your business?
MA: My team, and the fact that we can create the type of working environment that I believe to be a positive place to work, somewhere is authentic to the type of place I want people to be able to grow and feel safe in. 
SNTF:  What advice would you give other 'Boss Babes'?

MA: Be authentic to yourself. And care about your team! Relationships are mutual and you have to care about people to be cared about.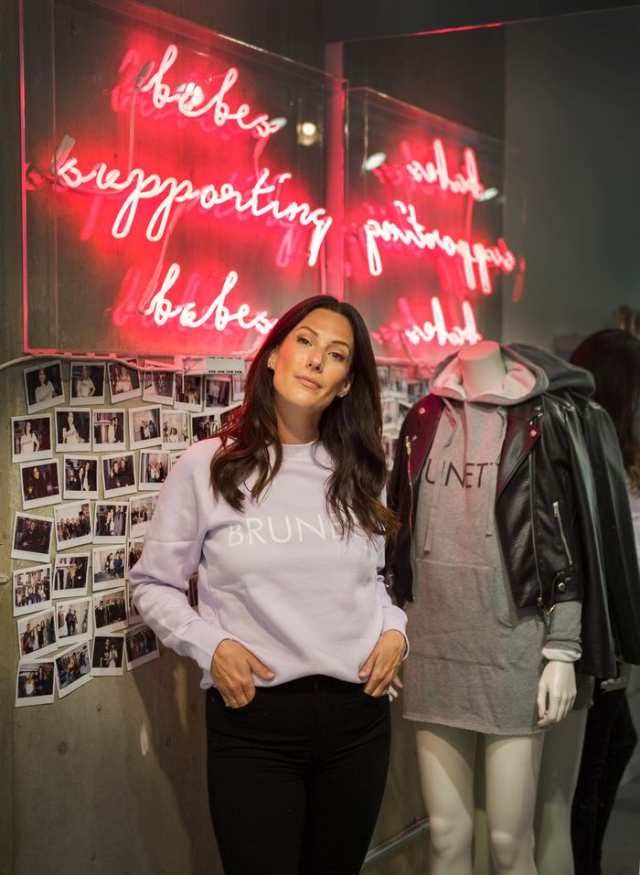 SNTF: You recently opened up your first flagship store. How was that experience?
MA: Quick! We opened the store two weeks after we signed the lease. My husband drew out the plans on a napkin at a restaurant one night, and then construction took a week!  It was also very inspiring. My team really buckled down and powered through to get it done. It was amazing to see the reaction when we opened from all of our customers, both wholesale and retail. Plus, our opening night involved just a little bit of bubbly, which is always an ingredient for a good time! 
SNTF: From being largely an online based company, what about having the store open is your favourite aspect?
MA: I'm actually not there as much as I thought I would be, so I really especially enjoy being in there when I can and feel the energy of the store. I love meeting with our clients and hearing their feelings on fits and designs. Honestly, seeing people wear our pieces still makes me really excited and I always leave with my heart full. It's a fun environment!
SNTF: Now for some fun questions. If you could only use one social media app for the rest of your life, what would it be?
MA: Instagram
SNTF: What would your Starbucks order say about your personality?
MA: I always get an almond milk Americano Misto, I think it says that I'm strong but loves animals!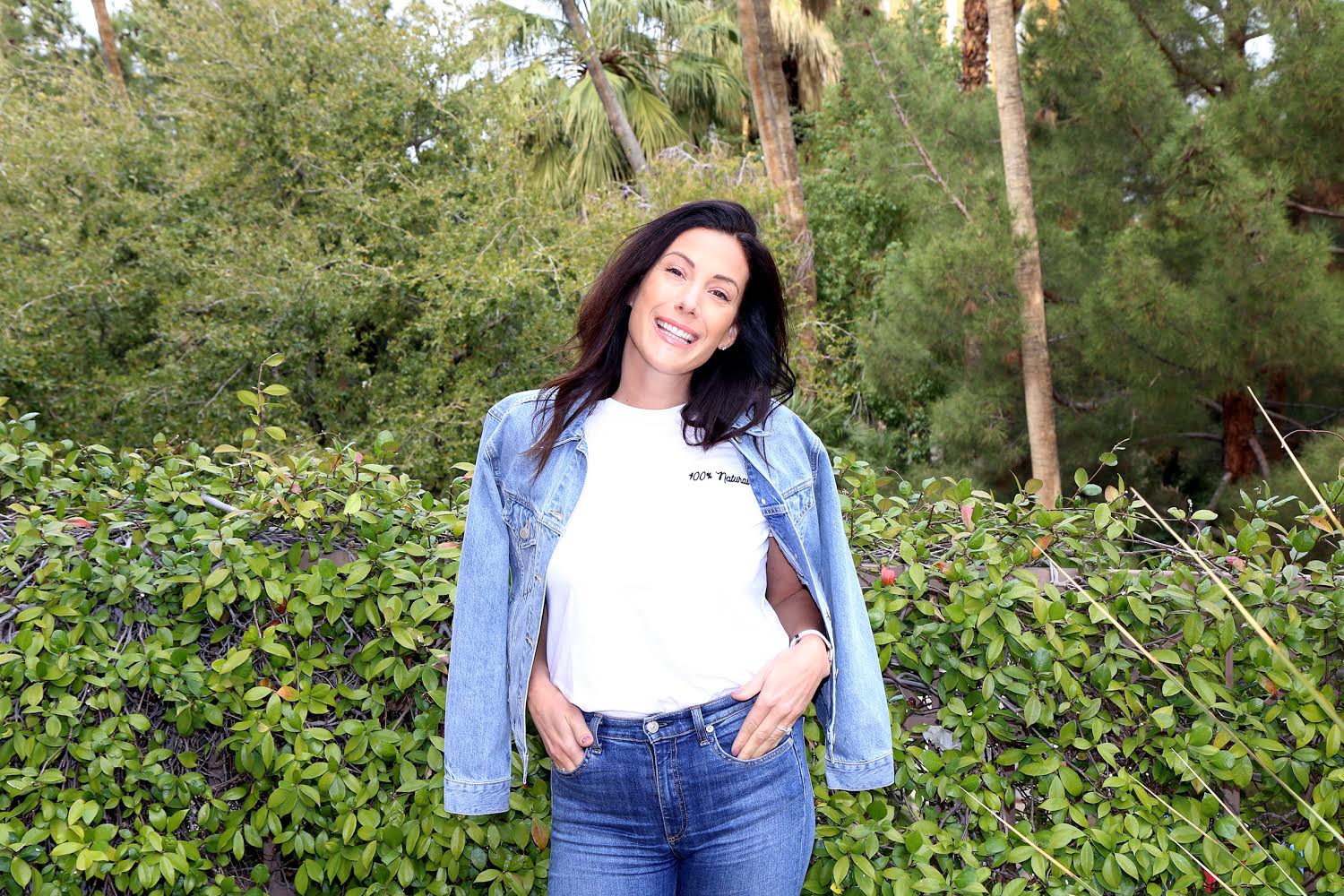 SNTF: When it comes to makeup, what's your favourite feature to accentuate?
MA: Always lips. I love a good red! I'll do a shimmer or neutral eye, with good mascara of course, but I'm a lip girl. I have larger eyes and more of an almond shape, so I feel they need less makeup than my lips.
SNTF: What is one thing you do every day that you couldn't live without?
MA: When I'm, I always home see my animals, my horse Josephine, my dog Frederick and cat Baguette. When I'm away, I also talk to at least one of my family members every day.
SNTF: Regardless of if they are from the past or present, who is one celebrity you would love to have a dinner party with and why? 
MA: I think it would be a tie between Beyoncé, Victoria Beckham, and Anna Wintour. They are all strong female leaders that I admire, but they also all possess many different qualities that I admire. I think I would learn a lot at that dinner. 
SNTF: Finally, what can we expect next from you and Brunette the Label?
MA: I feel like for spring, we are evolving our collection to be more fashionable. We have new fabrics, new lounge pieces. it's going to be really fresh! We're also focusing on becoming a bit more international and getting the brand into new countries around the world! We actually just opened an account in Japan, which is super exciting. 
You can follow along with Miriam's journey by following her and Brunette the Label on Instagram.
Inspirational Images
Images courtesy of Miriam Alden
By: Megan Renaud, Vancouver, @meganbrigette
Are you an employer? Post your fashion job or retail job here.
Are you a job seeker? Find fashion jobs and retail jobs here.
Don't forget to follow us on Instagram for the latest fashion jobs, style jobs, retail jobs, career advice and fashion trends!