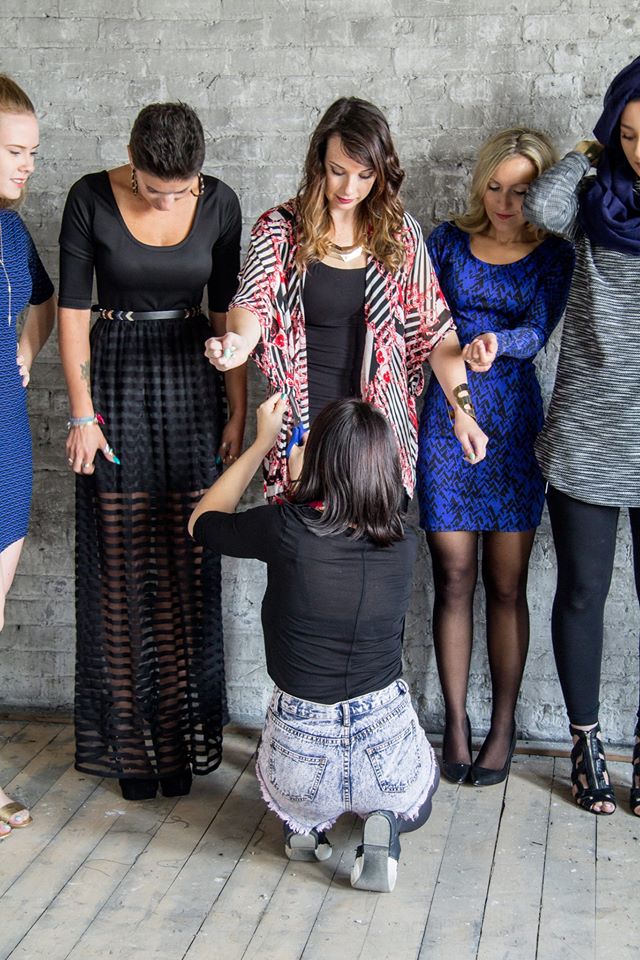 Despite being only "26 years young" Nicole Snobelen already has a long list of accomplishments under her (stylish) belt. Nicole is a 2017 Top 20 under 40 award recipient and founder of The Abby Fund, a volunteer initiative that works with sick children to design and create their dream dresses and superhero capes. Additionally, she is a published author, award-winning business owner and the designer of her own clothing line: Evelynn by Nicole Snobelen. We had the chance to chat with Nicole about her entrepreneurial journey and the hard work that goes into creating fun, feminine style.
SNTF: When did you know you wanted to start your own clothing line? 
NS: At the age of eight, my aunt gave me a designer game to create outfits with different colours and patterns. I became obsessed with the game and knew I wanted to do something with fashion when I grew up! After graduating college, I started making dresses for myself to wear to interviews. I would post photos of them on Facebook and almost immediately women started contacting me asking to order a dress. I then started doing custom work and eventually launched an online store! 
SNTF: What are some of the first steps to starting a clothing line? 
NS: The first step would be going to school for fashion design or fashion merchandising. This will teach you the ins and outs of creating garments and working in the industry. You'll need to know how to sew and pattern make if you plan to develop the line independently. Also, some basic business, marketing and social media knowledge are important. I started my company with no business background and struggled a lot in the beginning because of it. It wasn't until after I started my business that I started taking business workshops and courses.
Currently, everything is handmade by me and I work with a team of eighteen models. Having a photographer is super important when launching a fashion line as people will want to see your work displayed professionally. Access to start-up funding, grants or savings is huge. You need to spend money to make money. You'll also want to register your business with the government. 

SNTF: What kind of education or training did you pursue to prepare yourself for the demands of this project? 
NS: I took a three-year fashion design course at Fanshawe College and several business workshops and courses at various places like Leap Junction and the Small Business Center.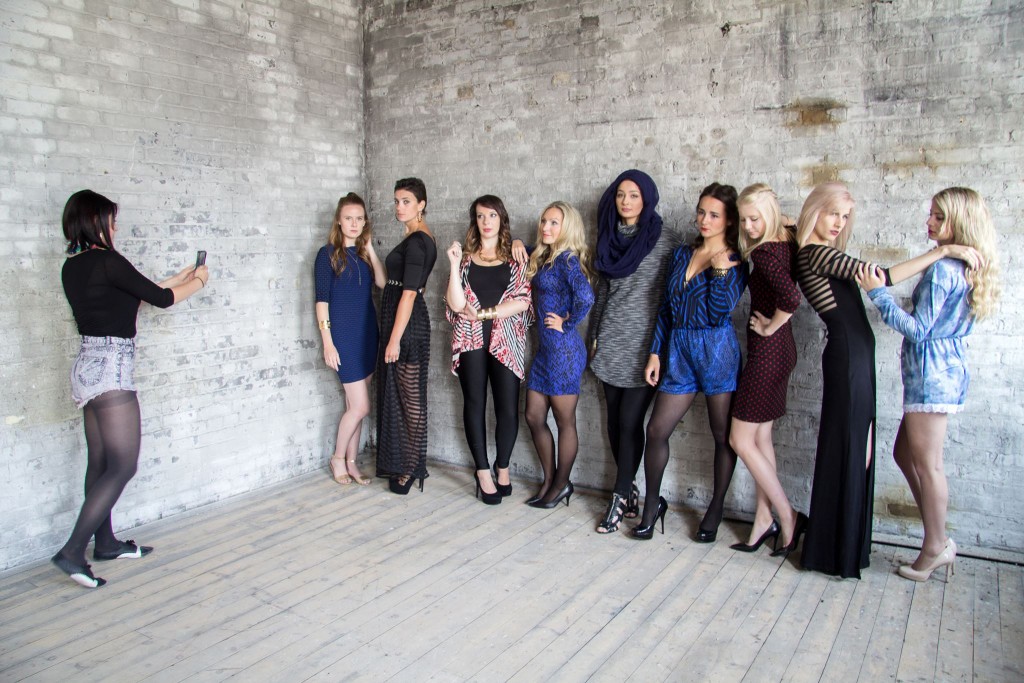 SNTF: Did you have any mentors who helped you along the way? 
NS: Leap Junction has been a huge part of my recent success this year – this is an entrepreneurial campus service at Fanshawe College. The owner of Illbury & Goose, Daniel, is also a mentor of mine.
 SNTF: What was the biggest hurdle you had to overcome in order to start your label? 
NS: Oh there have been many! Since my business idea fell into my lap, I had no start-up funding or business background! I lived dress to dress for a long time, which made it difficult to get ahead. Every time I made a sale, I would invest that money back into my business, so you can imagine how difficult it was to live my first year in business.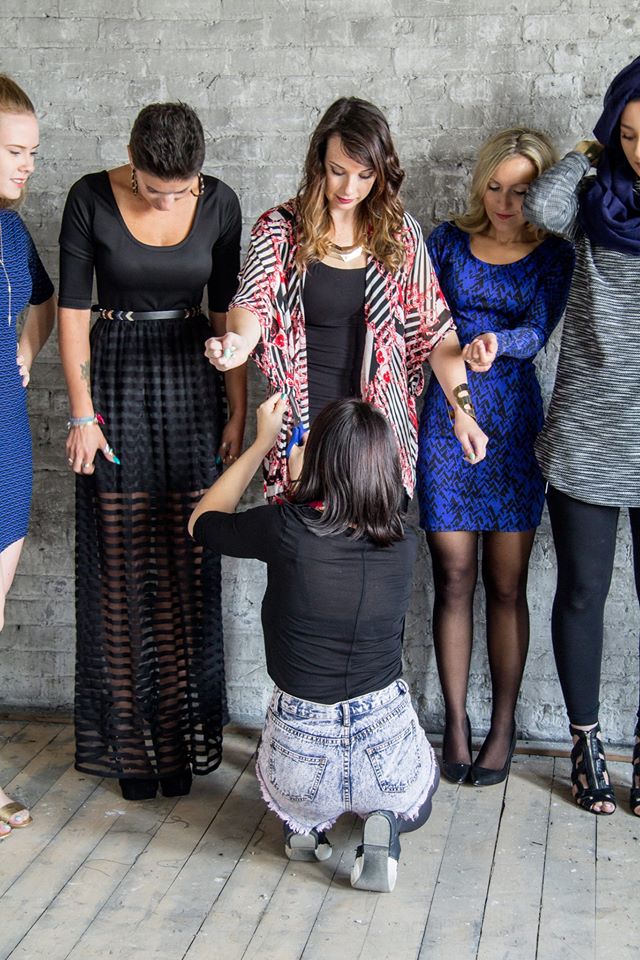 SNTF: Where do you find inspiration for your designs? 
NS: In school, we were always taught to design a garment then source materials to best fit your design. I am the opposite, I find inspiration from materials and prints first and then design something from that! Colours and bright prints are what inspire me the most. I also enjoy creating things that are stylish, but also very comfortable. All of my designs are made without closures, making them super comfortable to wear and easy to put on and take off. 
SNTF: How would you describe a typical day for you?
NS: I usually wake up around 7-7: 30 AM and end my day of work around 8 PM. Some days it can be hard to self-motivate, especially for someone who does not drink coffee! I spend most of my day pattern making, sewing new dresses/scarves, promoting a product on social media, updating my website and packaging orders. My favourite days are ones when I have photoshoots booked or pop-up shows! 
SNTF: What do you see for the future of Evelynn? 
NS: Right now, I am collaborating with another local business to open a storefront for five weeks in downtown London. If this trial run is successful, I hope to open my own Evelynn store one day. I've reached a point in my business where it's time to hire a seamstress and look at manufacturing opportunities. It is part of my core values to keep Evelynn 100% Canadian made.
SNTF: Do you have any advice for those looking to begin their own clothing lines? 
NS: If this is your passion, go for it! I've struggled a ton with my business over the years but when I look at how far I have come, I am so glad I never gave up on my dream! Volunteering or interning with designers you admire is a great opportunity to gain experience. I truly believe you can learn something from everyone you meet. 
To follow along with Nicole's journey, make sure to check out her website and follow her on Instagram.
All images courtesy of Nicole Snobelen
By: Avery Lafortune, Toronto