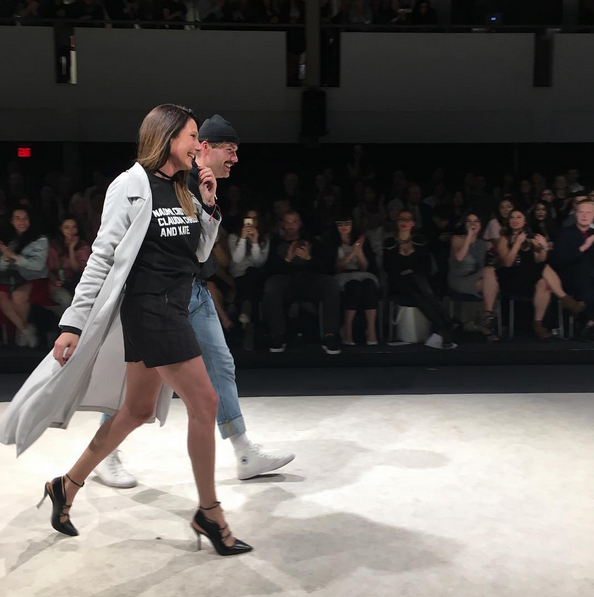 Have you ever wanted to run your own fashion business? We get all the deets from Miriam Alden, owner of Vancouver's Brunette Showroom and creator of Brunette the Label, on her fashion start-up journey and how to gain the right exposure for a new brand.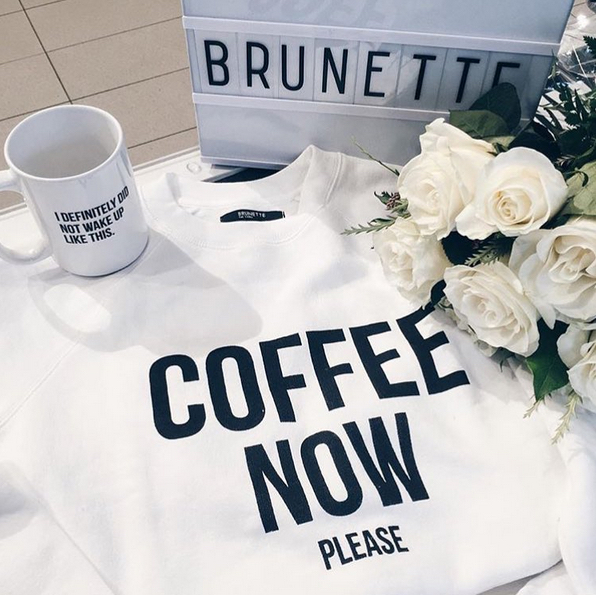 SNTF: You have been representing multiple apparel and accessory brands through your fashion wholesale agency, Brunette Showroom. What made you decide to tackle a new venture and create your own clothing line, Brunette the Label?
MA: I feel like it really was just meant to be. I always knew that I wanted to have my own line. I found the manufacturing side of the fashion business very interesting from the beginning, but also loved working with retail stores on the sales side. When I first started in the fashion industry, I had worked for a showroom for about 5 years before I started Brunette Showroom. Throughout these years, I spent a lot of time growing my relationships with my retailers. Then when it was time for me to start my own business, a showroom just seemed like the right first step. I started with Brunette Showroom in 2009 and within the showroom we always held a lot of marketing events. We had something called BITNB (Brunette is the New Black), which was originally a combination of many branded products that were marketing tools for Brunette Showroom. BITNB quickly evolved into Brunette the Label, which is what our line is now. I'm super thankful and inspired by all the people that support the line and post amazing photos.
SNTF: Your classic crewnecks are the definition of fun fashion and literal statement pieces for a wardrobe. What was the original inspiration behind the design of your products and their witty phrases? 

MA: We made items such a bags and lip glosses for marketing giveaways that read "Brunette is the New Black". One day before a trade show in Las Vegas, I made and wore a sweatshirt with the tagline. Many of my clients and friends kept asking me to make them one, so we did, and started selling them to our current retail clients. Myself, and one of my dearest friends, Ryan Pugsley, who used to work in the showroom but still does all of our graphics, started thinking of sayings to put on sweatshirts. Brunette the Label quickly went from just one original sweatshirt design, to a full collection of fun sayings on crewneck sweatshirts, mugs and water bottle accessories. We are really excited to announce that in Fall 2016, we will be launching our full fashion range…so, all you Brunette the Label babes stay tuned!
SNTF: Your line is very approachable and is not targeted to one girl with a specific look. Describe the types of attitudes or lifestyles you try to embody through Brunette the Label.
MA: The original idea of Brunette the Label was to create a line that would work for everyone. Although I love high fashion, on a business side I relate way to more to accessibility. I want our line to work for someone who loves fashion, but at the same time, work for someone who is just looking for something that's easy, fun, and comfy to wear. I feel our sweatshirts fit both of these girls. Each design is meant to be specific to a person or feeling. We want someone to see it and HAVE to have it, because it speaks to them. We want the girls to have fun with fashion and not take it too seriously. To be the kind of girl who can relate to all kinds of people.
SNTF: When you're introducing a new concept, it can be a challenge to get customers interested in what you sell and the services you offer. How can you develop the right exposure for a brand?
MA: It can be very challenging at the beginning. But like I said earlier, it has to be authentic and I think it shows when it is. I feel very fortunate, as a lot of my retail clients within the showroom have been extremely supportive in the growth of the label. Many of my clients bought Brunette the Label before we even had a following at all! They just trusted and supported us. Their support was huge to our early growth, and also having our friends/influencers getting behind it at the same time. Both of these have really been amazing!
SNTF: What social platforms or industry/marketing events have contributed to the growth of your business?
MA: Well, of course Instagram has been very beneficial to us. I feel you can get the vibe of a business and the team behind it based on their Instagram. We have also done a lot of "pop-up shops" around the city, so we have met and made new consumers ourselves. You can learn a lot when you meet with the end consumer. We do Vancouver Fashion Week, which is really fun, and we can show who we are through our music and the way we put the looks together. Lastly, working with influencers has been amazing. We have been so lucky to work with people like Jillian Harris, Cara Jourdan from A Fashion Love Affair (we currently have a collab… she's the BLONDE from the Blonde crew), Kiara Schwartz from Tobruck Ave, Susie Wall from BTV and so many other amazingly supportive babes that have helped support Brunette the Label. We feel very fortunate to have created such great friendships along the way, but business is mutual and you need to have a product that connects with the influencers that you work with.
SNTF: Due to your experience with selling to retailers and now the general public, what have you learned about the importance of developing positive lasting impressions and strong relationships with your customers?
MA: Brunette the Label would have never worked if I did not have those long-term genuine relationships with my retail customers. I have never sold something that I didn't think was right for them. I always wanted their business to be successful, and ultimately continue to work together long-term. I really care that they do well, and vice versa; it is a mutual relationship. They trusted me, and bought Brunette the Label because they knew I wouldn't point them in the wrong direction. I am now translating that same model to the end consumer. If something doesn't work, or you don't like it, we will take it back. We don't want you to have something you don't like. It is so important to care about your customer. I would say the majority of our online customers have purchased more than one item from us – and of course, our retailers continue to carry the line.
SNTF: What is your key piece of advice for our readers who want to try something different and work on building their own fashion start-up – or in better Brunette the Label terms, want to be a true "BOSS BABE"?
MA: You have to go out there and try! I do suggest learning from someone whom you look up to as both a businessperson, and a human being. The moment you think you know everything, you realize you have a lot to learn. You can learn something from everyone… so always keep your ears and eyes open. I strongly believe you can be a Boss Babe while being a good person. Be happy, and be kind to people. You should do it for the right reasons and whatever you do, just make sure it is genuine to you. Show up early, offer extra help, and learn. Then go out and DO IT! The only difference between the person that did it, and you… is that they went out and DID IT.
By: Alicia Elliott
Are you an employer? Post your fashion job here.
Are you a job seeker? Find fashion jobs here.
Don't forget to follow us on Instagram for the latest fashion jobs, career advice and fashion trends!