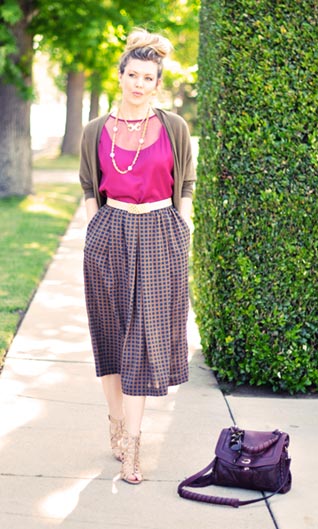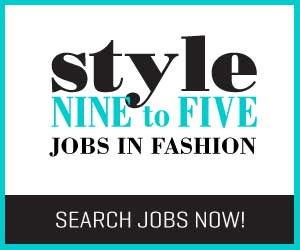 Seeing that Valentines Day is just around the corner, this past weekend I ventured out to the mall in search of an outfit that would knock my man's socks off. After wandering in and out of stores for about 40 minutes, I had found a drop-dead gorgeous dress and the perfect accessories—shoes and clutch included—to pull together the whole look. I was absolutely shocked that I got all that shopping done in under and hour. With an armful of shopping bags, I made my way back to the parking lot thinking, "how the heck did I manage to get all of this shopping done so quickly?" The last time I had a V-Day date, I spent 4 hours mulling over what to wear to impress my then significant other. As I tossed my purchases into the trunk of my car, the answer to my question suddenly hit me: Valentine's Day fell on a weekday. Since I was going straight from work to my date, I had to create an outfit that would seamlessly transition from day to night, which proved to be a difficult task since it took me 4 hours to achieve. (Thank goodness Valentine's Day is on a Saturday this year!) That day I learned a few great lessons about transitioning a nine-to-five look into a date night look, and I have decided to share them with you. These style hacks can be applied to just about any work-to-date night situation, whether it be a Valentine's dinner with your sweetie or your first Tinder date.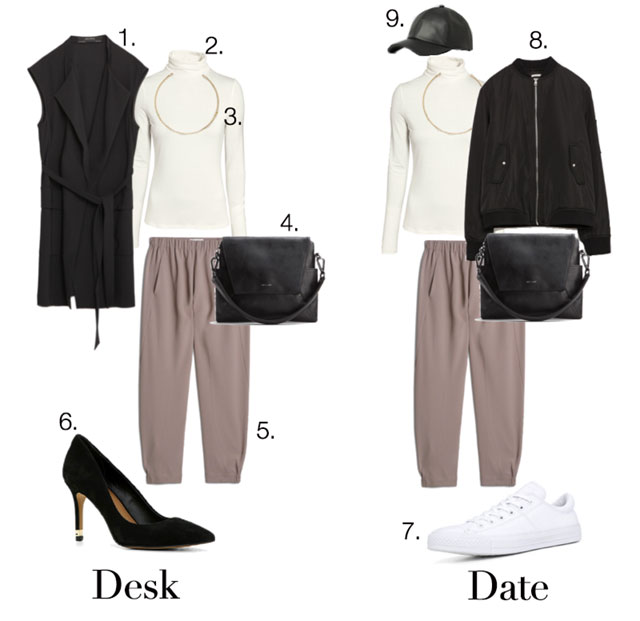 Choosing a key piece that is appropriate for both the office and your date venue is one of the easiest ways to make an outfit work for day and night. Let's say you're going to a basketball game, choose a pant that is both tailored and casual, such as these Babaton jogger-inspired trousers, in order to create a look that is work and courtside appropriate. For the office, add a classic pump, some minimalist jewellery and a waistcoat to dress up the trousers. Before you head off to the game, hop out of those heels and into a pair to comfy kicks. Adding a bomber jacket and a leather cap will give the look a bit of edge. Your date will have no clue you just came straight from the office.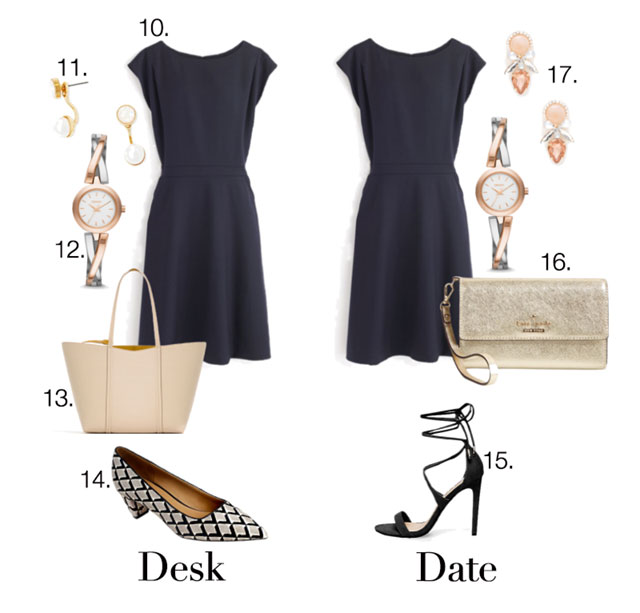 Going on a romantic dinner date after work and don't know what to wear? Don't fret because the perfect transitional piece is probably hanging in your closet right now: the LBD (little black dress). For a conservative office look, pair your LBD with some simple pearl earrings, a timeless watch, a big tote bag that you can toss your laptop in while running from meeting to meeting and a printed mid-heel for visual interest. When the day is over, swap out the tote bag for a wristlet like this one from Kate Spade. With multiple card slots, a built-in mirror and an iPhone 6 compartment, it is the ultimate day to evening wristlet. Give the look a touch of romance and sex appeal by swapping out your office earrings and heels for a pair of floral drop earrings and a black wraparound heel. Don't lose the watch because you definitely do not want to keep your date waiting.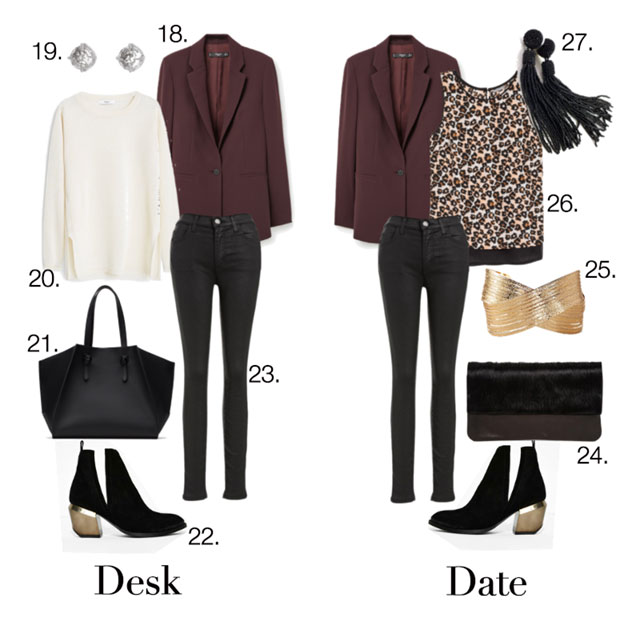 By day, these coated ankle-jeans and relaxed-fit blazer are the basis for a sophisticated 'casual Friday' office look. Just add a lightweight sweater, some simple accessories and an edgy bootie, and you have a great outfit. For a Friday night pub-crawl date, exchange the basics for pieces that add drama, like this leopard-print blouse and beaded tassel earrings. Hopping from one bar to the next can be hard on the feet, so don't toss out the booties when you're switching into your night look—trust me, you'll need them. Blazers have the tendency to make you feel a bit stuffy, so drape the blazer over your shoulders to create an effortless and chic look for your wild night out on the town.
1. Zara Flowing Waistcoat, $69
2. H&M Polo-Neck Top, $14
3. Weekday Gold Pipe Necklace, $32, available at ASOS
4. Matt and Nat Minka Bag, $180
5. Babaton Dexter Pant, $145, available at Artizia
6. Aldo Unenan, $42
7. Converse Madison Mono Lea, $80, available at Little Burgundy
8. Zara Nylon Bomber Jacket, $49
9. Wilfred Free Emesa Hat, $35, available at Aritzia
10. J.Crew Cap Sleeve Dress in Super 120S Wool, $262
11. Forever 21 Faux Pearl Ear Jackets, $5
12. DKNY Silver and Rose Gold Watch, $140, available at Hudson's Bay
13. Zara Reversible Tote, $45
14.  Nine West Raelynn, $69
15. Steve Madden Presidnt, $125
16. Kate Spade New York 'Cedar Street' iPhone 6 Leather Wristlet, $169, available at Nordstrom
17. bebe Floral Drop Earrings, $22
18. MANGO Crepe Blazer, $99USD
19. Vince Camuto Translucent Stone Stud Earrings, $36
20. MANGO Fine-Knit Sweater, $29USD
21. Zara Geometric Tote, $45
22. Jeffrey Campbell Orwell Suede Ankle Boot, $285, available at Nasty Gal
23. CURRENT/ELLIOT Coated Ankle Jeans, $198, available at Hudson's Bay
24. ASOS Unlined Purse With Faux Pony Flap, $45
25. EXPRESS Dusted Sparkle Cross Bracelet, $19
26. H&M Sleeveless Chiffon Blouse, $30
27. Rebeke Jewelry Long Beaded Tassel Earrings, available at Etsy
Style Inspiration image courtesy of Love Maegan
By Sasha Smith, Toronto
Are you an employer? Post your fashion job here.
Are you a job seeker? Find fashion jobs here.
Don't forget to follow us on Instagram for the latest fashion jobs, career advice and fashion trends!